HotWife Palooza, Friday Escapades and Beyond…

As I said in my review of the event, Friday was my favorite day of the entire weekend. It was more than I had hoped. My single male friend Mr. LPG, or "Latin Lover" as Mr. H calls him, arrived at EDR early afternoon, say 12ish. I spotted him immediately as he came through the entrance; tall, dark hair, fit and muscular, handsome and exotic. He was there on a day pass and needed a place to change into his swimsuit. I was more than happy to offer him the use of our room to "slip into something more comfortable." I walked him to our room, me in a little thong and nothing more, leaving Mr. H to fend for himself with all of the hotwives and couples at the pool. Little did he know that the "something comfortable" that Mr. LPG was slipping in to was me. But after an hour and a half I think Mr. H had it figured out. Mr. LPG went into our bathroom to change, he's modest, I guess. When he came back, I was relaxed on the bed, sprawled out with my arms above my head and legs open. Next thing I know, he was on top of me and I felt his hard body against mine as we kissed passionately. Mr. LPG is a great kisser, his kisses so deep and wanting. He moved his mouth to my breasts and sucked them, teasing me for more, and I definitely wanted more. I wanted him inside me. But he knows me well enough to know that my nipples are wired directly to my pussy, so he continued to tease them in every way possible. Eventually, when I couldn't take it anymore, he moved further down my body, breathing in my scent, his hands everywhere, my heart quickening as his hands moved over my body and his body slid down mine, excruciatingly slowly and erotically, until his knees were on the floor. His tongue found its way between my legs and I felt his hot breath ever so close to my pussy. At this moment, all I wanted was what was coming next. His tongue began probing all around my pussy, teasing my lips and clit, and he pleasured me oh so perfectly. He nearly brought me to climax, but I wanted more.
I wanted his beautiful, hard cock inside of me and I pulled him up on top of me and gazed into his eyes. At that moment, he knew what I wanted. I felt his cock at the entrance of my pussy, I ached for it, I wanted it now. It was right there, on the precipice, teasing me. Finally, he's there, inside of me, long eager strokes. Soon, I rolled over on my stomach and raised my ass enticingly so he could fuck me from behind. He entered me, except it wasn't my pussy he entered, it was my ass! What a shockingly hot surprise that was. He said, "Oh no, I'm sorry." I said, "No, leave it in, you feel fabulous, I love it, just fuck me like this." His cock felt wonderful in my ass and he expertly made me cum almost instantly. We took a break and then he fucked me all the ways he enjoys. Soon, unable to hold out any longer, he was erupting in ecstasy, filling me with his cum.
We returned to the pool where we rejoined Mr. H and he gave me a sheepish grin as if he knew why it had taken so long for Mr. LPG to change clothes. We all chatted and relaxed and awaited what the rest of the day had to offer. And to be sure, the day had plenty more sexual pleasure in store.
That episode was just the beginning or my Friday at Hotwife Palooza. Friday afternoon brought a gang bang orgy. Is that the proper term? I was trying to set up a threesome with my super sexy, hot, blonde friend Mrs. N and Mr. LPG, but our husbands had something else in mind. Me, Mrs. N, our husbands, and Mr. LPG adjourned to our room for some fun. We had just started getting friendly when two other sexy single men walked in that we were all chatting with at the pool. What a great surprise! As Mrs. N and I rolled around in the bed together, the boys were eager to jump in the middle. It became clear that us two girls were going to be the center of attention. But, that's another story for another time. Be careful peeking into windows, you never know what debauchery you may see at the next Hotwife Palooza.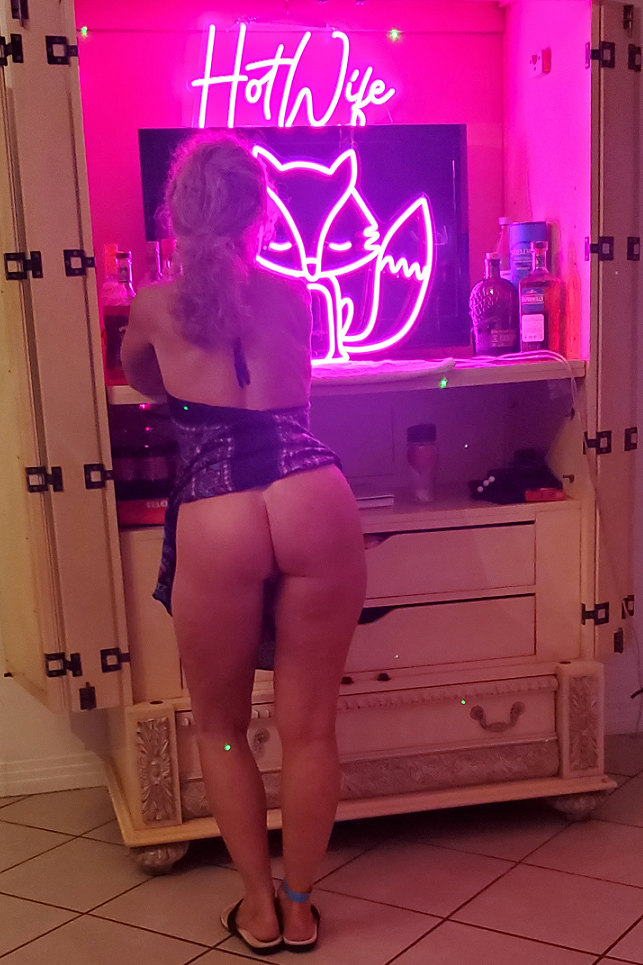 If you want to reach out to us you can find us on Kasidie.com under profile "HWCouple702" or by clicking the banner below.