Three Nights in Paris… Prelude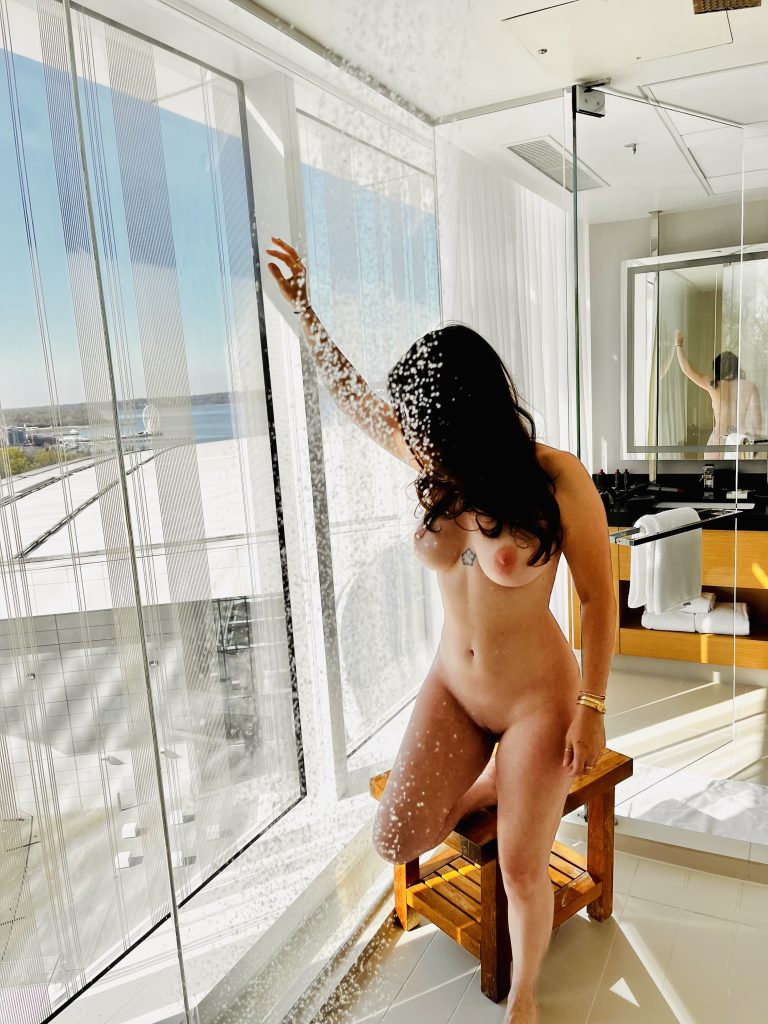 It had been several years since I'd traveled home to Europe, I'd planned a 2 week get away to see friends in several countries. Paris, Milan, Madrid, and London. Madrid and Milan were an absolute bust, I'd planned to see some old lovers to indulge but things fell through. My husband was home in the USA and each night I would call him with updates on how my trip was going.
He could tell in my voice that I was lusting after the European experience of well dressed, handsome, sensual men. To be swept off my feet, to feel another man's hands on my body, holding onto my hips and whispering sweet nothings in my ear.
Upon landing in Paris, I checked into my hotel. Located in the 8th arrondissement Place de la Concorde my room overlooked the Tuileries gardens with the Eiffel tower in the distance. I looked forward to seeing the sparkling lights of the Eiffel Tower lighting the sky up at night.
I felt sexy, I felt sensual, I felt ready to delve once more into Parisian life and all it had to offer. From the side street cafes to people dressed impeccably to the gentle lull of French being spoken it evoked that fire inside of me.
I lived in Paris in my early 20's although alcohol and drugged fueled I was familiar with the city and all its offerings however, coming back with a new mindset, an open mind and being in a marriage whereby my husband encouraged me to play was exciting to say the least.
After a day of shopping in Rue Saint Honoré gazing at my new lingerie in the mirror I wondered if I would have the opportunity to show it off.
My phone lit up as I posed in a seductive manner, angling my body to show off my curves.
Twirling my hair, I texted Keith. "What do you think honey?"
"You look beautiful Isabella; I wish I was with you." I did too.
Keith set to work in researching and finding out about lifestyle clubs in Paris.
My phone chirped. "Isabella, I found a highly rated lifestyle club Les Etoiles, you should go, have fun, I know you've been wanting to play."
I punched the address into google maps which happened to be a short walk from my hotel.
"Well, I guess there's no harm in checking it out." I texted back.
Ladies to be dressed elegantly in a black dress and heels. Keith encouraged me to go as during the week from 5pm – 10pm single men were allowed to attend. A fetish of mine if you will, I'd always enjoyed single men, especially with my husband present.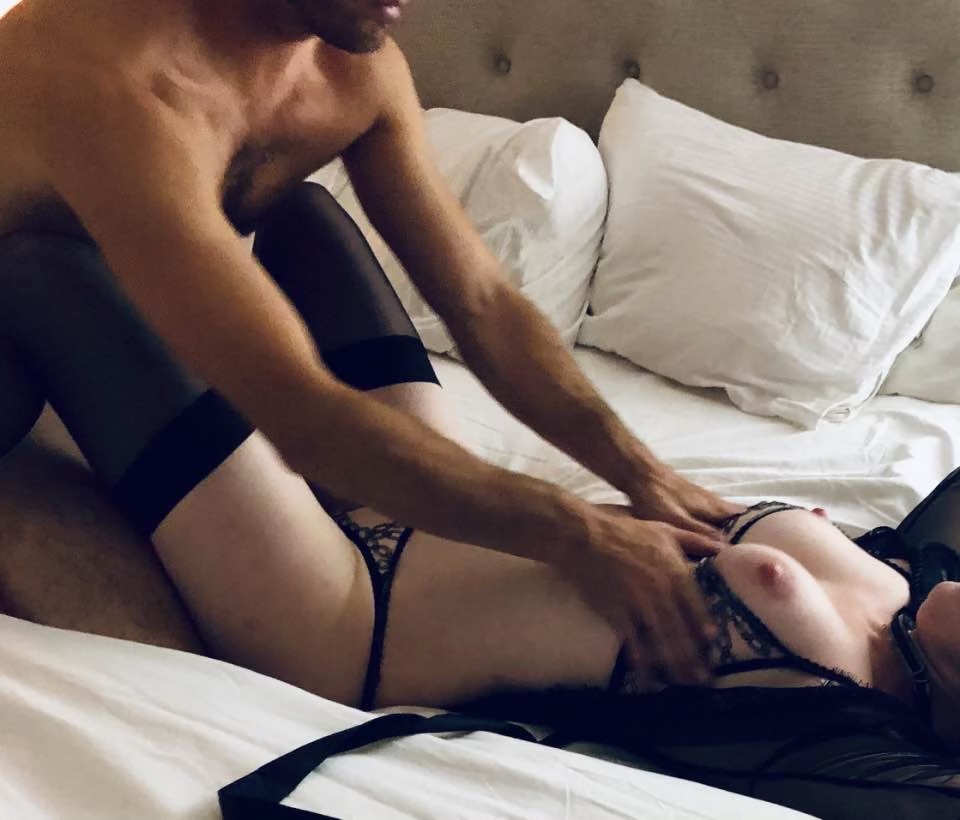 Ladies to be dressed elegantly in a black dress and heels. Keith encouraged me to go as during the week from 5pm – 10pm single men were allowed to attend. A fetish of mine if you will, I'd always enjoyed single men, especially with my husband present. Nervousness mixed with excitement, I had played alone a few times but for the most part Keith was always present in some way shape or form. This was a first for me to go to a lifestyle club alone, sober and married.
I decided upon wearing a simple black knee length Dolce & Gabbana dress, black hold up stockings and black lace lingerie that embraced my curves and oozed sensuality, my velvet studded Valentino heels finished off the look. If there's one thing, I knew the French always had a keen eye for style and I wanted to make an understated impression.
Although I could have taken a stroll to the club I decided upon a taxi, wearing high heels, my feet wouldn't last night even if I walked a short distance. A three-minute journey my taxi dropped me off. My GPS said I had arrived. But where was it? Following the GPS, I was stood right smack bang in the middle of the road completely perplexed. Phone in hand, I called Keith.
"Honey, I can't find Les Etoiles, maybe I'll just go back to the hotel." Feeling a little disappointed.
"Don't give up just yet…" His voice ablaze with hope.
Scanning my surroundings once again. "Oh, I think I found it, let me call you in a second."
There it was an unassuming store front. Dark blue, windows frosted out, no signs, no indication. The only indication was a well-dressed man exiting.
"Is this Les Etoiles?" Whispering for fear the whole of Paris would hear me.
"yes" he smiled.
Entering, my heart was racing, my hands shaking not knowing what awaited. I was greeted by an older gentleman named Olivier, nothing physically compelling about him but he captured me with his presence and energy.
"What is your name?" How did he know I wasn't French, was my sense of style that bad? I smiled "Isabella."
"Bonsoir Isabella, leave your phone and purse with me" Olivier's French accent pulsated through me. I swallowed deeply, thinking about what awaited. "Yes of course, let me call my husband quickly."
My love for Keith was plentiful and I wanted him with me holding my hand. "I love you too angel." Hearing Keith's soothing voice always assured me and I felt safe.
Palms sweaty, my breathing became more erratic I was nervous but oh so excited for the possible pleasures. "Honey, I'm out going to be out of touch for a while, I have to hand over my belongings." Twirling my hair waiting for Keith's response. "Ok baby, have fun, call me after, I love you." My love for Keith was plentiful and I wanted him with me holding my hand. "I love you too angel." Hearing Keith's soothing voice always assured me and I felt safe. So now, I was really alone in Paris at a lifestyle club with no way of contacting my husband. Anxiety rose. I must me insane. But it was utterly enthralling.
Olivier eyes penetrated me, the corner of his mouth curled up "Are you ready?" Trying to remain calm, cool and collected a meek mumble left my mouth "Yes, I'm ready"
That was it, stepping into the lion's den.
Dimly lit, all I could see was a stone staircase, what appeared to be French Renaissance Art on the walls. Olivier ushered me "You do know what type of club this is?"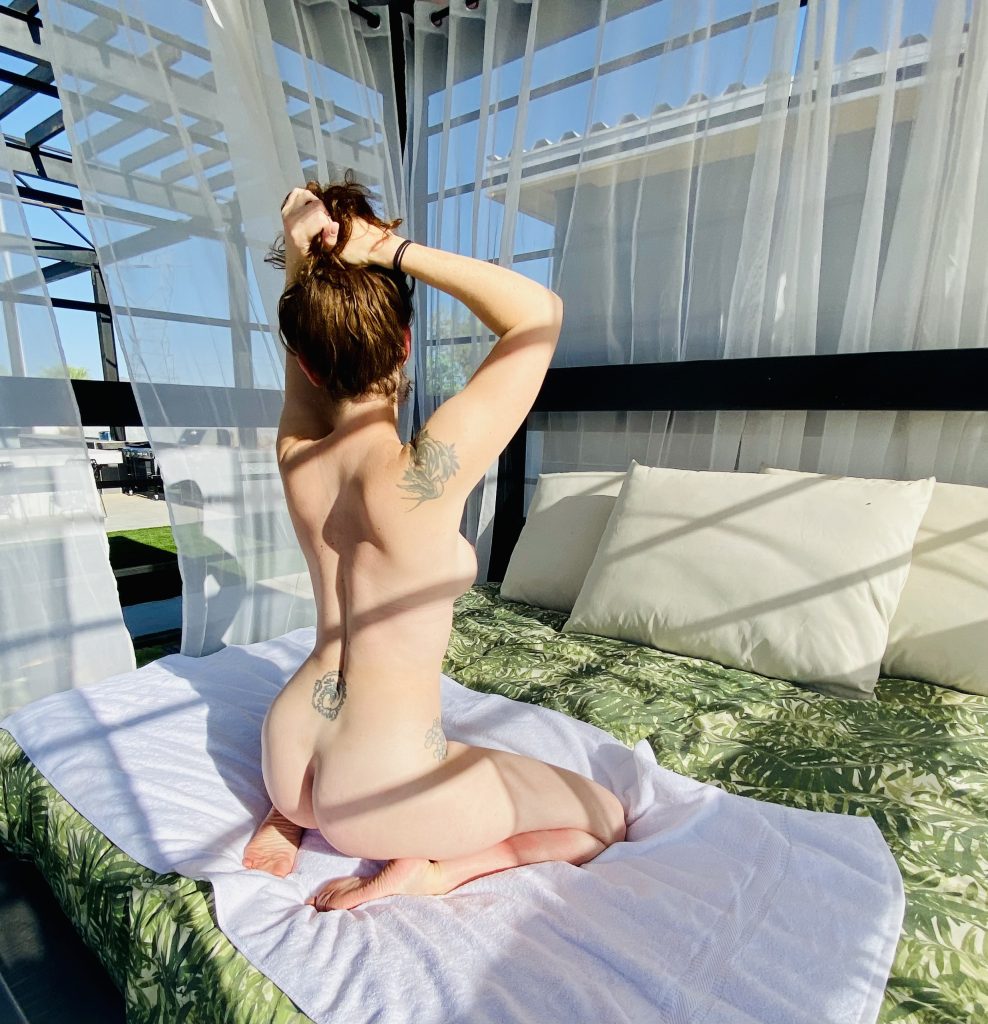 "Sure, I do, I'm in the lifestyle." He glanced back uncertain of the words I just shared. "Lifestyle?" ''Yes, lifestyle, in French you would call it Libertine." The light bulb switched on and he understood. "My husband actually recommended Les Etoiles." Much to his delight, he grinned "C'est manifique, your husband is wonderful." I smiled; my heart full of love. "Yes, my husband truly is wonderful, I happen to be the luckiest woman alive."
As we walked down the stone staircase, Olivier took my hand to make sure I had steady footing he pointed off to the side "dinner is served here every night." I nodded to acknowledge his statement. I never did make it to dinner.
My eyes had finally adjusted to the dim lighting and what awaited me sent a rush of intense pleasure through me. A cellar or maybe a cave of sorts, a curved stone ceiling with drapery beautifully hung. Seating areas well thought out and intimate corners to enjoy. Not particularly large, size didn't really matter. Les Etoiles had captured the very essence of sensuality, sexiness and erotica which they did so effortlessly. Olivier who in turn was a partial owner to the club was also the bartender. Stood behind a polished bar Olivier motioned. "Would you like a drink, Isabella?" I smiled, "no thank you Oliver I do not drink."
Looking a little confused "you can have a glass of wine." I giggled, if only he knew "I'll have a sprite please."
Sultry glances, a couple making subtle gestures, the wife caressing her neck and tossing her hair while looking at me left me tingling. Her husband watching on like a lion ready to catch its prey. He stroked the inside of his wife's thigh; I could feel the blood rushing to my lips and my body on high alert.
At this point, more people started to join me at the bar. Making pleasantries, I introduced myself and told people a little about myself. I excused myself, making my way to the restroom I could barely see where I was stepping. Looking in the mirror, I mouthed the words "you've got this Isabella." As I made my way back to the bar I could feel all eyes on me, somewhat unnerving but truly a chance to shake my tail feathers. There in the corner of the bar was a tall, dark haired mature gentlemen wearing a tailored dark blue suit watching on the entire time. I hadn't noticed him as I was the very center of everyone's world. He smiled and gently signaled me over; upon introduction he kissed me on both cheeks. A French custom. Before even telling me his name he said "Tu es superbe."
"Thank you." Blushing ever so slightly.
"You don't speak French?" He hummed back
"Comme ci comme ça." The truth was my French was dreadful.
"No matter, I'm Pierre. What is your name?" He purred back
His voice, his accent, I was already putty in his hands. "I'm Isabella."
Stepping closer to me, placing his hand on my waist. I could feel his breath on my neck he whispered. "Isabella, I would like to discover all of you, I would very much enjoy peeling your dress off you to see what lays in wait for me."
Presumptuous to say the least, I blushed, I got goosebumps and I was aching for more. I smiled, innocently pretending I had no idea what he meant. I was longing to be touched.
Throughout our conversation he gently grazed his hand over my hips, I was excited. I wanted to feel him. But he kept me waiting.
Stepping away, I went to the smoking area. A very small room which seated 3 or 4 people. There I sat lighting up my cigarette the smell of smoke taking over the air. Trying to compose myself. Breathing in deeply, inhaling my cigarette there was a break in silence.
"Beautiful shoes, let me guess, Valentino?" He was confident in his answer
I wasn't surprised that he knew. "You're spot on."
"Would you put your foot on my knee for a moment?" I wasn't sure where he was going with this. "Sure." Keeping eye contact with him, I gently placed my foot on his bent knee. He wanted a closer inspection of my shoes.
Strange, to some maybe, but he was truly delighted at the soft touch of my shoe and complimented me for my brilliant taste. He slowly ran his hand up my calf to my thigh gently squeezing it.
"What are you wearing underneath." His eyes widened waiting for my answer
"Agent Provocateur, black stockings and lace lingerie."
No questions he said "mmm beautiful." Placing my foot back down he got up and left.
What was this trickery I was experiencing, my body aching to be touched, to be explored to be grabbed to be devoured?
What was this trickery I was experiencing, my body aching to be touched, to be explored to be grabbed to be devoured? I wanted to feel another man's hands on me, biting on my lip as he gently pulled my hair back. Instead, I felt deprived, my body tingling all over and truly I was craving more touch, more attention.
As I walked back to the bar Pierre stood there waiting with an intensity in his eyes, I joined him. He whispered a sweet nothing in my ear and told me again how beautiful I was. His firm hands pulled me closer, his body pressed up against me. He ran his lips over mine and said to me in his deep French accent "I want to discover you and pleasure you like you've never been pleasured before."
"I would like that." My voice barely audible.
Pierre took me by the hand and led me to an area of the club I had yet explored. A mirrored space, enough to fit 4 people, lighted to create beautiful silhouettes and shadows. A dream, a fantasy something I'd never experienced.
As he gazed into my eyes, he unzipped my dress and let it drop to the floor. He stood for a moment admiring me, admiring the beautiful black and lace lingerie licking his lips. Placing his hands gently on my shoulders he slowly ran his hands down my arms to my hands pulling me closer to embrace me. His lips interlocking with mine, he kissed me slowly and deeply firmly holding me. Running his hands up to my hair gently pulling it.
Finally.
My body exhaled.
Every touch, every kiss, every word had me ready to explode with intense pleasure, but I didn't want the moment to end so soon. We'd just gotten started.
Running his hands over my lingerie he asked "Can I take this off?" My voice cracking and begging at this point. "Yes." All the while thinking about how much I wanted to feel him between my legs.
He unwrapped me like a gift, slowly with great intent. Removing my bra, he gazed at my breasts and how hard my nipples were. Again, licking his lips. He ran his hands gently over my breasts whispering in my ear "I am excited." The feeling was mutual. "I am too." I whispered back.
He stopped for a moment, inhaling me with his eyes. I wanted his touch; I didn't want him to stop. My body begging.
Pierre was still fully dressed, I wonder whether he was going to enjoy me, all of me.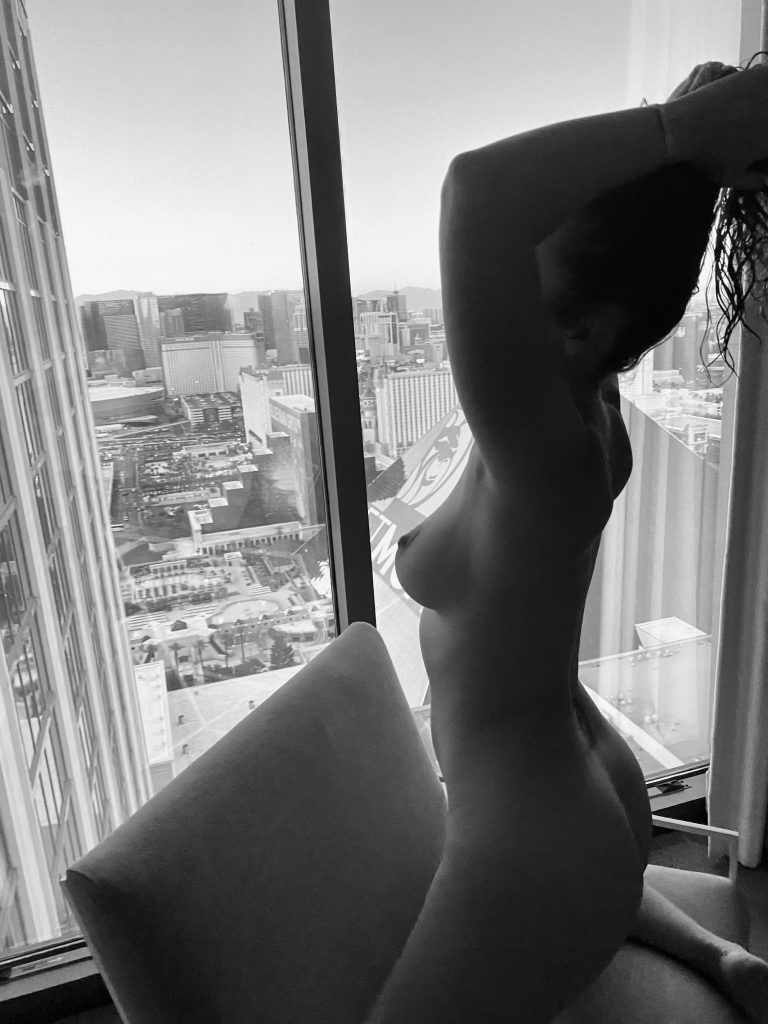 "Turn around, I want to admire all of you." He commanded. I wasn't the submissive type. Without hesitation I turned away from him. The mirrors reflecting every angle of my body. Running his hands along my back, over my hips he hooked his thumbs into my panties and slid them over my hips letting them drop to the floor as I stepped out of them. He still hadn't touched me between my legs, just my hips back and waist, slowly running his hands over my bottom. He was careful, he knew exactly what he was doing. I was in a world of ecstasy feeling like I could orgasm at any moment, at any touch.
But he remained in control and composed, he could have devoured me at any moment and be done. That wasn't his ammo, he truly had a love for exploring, touching, pleasuring and for setting women's senses on fire. He drew me in closer again, I could feel his excitement, I could feel how hard he was. I wanted to touch him, to straddle him and ravage him, but I wasn't sure if I could as he'd really set the tone of taking the lead. So, I didn't.
Once again, he stepped back looked at me and said "I must go."
"What." The words echoed in the mirrored room.
He couldn't leave me like this, I wanted more.
I wanted to reach the full heights of pleasure. He kissed me and helped me put my lingerie and dress back on.
Walking me out back to the bar "I'll be here tomorrow." he confirmed. Feeling a sense of dismay, I uttered "Ok Pierre."
He left.
I left, satisfied but dissatisfied. I yearned for more. I took a stroll back to the hotel, feeling the crisp winter air on my skin. I felt akin to something out of a sordid French romance novel. Waves of pleasure rolled throughout my body as I thought about Pierre and the twisted little game, he had played with me. It excited me. My phone clicking as I typed a message to Keith "I'm headed back to the hotel; I'll call you when I get back."
"Ok my love, I hope you had fun." He shot back instantly. I knew he was excited to hear of my escapades. As I took in the old buildings and narrow streets it came flooding back to me just how enchanting Paris was but lonely in my ways.
The doorman greeted me as I stepped back into the hotel, I nodded and smiled. Instantly flush from the warmth of the heating. I stripped off my coat as I stepped into the elevator.
"Headed to the room my love" I texted. I was ready to lay flat.
"Ok." Keith was definitely ready to hear about the night. I wasn't really sure what time it was; it didn't matter. I wanted to hear Keith's voice.
"Hi my love, wow did I have fun." I could tell Keith was smiling without even seeing him. His voice pitched a little higher "What happened?" "Let me tell you about Pierre…. Put on your camera my love, I want to see your handsome face."
Ruffling my hair as the camera connected. There he was my soulmate, his big blue beautiful eyes and his broad smile. How could I not smile at seeing the love of my life. He may be on another continent but our souls connected. No matter the distance.
He smiled "Freshly fucked?" Keith was sometimes a little crass but I loved how blunt he was. "No, not exactly." I replied.
I recounted every single detail; I could hear in his voice the sheer pleasure and joy.
"One second honey" Leaving my phone on the bedside table I wriggled out of my dress and threw it over the chair. Splayed out on the bed I was tired, mentally a little exhausted. Being an introvert, human interaction could often wipe me out. Especially when it came to something so intense. I was turned on though, I wanted to share all the details with Keith.
Turning the camera around I reached into my bra I started to caress my nipples. "Keith, I want to feel Pierre between my legs." His blue eyes sparkled. "I love knowing that you want to be pleasured by another man."
Watching on as he unzipped his pants and reached in. He showed me how turned on I had made him. Reaching between my legs I touched myself gently moaning. "I can't wait for you to feel Pierre deep inside of you. "I'm excited for you to taste and touch other men." He continued on repeating back the events of the night.
Moaning deeper I could feel myself ready to explode "Can I cum?" I asked.
"Yes, I want to hear you." Screaming with ecstasy, a deep powerful orgasm filled my body. Opening my eyes, my husband smiled and asked "Did you cum?" "Just a little" I giggled. "I love you so much Keith." My heart and soul filled with love. "I love you too Isabella, I miss you but I know you're having an amazing time, you should get some rest for Pierre." He smiled and switched off the camera. Pulling the covers over me, I closed my eyes and thought of all the possibilities and what laid in wait for the next two nights in Paris.