My First Lifestyle Experience..
People always ask me how I got into the lifestyle, what was my first moment? This night occurred two months after I started having sex with men on Tinder, after a long term, vanilla monogamous relationship with my husband that began when I was 16.
In the middle of the week, I started getting a strong premonition that whatever was going on between me and my Latin lover Luis was over. Just like that. Something in the air had shifted, and it was palpable. He didn't want me anymore for whatever reason, and it stung. I was a little mopey. I was eating street tacos at a little café on Ventura Boulevard in Studio City early Friday evening, when I was texting Alejandro who I had recently matched with on Tinder, to see if he wanted to meet up. We hadn't met in person yet.
"You said you were adventurous. Do you want to go to this party with me?"
He texted me a flyer for a party near downtown LA. I looked it up. It was a sex club aimed at swinger couples. I wondered if he was aware of this or if he just thought it was a sexy nightclub.Alejandro is 36 years old but looks much younger. He is from Barcelona, half Castilian and half Italian. He is a fashion photographer. He is cute in a boyish, puppy dog way. He has lived in LA for less than two years, and previously lived in New York. His English is excellent, and he speaks with a thick Castilian accent.
He told me he would pay for my ticket to the club, that he would come pick me up in an Uber, and we would ride to this club together and have a good time. I was nervous, but excited. I normally don't do regular clubs, let alone sex clubs. The theme for the event was Red. I wore a red miniskirt, and a black blouse with my stilettoed ankle booties, and my brand-new red lace bra.
I jump in the cab with Alejandro around 10pm, which is usually my bedtime. He is very friendly and talkative. He calms my nerves and I figure we would have fun. We talk about the sex club we are on the way to and kiss in the back of the Uber. We don't even care what the driver thinks about our shenanigans. I graze my hand across the crotch of his black jeans, and he stares into my eyes. We say we won't stay long, just long enough to get the gist.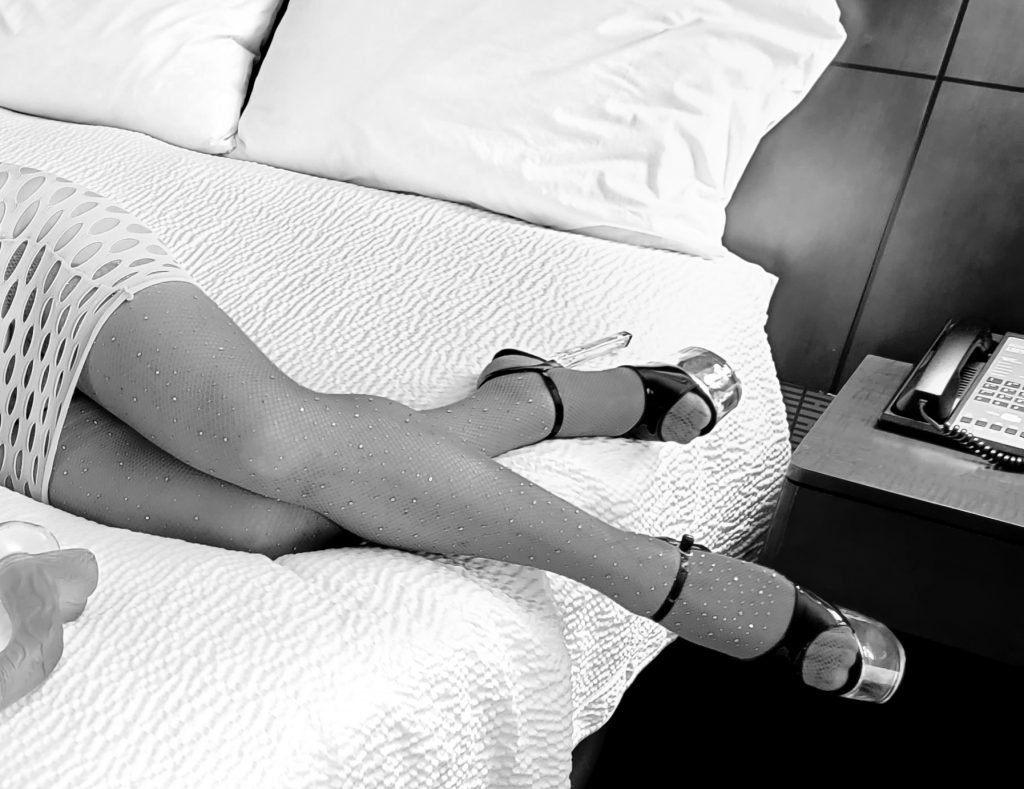 When we get to the club in Whittier, there is a Latino couple out front. Alejandro is very open talking to other people and asking them questions. The couple is Lupita, a petite brunette, and Miguel, her attractive husband. I didn't realize right away, but Alejandro was scoping out women he wanted to fuck. I was just thinking about getting my hands on him, my date.Inside the club, Top 40 music is playing. There is a dance floor with a pole in the middle of it and a bar where people (who bring their own alcohol) would be served drinks with club-provided mixers. Sodas and mixers are complimentary, as are some snacks which I refused to touch. The music is making me want to dance, but Alejandro is not interested. He wants to check out the place and look for women. We move away from the dance floor and towards a darkened area which resembles high back booths but without tables, most of them empty.
At one of the tables is a couple looking for attention. An almost nude woman is being slowly and softly fingered by her husband, except her body and legs are open, facing the 'audience'. Alejandro approaches the woman and asks the man if he could touch her breasts. The man said, "Sure, my baby loves attention." Both men ask if I wanted to touch her. I decline.
Once Alejandro becomes bored of this couple, we walk away and go downstairs to a more secluded area. There is an open living room area, and 4 or 5 bedrooms equipped with condoms, lubricant and towels. In one room, three women are naked and making out. Alejandro wants to join them. He starts making out with one of the women, while I kinda just stood there awkwardly, and a few minutes later, his pants are around his ankles, and his cock is rock hard.
The three women excuse themselves and he and I are left alone in the room together. I am ready to go with Alejandro, after making out for a while, we climb up on the rickety bed and I ride him until I cum, which doesn't take long. But then, he wants to stop and see what else is going on in the other areas of the club.
We put most of our clothes back on, and head into another room where at least three couples are playing with each other, sharing each other, and helping each other out. Lips, tongues, hands and genitals everywhere. While Alejandro is titillated by what he sees, there is no room for us.
We move into the next room, where one couple is having sex, and another couple is seated next to each other talking. They are both naked and she is giving him a hand job. They introduce themselves to us as Alma and Jose. I can see that Alejandro is taken by Alma. She is not drop-dead gorgeous, but she is petite with creamy skin, soft curves, and black eyes. She appears to be in her mid to late 40s. Alma's husband is short, unattractive, and smells faintly of beer. Alejandro stares at me. He wants us to play with this couple. I give him a look that tells him I am not feeling this guy. He takes the hint and we leave the room.In the hallway, Alejandro asks me with his sexy Castilian accent, "Do you want to find a couple to play with? I want you to be comfortable."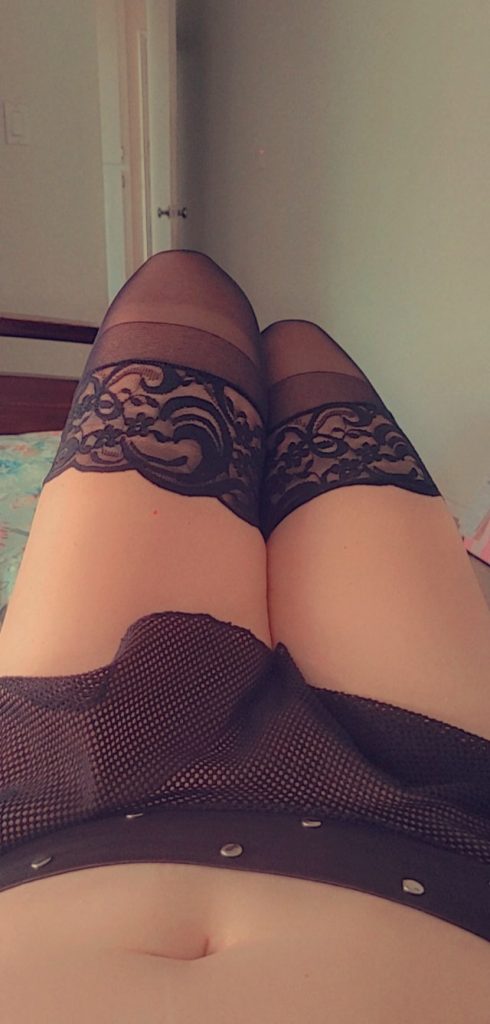 "Yes. I just noticed, Alejo, that the women in here are so good looking and the men, not so much." It is true. None of these women are super models, per se, but are well put together, take good care of themselves, and are easy candidates for any guy to want to fuck. Most of the men, while friendly and polite (consent is a big deal in this place), do not have the kind of faces and bodies that I find sexually arousing, and this is considering how open-minded I am. Alejandro is getting antsy, so we continue to pace the place trying to find a couple that we would both be happy with. I know this is going to happen. It is just a matter of time.
We run into Lupita and Miguel. Miguel is hot. Lupita is petite, adorable and bubbly and dressed in a little red teddy. I want Miguel. Alejo wants Lupita. He takes her to the bar to get her a drink, while I sit shoulder to shoulder in one of the booths with Miguel. He tells me what he likes and dislikes about this club and about other lifestyles websites and venues he knows of that are better.
I take out my phone and save some of the websites that Miguel was telling me about for later use. Club goers are not supposed to have phones in the playroom area, but no one noticed. And yes, there is plenty of security. I don't realize at the time, that this is my cue to ask him for his phone number. A missed opportunity.
I later realize that some people don't come here to fuck, some because they don't like performing in public, others because they enjoy watching. But many non-participants scour the venue for people who they would like to meet up with in the future.
I turn towards Miguel; our foreheads are practically touching. I want to kiss him, but I am not sure if it was ok to if his wife is not around. I am not sure what their rules are. This is certainly the couple I wanted to play with. This is the man I wanted in this moment.
Alejandro returns with Lupita and he looks bored. Lupita is done for the night and wants to go home. She sits down on a chair by herself while Alejo makes small talk with one of the security staff. I want Miguel, but I am pretty sure that since our other halves aren't willing to participate that nothing is going to happen with us. We part ways; Miguel and Lupita leave for the night, and I immediately regret not kissing him.
Alejo and I venture back into one of the playrooms where Alma and Jose are. Alejo's face lights up, and he gives me the look. I give in. He whispers in my ear, 'You don't have to kiss him if you don't want to." I figure that maybe even though Jose isn't sexually appealing to me on a visual level, maybe he would still be able to satisfy me sexually. He seems very eager, and very nice. And I could see he is ready to go. Jose is small of stature, yet his dick is almost as big as he is.
Alejandro and I start kissing each other. He caresses my breasts and removes my red lace bra. Jose puts one hand on my breast and runs his other hand down my stomach.
Alejandro and I start kissing each other. He caresses my breasts and removes my red lace bra. Jose puts one hand on my breast and runs his other hand down my stomach. This frees Alejo to put all his attention on Alma. They are clearly smitten with each other. He kisses me. He kisses her. Jose's finger spreads my lips and lightly rubs my clit. Within minutes, Alejandro is inside Alma, on top of her, and her creamy legs are curled around his body, an image that will forever be burned into my brain.
Next to them, Jose slides a condom on his hard, fat dick, crawls on top of me, and enters me. I pretend to enjoy it while out of the corner of my eye, I watch Alejandro get lost into Alma. I bury my head in Jose's shoulder, so I don't have to smell his breath. When I look back, Alejandro's head is in between Alma's legs, and her back is arched in ecstasy.
Inspired by this, Jose pulls out of me, and works his way down my stomach, until he is eating my pussy. This is much better for me. He grunts. He seems to be enjoying himself. After about 20 minutes of him licking me, he stops, slides on another condom, puts his dick back in me and we fuck for a little while longer.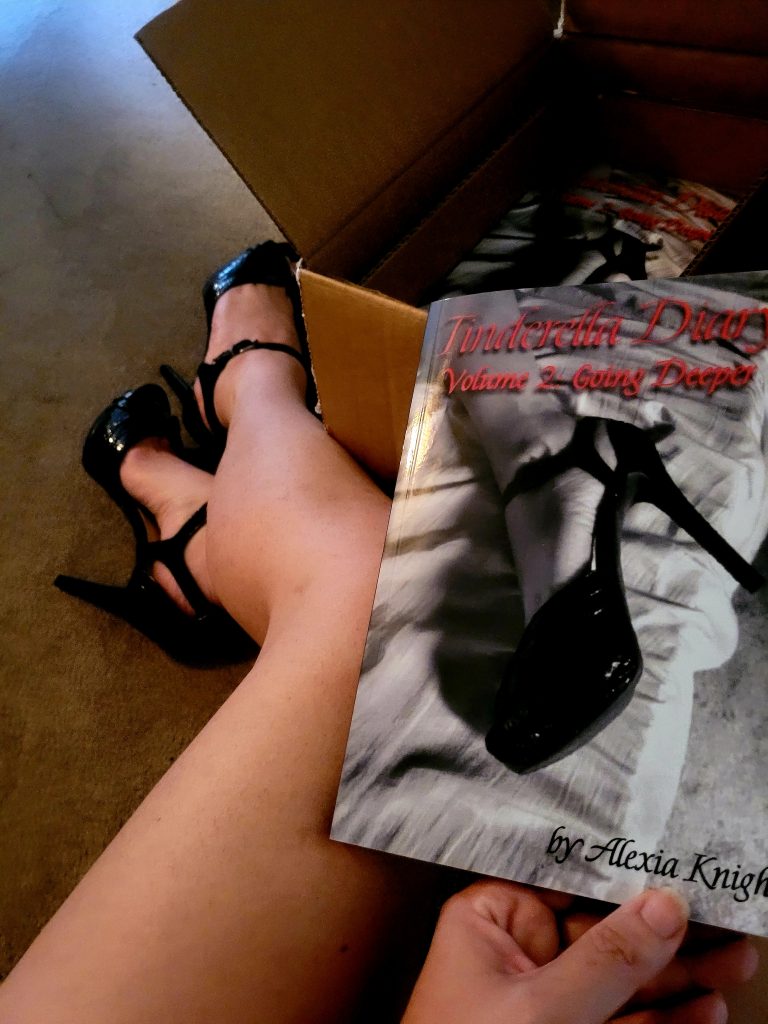 Jose collapses on the mattress next to me. Alejandro is still enjoying the taste of his wife's pussy, but eventually they stop too. Alejandro and I put on most of our clothes and go back upstairs to walk around and get some more drinks. I am no longer wearing a shirt. Just a bra, the skirt and my stiletto booties wouldn't come off the entire evening. A little while later, we are ready to find another couple. Alejo and I become a little more comfortable splitting up. I talk to a young, attractive couple from Orange County. We talk about work and the weather and pleasant things like that. I get the nerve to ask her if I could kiss her husband. He and I make out. He feels my breasts. I briefly touch his girlfriend's breasts (which were way smaller and pointier than mine).
I hold back because Alejo is not around, and I don't want to have a threesome with this couple. I don't want to fool around with her, just her boyfriend. So, I part ways with them and reunite with Alejandro who has his eye on another couple. She is a light-skinned black woman with a super round booty, and a middle-aged white man looking ironically like something you'd see at a Trump rally.
Alejandro gives me a hard look. "Please!" he begs. "It's on my bucket list to fuck a black girl."
"Alright!" I relented. The couple is happy to oblige. The man, whose name is Jay, has a huge white penis, like a fucking horse, and a hairy chest like a man from a 1970s porno. It is kind of hilarious watching the woman mount Alejandro; she is so much bigger than him, I thought she might break him. Now, I went wild when I was riding him earlier, but in contrast she is slowly undulating her hips. I climb on top of Jay, because if I'm going to do this, I may as well cum. He is very talkative, and we have friendly conversation the entire time we are fucking. That is, until I feel an orgasm coming on. There are 3, and I scream each one into his ear. After he cums in me, into a condom, I climb off of him and he excuses himself to use the restroom. His wife is not done with Alejo, but it was quiet in that direction.
I was laying on the bed catching my breath when a familiar face came into view. It was Jose. I guess my moaning and screaming had caught his attention, and he wants some more. Alma is by herself in the corner of the room; she obviously doesn't want to fuck him. So, I do. I let him eat my pussy again, and then he came on top of me.
In a few minutes he whispers to me, "You made me cum three times tonight."
"Three times?" I exclaimed. I am impressed with this ugly Mexican dude, but very done with him. And it was clear that he was impressed with me.
I met up with Alejo again in the big sitting room. He is naked and wrapped in towel. By this point in the night, most attendees have given up on clothes entirely. He kisses me. "In a little while," he mutters, "It's just gonna be you and me. I'm saving you for last." He puts his two fingers to his lips and presses them lightly on my pubic mound. He can be really charming. We talk for a little while, about our previous encounters. He tells me he was surprised by how 'into it' Alma was. I wasn't surprised. I would rather have been having sex with him, than Jose, but I didn't tell him that. I just tell him how good Jose was at licking my pussy. He was adequate, but I lied. It works. Alejo starts kissing me passionately.
I push him away. "How was the black girl?" I inquire. "Was it everything you hoped for?"
"It made me feel a little uncomfortable about my size," he admitted. "I couldn't really feel anything inside her." I was trying to remember Alejo's size. It wasn't super huge nor was he small, but since I only rode him, I could literally get off doing that on a limp dick, or a knee cap. At this moment, I am ready to go again. I pull open his towel and start sucking his dick. He lets out a slow moan. Then he pulls me away.
"Let's go see if we could find another couple." He said.
We didn't. I had some pleasant conversations with guys I wanted, but Alejo seemed to pull me away from anyone I found myself attracted to. Was he jealous? He can fuck any girl he feels like fucking, and if I feel a tinge of jealousy, like I did when he was enjoying Alma, I am a crazy possessive woman, and 'what the fuck, we hardly know each other!', but if I am enjoying someone else, he can't take it. Boys are so weird.
Alejo walked me away from the bearded boy I was talking to and plopped himself on the couch in the sitting area and pulled me down next to him.
"I want you." he said. He kisses me, and then traces light circles on my nipples, getting me very aroused. He pulls his not-hard dick out, and nods for me to suck it. "If you get me hard, we can go play."
I go down on him again, and in a few minutes, he is hard as a rock. He stops me again. He is looking at another woman. Is THIS what is happening??? Am I getting him hard so he can fuck other women? Nuh-uh.
"Alejo," I said, "It's my turn!"
"Ok," he relented. He grabs me by the hand and takes me into one of the least empty bedrooms. There is one young-ish couple lying on the bed talking and snuggling (they had just finished), so we laid down next to them on the other side of the bed. Pretty soon, all four of us are kissing and touching. I have Alejo's tongue in my mouth and this other man's tongue on my breasts. He (not Alejo), put two fingers in me and fingers me hard, until I cum and scream.
The man licks his fingers wettened by my juices. His girlfriend, obviously done for the night, lays next to him watching. Alejo is super turned on by this and a bit jealous. He finally climbs atop me and we start fucking. The other man's finger is still rubbing my clit and on his other hand, a finger works its way into my asshole while Alejo is slowly thrusting into me. I cry out in pleasure as I enjoy the sensation of two men at the same time. Eventually, Alejo cries out in pleasure as well, and we collapse in each other's arms.
"Damn!" the other man says to me. "You two are nasty as fuck."
"What did you put inside me?" I whisper to him. He gestures to his two fingers on his right, which had just been inside my anus. "It felt like your dick" I said.
"I wanted to," he confesses, and then he gives me a soft sweet deep tongue kiss. Alejo is putting his clothes back on.
"Why didn't you?" I inquire. He looks over at his girlfriend, who has nodded off on the far end of the bed. She didn't want him having anal sex with me, while my partner was inside my vagina. Not if she couldn't have a turn. People with their fucking limits.
It is almost 4am, and the club is about to close. Alejo and I dress and head outside to get an uber.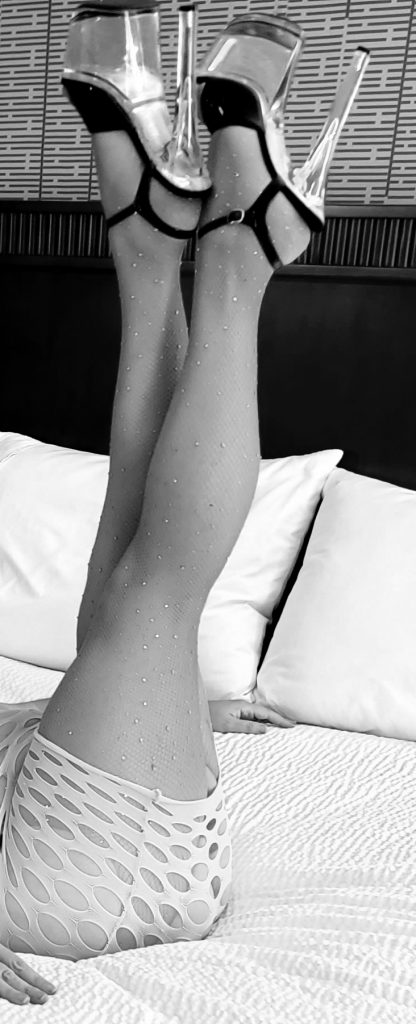 "Bebe," he said. "I don't have the right credit card with me. I'm sorry. Can you pay for the Uber back to my place, and I'll pay for your ride back home? I have enough for that. I didn't realize how much it was going to cost to get here."Fucker. First, he uses me as his fluffer for other women, now he wants to go Dutch on a damn cab. This guy is such a sweet-talking bullshitter. When we are in the vehicle almost back to his apartment, he puts his hands between my thighs and says, "Bebe, I want to spend more time with you." I can't believe it. We had been fucking each other, and others, all night long, and he wants more. I wanted to go home and sit on an ice pack.
"You want more?"
"Yeah, bebe. You made me feel so good."
Me? I was confused. I thought it was Alma who did that.
"Bebe," he said. "I don't cum very much, and you made me cum, and it felt so good."
"You mean, you only came once the entire night?" I prodded for clarification.
"Yes." He said. I thought I saw a tear in his eye. Either this guy is super sensitive, or he is a super bullshitter. Or, as it is entirely plausible, both. I pretended to buy it.
"Ok," I agree as we pulled up to his building. "Let's go up." But he doesn't take me to his apartment. He takes me to a stairway. He presses me against the wall and kisses me. He turns me around, pulls up my skirt, pulls down my panties so they are down around my ankles, and fucks me from behind up against the railing like Diane Lane and Olivier Martinez in Unfaithful. And here I am, reenacting it with a sexy, cocky European, not unlike Martinez's character.
We try the porno squat that we saw another couple doing at the club. We both squat and then he shoves his dick up in me from behind. I am still wearing my stilettos and am thinking of how hot my legs and ass must look from his vantage point. He takes me and lays me on my back on the floor of the stairway, pulls himself on top of me, and makes love to me that way until he cums for the second time of the night. Alejandro might be a huge phony, playboy pain in the ass, but I have to admit, I had the wildest night of my life with him, and I was never going to forget it.
It was 5:30am. The sun was starting to come up. My hair was a mess. I had smeared eyeliner all over my face and two loads of Alejo's cum inside me. Alejo put me in an Uber, that he paid for and I was home just after 6am. When I got home, I stripped off my clothes, hid them, and then jumped in a warm soapy bathtub.
You can find me at profile "JessieBee" on Kasidie.com or by clicking the banner below.