The Cruising Site
Writing by: Mr. "PeculiarNJcpl"
Website: Kasidie.com
Not all swinger stories are 100% true, but I assure you this one is. This happened to us almost 20 years ago, but to the best of my recollection this is exactly what happened….
Many years ago, in our early 30s and recently married, we visited relatives who lived on the West Coast of Florida near the beach. We like Florida's nude beaches, but there were none in that area we knew of so we went down to the public beach. Down the beach a ways we saw a large peninsula jutting out into the ocean covered in vegetation and palm trees. Somebody told us it was a bird sanctuary with a 5 mile perimeter trail for day hikes. We were bored so decided to check it out.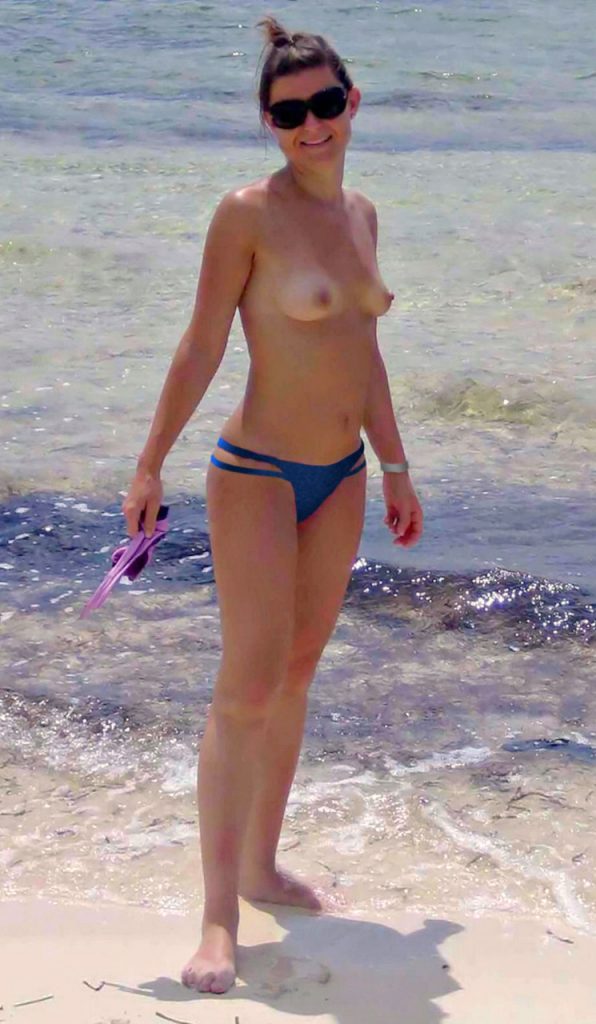 The hike around the peninsula felt long in the intense Florida sun, and we felt certain we were alone so I playfully convinced my wife (M) to take off her top. She shot it at me like a rubber band and I stuffed it in the pocket of my bathing trunks. We walked around the bend at the tip of the peninsula and were suddenly startled to see a man sitting in a small clearing several feet back from the shore. Embarrassed, M immediately covered her bare breasts with her hands and apologized to him. He chuckled and said "No worries. Lots of people come out here to be topless. The beach patrol doesn't come out on the island". We smiled and continued along our way when he said "Wait, it's another 3 miles in that direction. You should bring water!" and he reached into a cooler and produced two ice cold bottles of water. "Please," he said "This sun can really dehydrate you". We were hot and thirsty and, touched by this kind gesture, we stopped and let him approach us.
Up close he reminded me of an aging Clark Gable with a full head of white hair and a thin white caterpillar mustache, aged somewhere around 70, and definitely a local retiree. "Do you two live around here?" he asked. We explained we were just visiting and that we had just come from a couple days stay at Paradise Lakes nudist resort in Tampa, so M was unaccustomed to wearing a top. He gestured toward his empty clearing and said "Folks come here to get nude all the time. On the weekends there may be a dozen or so nudists here". Then he paused and asked "Would either of you be offended if I removed my trunks?"
That caught us off guard. His question was met with awkward silence and we both felt the sudden urge to leave… yet we stayed. It was only then we noticed he was wearing skimpy, purple, satin bikini briefs with a bow tied on one side. He turned to walk back to his chair, pulled the string, dropped his skimpy briefs in the sand, then approached us completely nude. Like many nudist retirees we've seen in Florida, his body was hairless and a dark shade of brown. But his cock was bigger and thicker than I expected, and seemed partially erect as he stood in front of us. "Tell me about your time at Paradise Lakes" he said with a smile. "They have wonderful parties there. Did you attend any?"
Anyone who knows Paradise Lakes knows that the private after-hours parties are where the swing scene there comes to life. He read us perfectly. He knew we weren't just a vanilla couple on a beach stroll. This was early in our Lifestyle days but yes, we were swingers, and my topless swinger wife stood in front of him unfazed by his nudity. As we began to chat about Paradise Lakes he approached M, gestured toward her breasts, and simply asked "May I?" She looked at me but not with a look of fear or flight. More a smirk of "I can't believe I'm doing this", then she parted her hands away from her chest and the naked old man started groping my wife's tits right in front of me.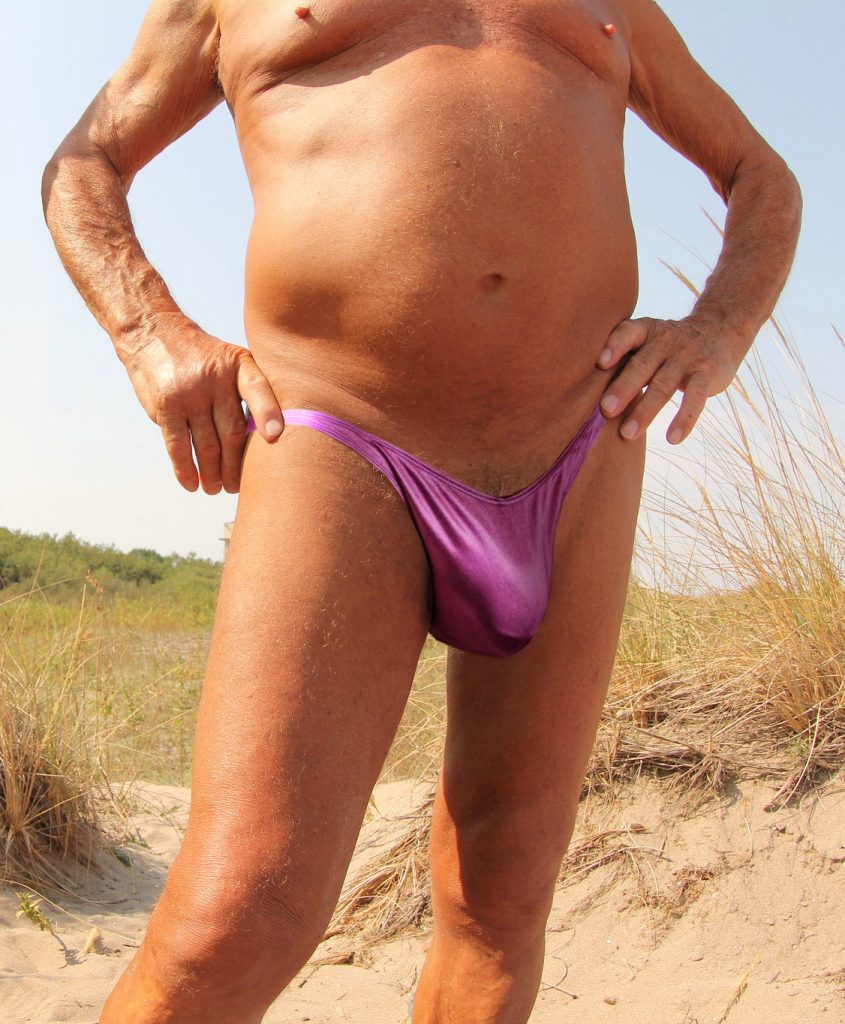 Nobody was sure where this was going, but I figured M would NOT want to fuck or blow him. So hoping to spare M anything unpleasant I whispered loud enough for him to hear "Let him jerk off on your tits". She gave me another look that said "good idea" and knelt, her eyes locked with mine, then I heard the meaty "slap" of his big horsecock against my wife's moist sweaty tits. He slapped his cock against each one several times then rubbed it all over them as it grew bigger and stiffer. She let out a moan which was a relief because I was worried she might be freaked out by this scene we suddenly found ourselves in.
Once he was fully erect he began to stroke furiously towards my wife's tits, stopping briefly only to slap them with his horsecock. With each slap M's tits jiggled enticingly and I remember thinking I could watch him cock slap her tits all day. Suddenly, to my surprise, another dark brown Florida retiree in skimpy bikini briefs appeared! As he approached, M shot me a nervous look and I prepared to keep him at bay. But instead of approaching M he approached our friend, got right behind him, and started pinching his nipples! Suddenly it dawned on me that this was a place for gay cruising – a place where men met for anonymous sex! Our friend clearly loved the nipple pinching, and after another minute or two, with a mighty roar he blasted his load onto M's tits. As soon as the heavy spurts stopped the second man dropped to his knees, grabbed our friend's horsecock and sucked out the last drops! Having already been in the Lifestyle about a year we thought we were experienced, but neither M nor I had ever seen anything quite like this before!
With the two retirees now occupied with each other, and us feeling a little weirded out, this seemed a perfect time to leave – except now M's tits were covered in thick spunk. She tried to wipe it off with her hand but the goo just hung down from her hand in ropes. The second man offered me his beach towel which I used to wipe M's tits. I handed it back, shook hands with our two new friends, then we smiled and waved as we continued our way along the beach with our now warm bottles of water.
Later that day we returned to our relatives who asked "How was the beach"?
"Oh my God," M replied "IT WAS SO AWESOME"!