COVID-19 and Hotwifing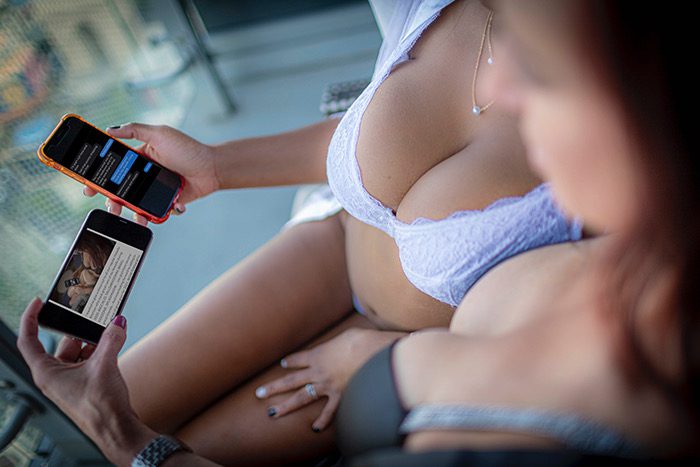 Well this sure ain't the sort of post I imagined having to write at the start of this year. Exactly two months ago, I was having the time of my life visiting Melbourne. I shopped and ate wherever I wanted, and fucked a couple of local guys without a care in the world. Of course I was aware of the coronavirus situation but it seemed pretty manageable and certainly not something for me to worry about.
Fast forward to today and Australia is reeling from how fast that situation has escalated. It was one thing to have to worry about the health aspects of COVID-19 but we're now also dealing with the huge economic hit we're taking in order to deal with something that is truly out of our control. Yes, we are trying to flatten the curve but this is one global conundrum that can't be fixed overnight or with giant pots of money.
Anyway, I won't bore you with stuff that I am sure has been regurgitated over and over on the news. I am still optimistic and generally staying positive. My husband and I are both able to work from home and keep our family safe. So far we can still go out for essential duties and I am adjusting to maintaining my Hotwife bod at home. If you don't already follow me on Instagram, enjoy my Hotwife fashiongram! I do hope this post finds you going OK wherever you are.
So why am I writing about Hotwifing in relation to COVID-19? If you're asking because you don't think one pesky virus should impact one's lifestyle then please read this. If you're asking because you don't get why I'm even worrying about Hotwifing at a time like this, then this posts for you too. Everyone's situation is going to differ depending on where you are in the world. Some people will need to adjust a little. Some a lot.
Firstly, if you haven't heeded your government's advice to stay home, then please do so ASAP. If not to try and flatten the curve, please think of staying home as a way to stop yourself from catching the virus and avoid being quarantined completely and develop the nastier symptoms. Yes, it does appear that younger people have a good chance of knocking COVID-19 over but it's not like I'd volunteer to catch the cold or flu either. Stay healthy and you can still enjoy life!
Naturally, dating has gone on the back-burner for me which is perfectly fine. Once we have a better handle on the situation and work out what the future holds, I can decide to go on a social date again. It's my husband's decision too and for the time being, we'll do what's best for our household. That isn't to say that I won't stop meeting guys online though. Now more than ever, I'm counting on adult dating sites to keep my Hotwife mojo flowing.
I've been enjoying some sexy video and photo swapping lately with current Bulls, and while I can't promise a meet or play in the short term to some potentials I've chatted to online, it's sure been fun having a flirt with them from a very safe distance. You kinda forget the joy of banter when your brain is too busy assessing if the guy is suitable or not. Since meeting someone in the short term is off, I haven't been as narrow-minded in my pursuit of the perfect Bull. It's actually nice to have some casual interaction without the pressure to meet.
My husband and I aren't against meeting a guy for some fun but we'd be taking some extra precautions. At the moment, it's not a bad idea to get to know some fellow self-isolators online over a period of two weeks and arrange a social date once everyone's comfortable that they're virus-free. A date could be some takeaway coffees at a park. If all parties are fairly comfortable with their health status, it wouldn't be hard to get a hotel room at a great rate right now. Some hotels in the Sydney CBD are so cheap that you don't feel bad at all for not staying the night. On top of all that, they'd be pretty squeaky clean!
I should stress this is what we might do based on our feelings right now but that may change next week or even tomorrow, depending on what the latest developments with COVID-19 are. Also important to note is that I would never recommend that couples do or don't pursue a play session. Everyone's lifestyle situation is different. If a Hotwife has a regular Bull who is also conscientious of his health, then why not? However, picking up a random guy at a bar? I don't think that's wise in any major city right this minute.
Having said that, there's no reason to feel that you a naughty lifestyle can't coexist with COVID-19. Like everything, we've all had to adapt and sex is simply another area to tweak or shelve altogether. I know some people are hardly in the mood for sex with their partners, let alone raunchy fucking. Impending unemployment, loss of income and fighting off a virus are not exactly libido enhancing thoughts. On the other hand, for some people, getting sexy is the best stress relief so I wouldn't discourage a person to seek out sex. You just have to be mindful.
I'll write another post soon with tips and advice on how to enjoy sexy times safely.
Wishing everyone good health and stay safe!
SOURCE: EMMA AT ASHAREDWIFE.COM (MARCH 2020)