Due To Popular Demand, Hotwife Palooza III Is Here…


Book Your Room Today for Hotwife Palooza III. A full 48hr Hotel Takeover in Tucson, AZ September 15-17th, 2023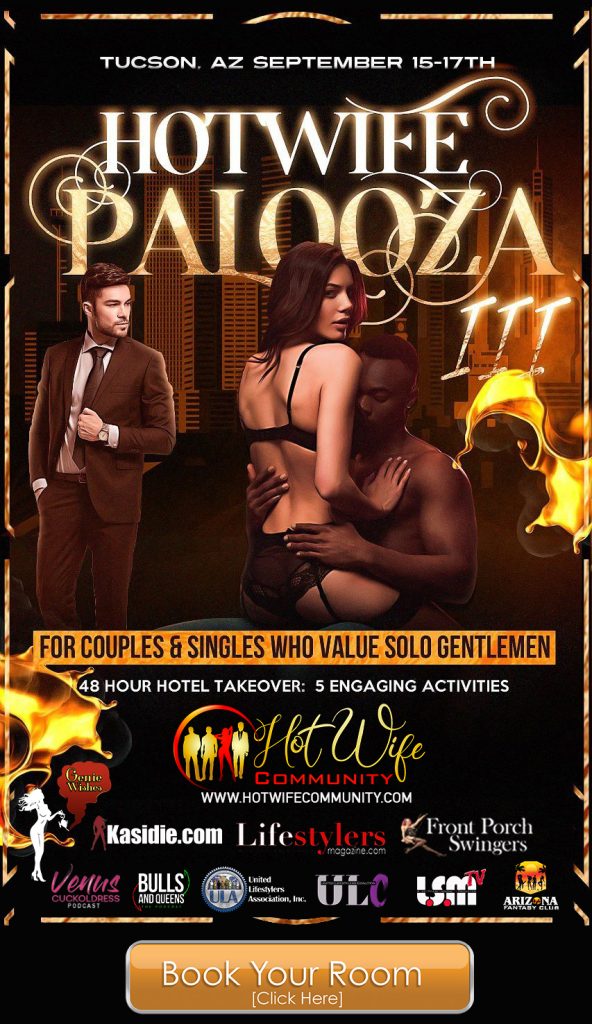 It's been more than 12 months since the launching of the festive events known as Hotwife Palooza. Both of those 2022 takeovers delivered a full weekend of engaging fun. The sexy festivities included Pool parties, artisan exhibitions, Lifestyle business vendors, DJ-Dance Parties, Speed Dating, on-premise play spaces, and much more. Daily attendance ranged from 200-300 people. Thus, it became clear that people value parties that emphasize the unique Hotwife niche within the Lifestyle community.
With the success of those preliminary activities, the producers formed the Hotwife Palooza Community. The partnership includes the owners of Lifestylers Magazine, GenieWishes Events, and Arizona Fantasy Club. Together, these leaders delivered several additional Hotwife parties in 2023 including "Ladies Fantasy Night" at Club Joi, SoCal Palooza in Walnut, and Ladies Indulgence night in Phoenix. Thus, the momentum and anticipation for Hotwife Palooza III has been building throughout 2023. This time, the hotel takeover weekend begins on September 15th inTucson, Arizona. This article explains the Hotwife niche and reveals the details for this unique event.
HOTWIFE 101:
The Sex-Positive Lifestyle Community features a dynamic range of people and event categories. One of the fastest growing categories is the Hotwife niche that features single gentlemen as a valued part of the Lifestyle experience. Historically, Hotwife activities were typically defined in very narrow terms: married women who engage with single men away from their husbands, but with the full consent of their husbands. In recent years, the Hotwife title is expanding to become more of an umbrella term for everyone who enjoys connections with single males, including Cucks, Cuckoldress, Bulls, Queens, and importantly, MFM threesomes where couples stay together in shared experiences with their single male lovers.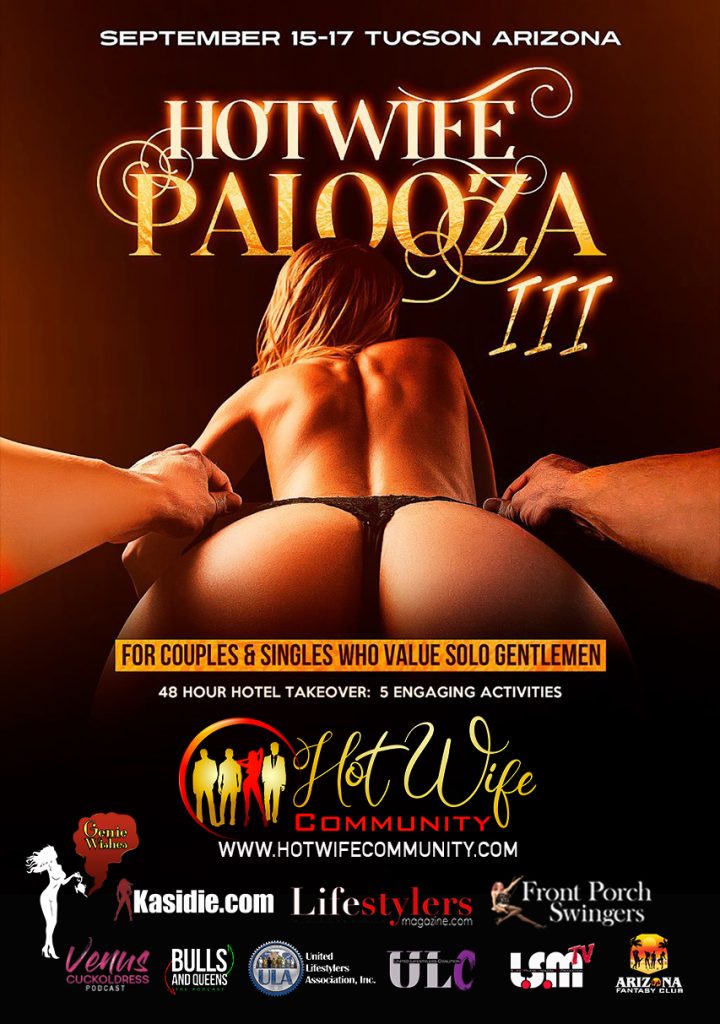 THE WEEKEND TAKEOVER FORMAT:
The weekend takeover event format continues to be popular among members of the Lifestyle community. Many people appreciate the unique advantages of sharing multiple days together. In contrast to the conventional one-night party, these events allow people to get acquainted during the first day, and then build upon the new friendships during day two. As a bonus, guests can also enjoy a 3rd day known as Sunday Funday prior to finishing up the festive weekend. Importantly, the 48+ hours of time can provide deeper opportunities for friendships to evolve, for people to eat together, hang by the pool, dance together, and engage in other naughty shenanigans.
THE TUCSON HOTEL VENUE:
The destination for Hotwife Palooza III is a Tucson hotel location that has proven to be very popular among group members from Arizona, Southern California, Vegas and beyond. It's a charming boutique hotel with a wonderful Southwest flair. The party producers frequently call this event one of their favorite events of the year. Genie has reported that "The hotel staff are wonderfully supportive and our group truly feels like valued guests each year." The Tucson Hotel Takeover Weekend features 4 parties in 48 hours, plus speed dating, DJ dancing, a terrific on-site restaurant and bar, and one of the largest play spaces offered at these parties. The festivities begin with a "toptional" pool party meet and greet, an evening Speed Dating activity, and the Friday night dance party. The party vibe kicks into high gear with 2 high energy DJ parties, poolside by day, and inside at night. Both of the night time parties feature sexy attire themes to further spark the sensual evening ambiance.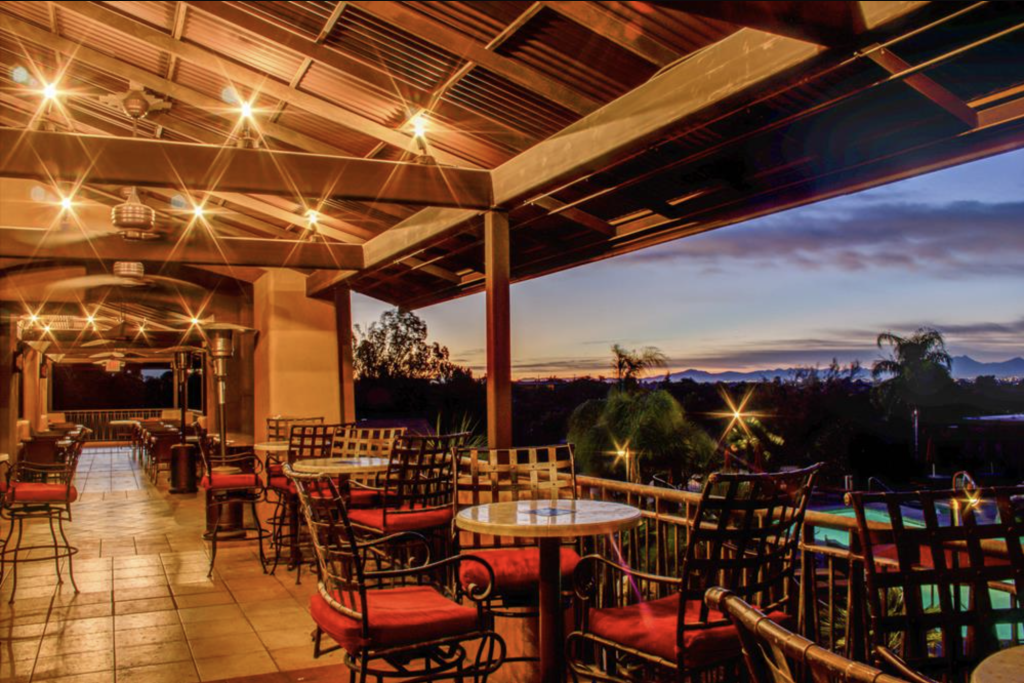 EVENT VALUES RELATED TO RELATIONSHIPS, DISCRETION AND SAFETY
Over the past 10 years, the Hotwife Palooza event leaders have produced more than 300 Lifestyle parties ranging from house parties to club and hotel takeovers. They are well known for their consistent emphasis on safety, respect, female empowerment, and relationships. According to Ms. Geniewishes "Our intent is to ultimately foster uplifting connections that can include everything from 1-time sexual experiences, to long lasting friendships and relationships. We want to consistently raise the bar for what people expect from these events, including the highest standards for safety, discretion, and respectful interactions."

ETHICAL NON-MONOGAMY & PODCAST SUPPORTS
The owners of Lifestylers Magazine are strong advocates for ethical non-monogamy (ENM), with a specific emphasis on the inclusion of single males. Steve and Karen explain their commitment as "ongoing efforts to educate people with the intent to support members of the lifestyle community and to de-stigmatize the public perception of open relationships and ethical non-monogamy." Related to these educational efforts, multiple high profile podcasters support and attend Hotwife Palooza. This year's talented group includes Venus Cuckoldress, Front Porch Swingers, and Doc Chocolate with Kings & Queens. The intent for these broadcasts is to inform listeners about the growing Hotwife phenomenon and publicize the engaging activities at this event.
THE FRIDAY NIGHT FESTIVITIES: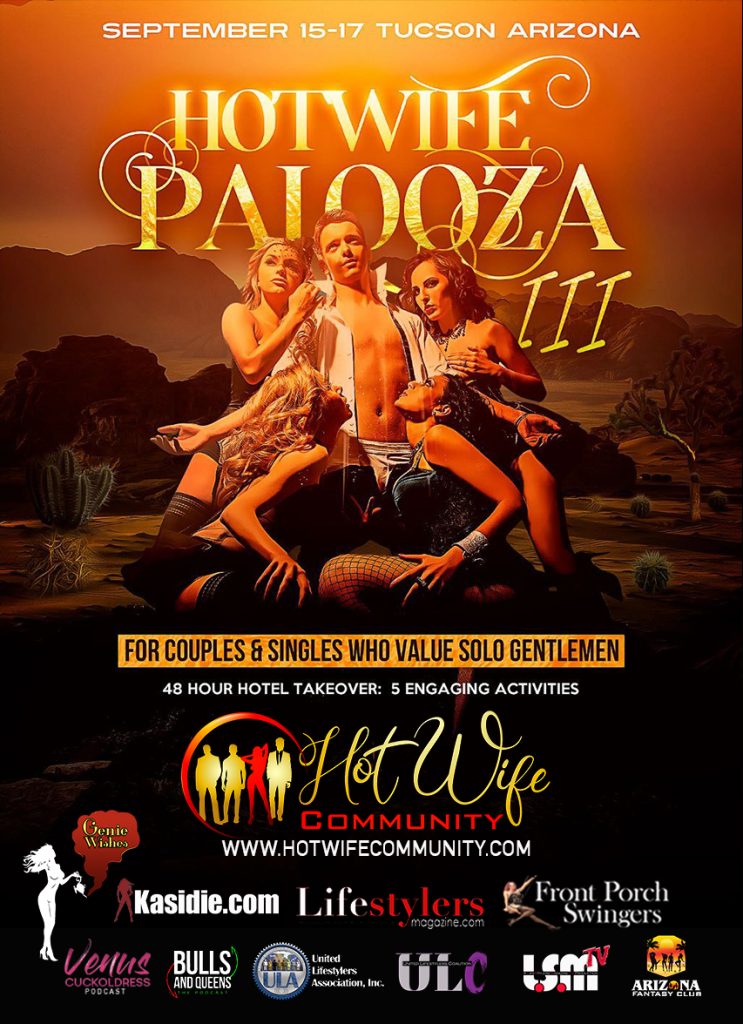 The Friday festivities begin with the afternoon pool party intended to foster new friendship connections as everyone settles in during the first day. Speed Dating begins in the early evening and serves as an effective ice breaker. The activity is carefully facilitated so that couples and singles can focus on another couple for about 6 minutes, prior to rotating to the next new friends in the sequence. The emphasis is on conversation, and it empowers people to give their undivided attention to about 7 other couples during the 60-minute activity. This often results in multiple new friendships getting launched for the upcoming weekend. The dance party features sexy attire themes each night and guests can count on an active dance floor for several hours. The later evening also features the option to explore the impressive on-premise play space. The sexy vibe includes multiple beds, black lights, see-through sheer dividers of the play spaces, a sex chair, a massage chair, and romantic background music.
SATURDAY NIGHT & SUNDAY FUNDAY
Saturday is frequently the day with the most highlights for these events. Once again, guests gather for a day time pool party. The restaurant and bar is busy during the dinner hours as people relax and prepare for the climactic events of the weekend: the dance and play party (featuring a 2nd attire theme) and open spaces for group play. This time, guests can engage with a special midnight group play session in the giant group space. Given the late-night shenanigans, guests are welcome to sleep late on Sunday and relax with extended hours for the complimentary brunch and late check out from rooms. Best of all, people can gather for afternoon fun at the pool, bonus time to visit, relax, and ultimately prepare to leave for home.

With all this sexy entertainment in mind, there is one final element that is noteworthy about Hotwife Palooza III: the cost values. Moderate level pricing for the hotel and restaurant equates to reasonable ticket packages that match nicely with most budgets. For example, standard room packages sell for about $600 plus fees for 2 nights lodging AND all the activities. As another option, the 14-hour day passes sell for about $120 to $150. Either way, the price is right considering everything included in these memorable events.
In closing, our Lifestylers Magazine team look forward to connecting with everyone at Hotwife Palooza III in Arizona. We have already started counting down the days to September 15th because we cherish these opportunities to connect with so many incredible members of the LIfestyle and Hotwife Community.