The Sexy Athena O Shares Her Sexual Life Journey

The Auglaize County fair was always the place you hid behind trailers for a makeout session or ogled over the carnies and their thin, muscular wiry bodies and cigarettes hanging from their lips. They looked so cool and as a teenager you wanted to be whisked away into this virtual land of mystery and intrigue. Parents were always heralding the woes of these mysterious men and women and that made the young mind want to rebel even more.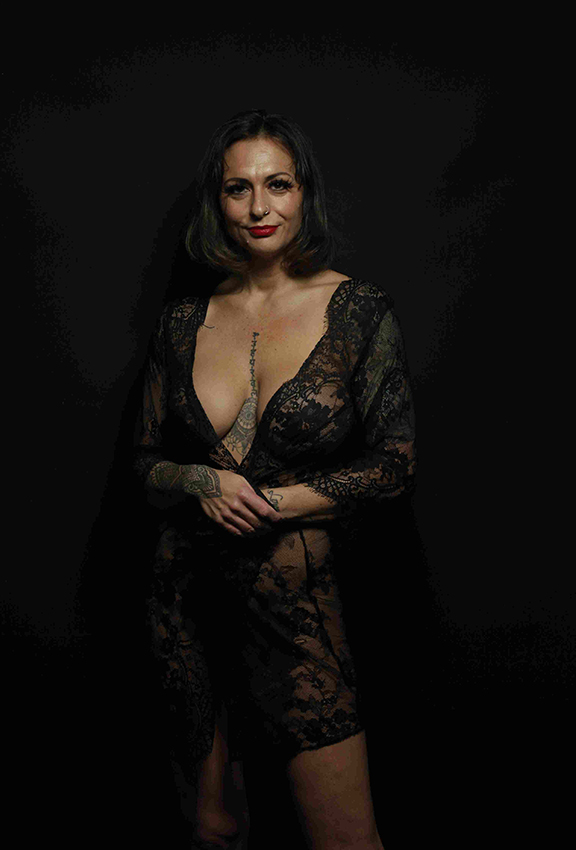 It was the summer between my sophomore and junior year of high school. I was turning 16 in a few weeks and sex was on the mind. He stood at the basketball free throw chatting to the carnie whose cigarette was dripping from the corner of his mouth, smoke curling in the air, the cherry red embers burning bright every other moment. His honey blonde hair was the typical style of the football jock of those days. I didn't know if I really wanted him or his status. He didn't go to my school but I knew him well enough. He was my friend's boyfriend, he had that cool swagger that said, "Look at me, I am in the popular group." If only at this point in my life I would have know that years later I would fuck all my friend's boyfriends and husbands and it would be not only ok but welcomed I probably would have felt less guilty as we locked eyes.
My long brunette hair was slicked back in a ponytail as it always was. I didn't enjoy hours in a mirror and simple was always the best. Not much has changed there. Chad and I ended up finding our way to his brand new red camaro. I'm 5' 11" and will never understand how then or any of the years later when I found myself in the front seat of a car with a stick shift that I ever thought that was fun or hot!
That experience led me to fucking 22 guys and several women by the time I I got married at the age of 19.
That experience led me to fucking 22 guys and several women by the time I I got married at the age of 19. At that age it wasn't about sexual yearning, but the brokenness I had within me. Even right before my wedding I was cheating on my soon to be husband in back alleys, dancing on stages with snakes in skimpy outfits, had tried my hand at the local seedy nude strip club and was a total exhibitionist. All signs of things to come.
At the age of 22, when my daughter was only 6 months old I began the cheating cycle again. I was working late nights in a bar and going to college full time. I found myself profoundly attached to the older men at the bar and the young girls at college. I had no identity or label for who or what I was, but I was ridden with guilt continuously. After my divorce until the age of 27 my bed was a revolving door. I sometimes wouldn't even change the sheets between my lovers and one would show up minutes after the other had left. I would prowl the bars and clubs for the "hottest" guy on the weekends. I was young, fit, and pretty so when I would whisper in my friend's ear "That one is mine tonight", there was never a question that I would take him home. I had my first threesome with my best friend and her husband and then proceeded to invite other women into my bed with the men I brought home. 
Then at the age of 27, I left my home and moved out of the state and began my healing process. My sexual escapades up till then had been about power and control and as I shifted so did my wants. I met Kari the following year and fell deeply in love with my first woman. This began my 15 years as a serial monogamous lesbian. I didn't cheat and the idea of sleeping with men repulsed me, although I kept them as my best friends and confidants. Up until that point my only orgasms came from oral and although I slept with lots of men I had never really enjoyed it. So it was an easy switch when my heart aligned with my sexual desire for women. I became one of "the boys"  and was the best wing-woman around. I still had mostly hetero friends and I partied with them, always nearly naked, my exhibitionism couldn't be contained.
After my first lesbian heartbreak I had a wild summer of exploration that included tons of drugs and being indoctrinated into BDSM on my 32nd birthday. My friends threw a huge birthday party for me at an old fishing store turned party warehouse in Hollywood, FL.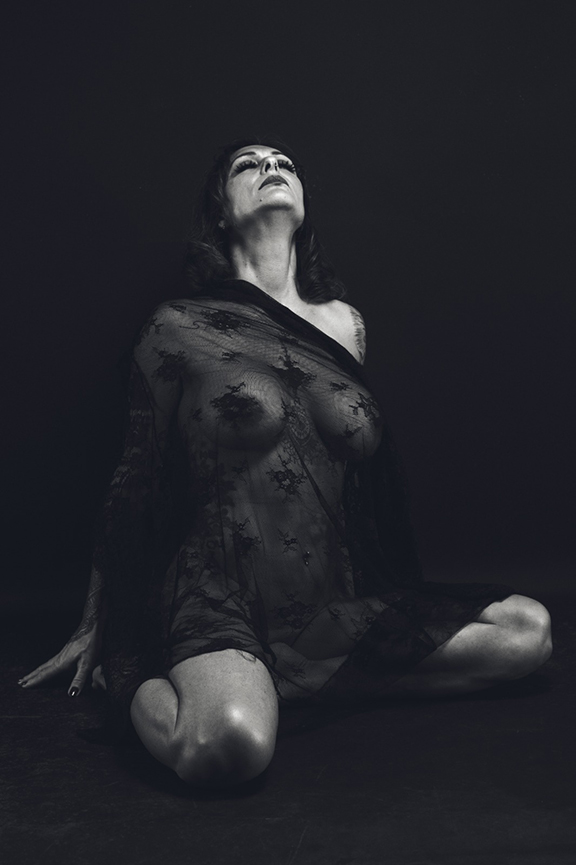 I walked into the dimly lit building, wooden beams towering above, faint light from candles and glow jewelry allowed you to hear but not see the scene before you. Faint moans of pleasure wafted through the air. The crack of a whip. The burst of a slap against bare skin. The thud of leather. As my eyes adjusted to the dimness I saw figures dressed in leather, crops hanging from their hands, women half clothed, and furniture with figures draped over them receiving pleasure or pain. I wasn't sure. I was intrigued immediately. There was a large board that had been signed with well wishes for my birthday by all my friends and the new people I would soon know very well.
We played naked twister, I learned the art of flogging, had my first cupping and decided at that moment to become a Femdom. There were friends fucking in the loft both straight and gay and somewhere in between, bodies cuddled in piles, and groups of us streaking in the neighborhood at 5 am.
I met a couple that weekend that told me about swinging. I had never heard of it and was intrigued.  I went on to marry a woman but in between my monogamous lesbian relationships I would enter the swinging and BDSM world and would fuck the hot wives, get paid as a Pro Femdomme to beat and peg men although I never did anything more sexual with them or allowed them to touch me. It took me another 9 years to start sleeping with men, but something in me clicked and I was opened to a whole new world.
It was Christmas in Europe 2018. My friend and I decided to spend it in Amsterdam, hoping for some excitement when the rest of Europe is closed and everyone is celebrating in their homes. We had picked up some mushrooms hoping for an exciting night when we met the handsome tall gentleman from Newport Beach. I had moved to Newport Beach only one year prior and loved meeting someone from my new home. The three of us took the shrooms and went out on the town. As the mushrooms kicked in, so did my sex drive, but instead of having an attraction to my lesbian friend I was thinking about Neil. The more I thought about it, the more I wanted him. After 15 years of staunchly opposing every man's advance I was the one wanting.
The three of us ended up back at his hotel and I immediately undressed. I was always comfortable naked and now I was horny too, To my girlfriend's dismay I made my intentions known.
The three of us ended up back at his hotel and I immediately undressed. I was always comfortable naked and now I was horny too, To my girlfriend's dismay I made my intentions known. The shocked look on his face when he realized the lesbian in front of him wanted him, was a look I will never forget. It threw him off guard and was probably more than his vanilla mind could handle. He didn't know what to do or how to act so he just laid back on the bed watching me dance naked around the room. I began making out with her then with him. I would find out only later that my friend, the girl, actually had feelings for me and was devastated that I hadn't chosen her. She had thought this trip would bring us together as more than friends, but instead it began my journey into a new sexuality.
I bent over Neil lying on the bed and began to unbutton his pants. My friend came behind and began to slowly lick and suck on my pussy. As she slid her fingers into me I pulled his dick out and began stroking it. Did I even know what to do with this thing? Did I remember? I for sure wasn't putting that thing in my mouth! So I kept stroking it til it was hard then pulled myself up to his mouth and began kissing him again. I rubbed his dick on my pussy and slid myself up his body before placing myself on his face. After a few moments I slid back down towards his dick and played with the tip near my clit and opening, the cream wetness glistening onto his stomach. I made out with my friend and asked for a condom. He produced a condom and as I held it in my hand I freaked out in my mind.
I looked at the package, looked at my friend and then at Neil. What the fuck was I doing? I can't do this. All of my identity and beliefs were tied up in this strange moment and I got up and quickly dressed. I beckoned to my friend that it was time to leave and quickly exited the hotel.
For 3 months I battled the demons in my mind. I was a lesbian, why would I want to sleep with a guy? No matter my exhibition, my BDSM, my swinger friends, the events I had attended all over the east coast and my openness to group play I didn't sleep with men! But the urge lingered and eventually I had to see what I was missing and put this feeling to rest once and for all. So I set up two back to back dates with two men I found on SDC.
The first date was a disaster. It was the worst experience and I left thinking this is why I don't fuck men! My sense of integrity and my belief you should try everything twice before throwing it to the wolves made me keep the date for the second night.
David was everything you could hope for in a date. We met at the Country Club. His long flowing blonde hair and slight stature gave him an air of femininity which made me feel comfortable. He sat down and I was blunt, " I am a lesbian, I am going to marry a woman I just want to fuck a dude". We had a great conversation and instant connection so I decided to try this one more time. Although he aired to the side of femininity his fucking was anything but that. He stripped me down in the kitchen, bent me over the counter and made me squirt with his fingers. I didn't even know this was a thing. I was 41 and had just discovered magic. He spent his time with me that night, giving me pleasure orally then making me orgasm from penetration. Another first. I was hooked. I spent the next year exploring this new me with him. We attended parties, had threesomes with women and a couple times I tried fucking other guys but never enjoyed it, just like before. So I began to wonder if it was just him. I still preferred women and only dated women, and I fucked him in hiding for the first year. Then I wanted to experience more. I had my first couple experience since my early 20s almost one year to the date later. It was fun and I knew I wanted more of this. David eventually couldn't handle that I wanted to also fuck other men and we went our separate ways and I began to find my way as a unicorn again this time with mainly couples instead of hotwives. I wanted the woman but now the men too. I wanted the dynamic of us three and the fun of it.
As my world expanded I decided to try all the things I had never done before or even thought about. My first MFM, gang bang, and lots of orgies, tons of orgies. I began hosting them and throwing intimate and fun parties. In the middle of 2021, only a short 2 ½ years after I met David, I met a couple that changed my world. I was in love with them both. She was straight and became my best friend but I loved her the same. He was the best sex of my life and a gentle amazing soul and I fell hard and so did he. I began to wonder if I was poly, I was searching for a partner of my own but began to think of how we could make something work with all of us. I broke the #1 cardinal rule of being a Unicorn "Don't get your heart involved." After spending countless hours and days with them we became best friends, lovers and eventually it all blew up when he tried to leave his wife for me. I didn't want it or him (at first) but after several months of going back and forth and losing my best friend in the process I decided maybe I did want it. In the end I lost them both and would've done anything to keep them in my life as friends over the heartache and mess that broke my heart and caused me to leave the country.
I have experienced the lifestyle in all aspects as a unicorn, a lesbian, a couple, dabble with thoughts of polyamory and coming full circle. I hope to one day not be the Unicorn, but until then I will enjoy the ride. Learn and love and not love.
This experience has led me to starting a podcast called The Unicorn Diaries. It's part erotic stories, diary entries from my experiences, parties and escapades to lessons I've learned, etiquette for the newbies and singles, terminology, and advice for everyone. As a certified and degreed coach, healer and therapist I have decided to share my wisdom, my fun, my heartache, and lessons with the world. You can listen and find out more on Itunes, Spotify, Amazon Music, and IG. The Unicorn Diaries.
Athena O