One Of Our Favorite Lifestyle Activity, is Going to Clubs

Sexy Sophia Nunya: This is the story of my first spit roast. Not long after we first got into the lifestyle my husband wanted to surprise me, so when he came home one day and he told me to get dressed sexy and be prepared to go out with the distinct possibility of being seen naked. I tried to get more information and asked if there was a theme or something I should dress for, and he just told me very very sexy. We have been to lifestyle clubs before, so I expected something along those lines.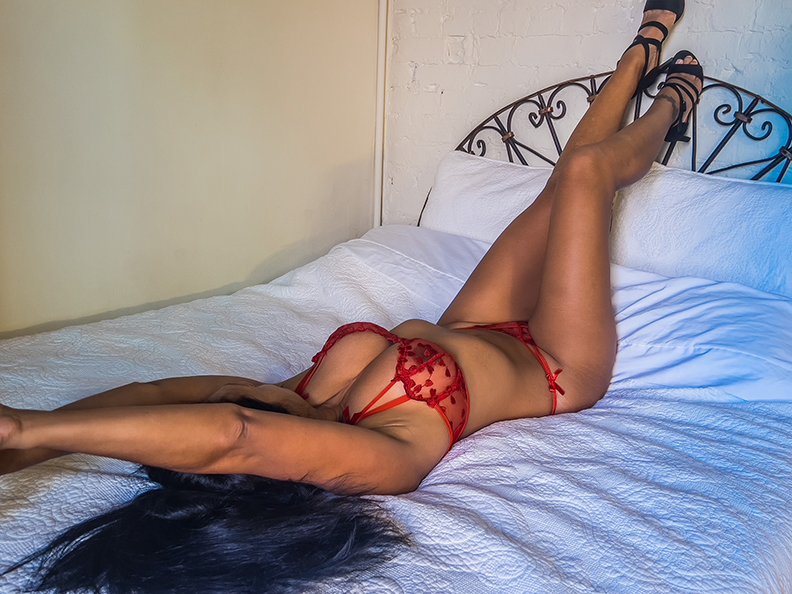 Anyway, I got all dolled up, and when I came out, he escorted me to our vehicle, and we started to drive to the city. I asked where we're going in and he said it was a surprise. I saw he had a small bag in the backseat, but I didn't question immediately what was inside. We pulled up to one of the larger hotels, and the valet took her vehicle. I was a little confused as to why we were at a hotel because if it was a party, he would've normally told me we would've discussed it. He took my hand, and we walked to the lobby to the elevator, and as we stepped in, he pulled out a black mask. Like a sleeping mask not fancy just black. He told me to lift my hair so I did, and he slipped a mask over my hair in around my head and covered my eyes. Obviously, this disoriented me so I held onto his hand tightly. It seemed like it took forever for the elevator to make it to the floor. He walked me out and we actually stopped at the door and he open it for me and walk me in. Do you want me inside and set me on the bed? He told me to lay back and relax, so I did. This is where he explained what was going on. There was a guy that was about to show up to meet us.
His expectation was that he was going to be helping provide a massage for me with my husband. He told me that if anything were to go further, it would be up to me and all I had to do is let me know. I instantly had a knot in my stomach and was so nervous. I had 1 million questions, but he told me don't worry he would be there and everything would be safe. I trust him implicitly so it made me feel a little better, but I can't deny I was excited. We had some small talk, and he had me a drink, ready which after the second one my nerves started to calm down some. Right about the time I started to get relaxed there was a knock on the door. There went those nerves again. Before he went to the door, he told me that the guy wasn't gonna speak and that I was not going to remove the mask the entire time so I would not know who this person was. He got up and I heard the door open, and there was a long pause. What seemed like an eternity later? I felt hands sliding up my leg.
My husband told me to sit up. As I did, he help me scoot my skirt up from underneath me and asked me to raise my hands above my head.
My husband told me to scoot down and leave me diagonally across the bed. I felt a set of hands on one of my legs start to gently caress me and then the second set of hands touched my other legI was wearing a fairly short dress with nothing under it. As the hands moved up to my knees and onto my thighs, I can feel them slightly pulling my legs apart. I don't know that I resisted but I think I resisted at least a little bit first. About the time that they probably could've seen my dress. My husband told me to sit up. As I did, he help me scoot my skirt up from underneath me and asked me to raise my hands above my head. I felt the second set of hands slide at my waist to the dress and help lift it over my head. He told me to lay back down on my stomach, so I stretched out and decided I may as well enjoy this massage. I felt the familiar sensation of two sets of hands on me now this time they had oil that they used to start the massage.
It could have definitely been warmer than what it was but I'm not complaining because I do love a massage. They started at my feet and worked up. I was pretty impressed that they weren't in a rush and took their time. I actually felt like they wanted me to enjoy it and weren't just trying to rush. They made it up to my hamstrings, which were super tight from the gym and needed a massage, they moved up to my butt and then to my back. they actually got some kinks out of my lower back which was awesome.
They made it up to my shoulders and down my arms. They even massaged my hands and stretched my fingers. It was actually really good massage. For reference if you want to get me worked up a massage is the way to go. I love a massage. It definitely gets my juices flowing especially if I feel like it's a good massage and not just trying to get to the result. I heard my husband told me to flip over and so I turn the laid on my back. This was it. I was definitely exposed now. I could tell from how large the hands were. My husband was now massaging my head and brushing through my hair. I absolutely adore when he does this. The other guy was at my feet in working up my shins. I got a little bit more breve and open my leg some. I could feel him kneeling in between them as he massaged my thighs. I was really worked up and I wanted to be touched a little bit more intimately. By this point, my husband was on the side of me and I could feel his hands on my arms, my breasts and he would gently rub against my pussy. I couldn't really tell when he did it or the other guy did but I could tell it was going on clearly. at some point, the other guy got on the other side of me and was kind of kneeling down. One of my hands was touching his leg so I could feel the position he was in I I heard the remove your sound of my vibrator turn on, and I felt replacing it on my Clit.
It wasn't much longer before I started to come, and I mean a lot. The whole sensation of not knowing who it was or what they look like, the touches that I couldn't predict, everything about it was just so hot.
I was so wet and ready at this point was unbelievable. The guest lean down and begin to lick and kiss my nipple in my husband at the other side. I start to slide my legs apart so I could feel more vibration and get better access. I don't know what point I started trying to open the guests' pants but I was having trouble with his belt. He was more than happy to help me get them open and pull them down. I was half involved because I was so into the sensation on my clit I know I started to stroke him. I guess at some point I lost track in the truck and then stop or stroke and stop so I felt him hold my hand by the wrist and start to thrust into my hand. I didn't realize it at the time but thinking back that was so fucking hot. It wasn't much longer before I started to come, and I mean a lot. The whole sensation of not knowing who it was or what they look like, the touches that I couldn't predict, everything about it was just so hot.
After I came I kind of laid back I was enjoying the moment. I didn't notice the moving around me, but someone was now between my legs and started to lick my Clit. I was super sensitive at this point and probably should've taken a break, but I didn't wanna slow things down. My husband leans down to me and asked if I was OK and I just nodded. He didn't ask me if I wanted to go further, and again I just nodded. I felt my husband disappear for a moment and laid-back and enjoyed our guests, talented little tongue. When he returned, I could tell he had strip down and he told me to get on my knees. So I did. I can feel his cock near my mouth, so instinctively took him to start to suck him. I didn't know were the guest was, but I'm sure he felt his hands running up and down my back and my ass shortly after I could feel from the intermittent touches he also had stripped down.My husband instructed me to turn around, so I did. He got in between my legs and slid inside me slowly at first then all the way in. It's always such a filling sensation that first entrance. I could feel our guest in front of me, so I reached out my hand and found his cock and gently pulled him to my mouth. This was my first spit roast ever, and it was all to real at this point. Such an amazing sensation to have that much attention on you and yet still feel in control. At one point they stop moving and my husband just slid me back-and-forth between the two of them one slide it in my mouth as he slid outside of me and then vice versa.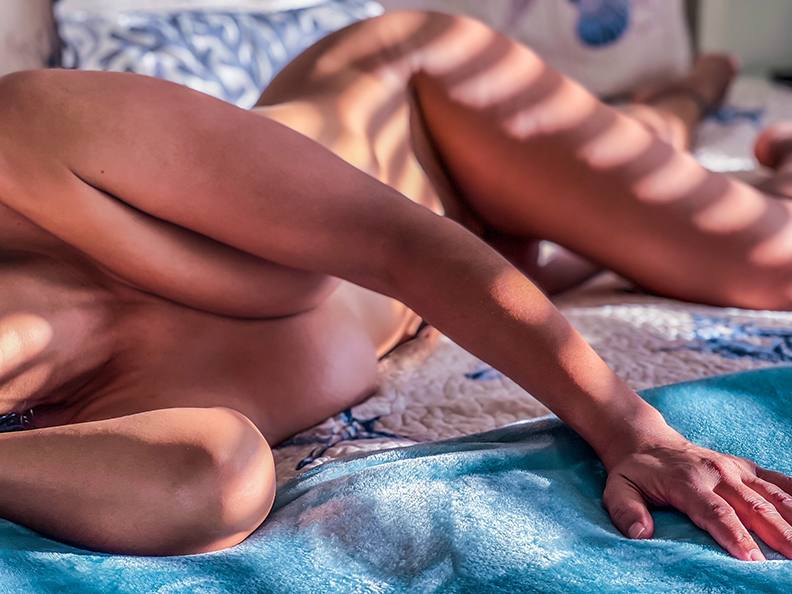 My husband said out loud. This was an amazing view and he wanted to see it from the other side. He asked if I was OK with that, and I tried to nod but eventually I just got up and asked him to hand me a condom. I gave the condom to our guest and turned around and started to suck my husband's cock. I don't know how long it took, but it seems like forever before I felt the stranger slide up behind me. He had his hands on my hips and was trying to gently slide inside me, so I reached back and grab his cock and guided him into me. Our cast is making the most enticing noises clearly enjoying himself. It was so empowering knowing that I controlled the situation. My husband told our guest to lay on his back and for me to climb on top of him, so I got in cowgirl position and started to ride. My husband stood next to me, and I started to suck his dick while I was doing it. Our guest had his hands on my hips and tried to slow me down when he was getting close, but I wasn't gonna have it. I earned it and I was going to get what I wanted. He said that he was about to come in, so I pulled my husband's dick out of my mouth and told him that I want him to come so bad. I could feel him thrusting inside me, and I could feel his dick throbbing. He shortly fell into a slump underneath me as I climbed off. My husband told me to lay on my back and he got on top of me sliding inside my pussy. I wrap my legs around him as he thrusted inside me over and over I guess because lying next to me and I can feel him, his body, even the blindfold I could feel him watching. My husband reached behind me and grabbed my hair. I knew he was getting close and I want you so bad to fill his hot come shoot inside me.
It wasn't long before I felt him tense up in and fill me up. He told me to get up and go to the bathroom to get cleaned up as I stood, he help me to the restroom. I went in and got cleaned up, but when I stepped out, the stranger was gone.He got dressed, so dang fast. He was out of the room and my husband removed the blindfold. We stayed the night and fucked many more times thinking about this hot scenario. In the morning we got dressed and drove home. I asked him if he was ever going to tell me who it was, and he said no. He told me that every time we have a party, every time we go somewhere, every time some to hold the door for me I'm gonna have to wonder if that was the guy that was inside me. For a while, I tried to figure it out. When people would come over or I will talk to them I will try to catch them looking at me or see secretly smiling at me but I never caught a glimpse of anything. Eventually, I stop looking and one day I'm sure it will be revealed to me, but until then it's just a sexy hot mystery man.
Profile Name:  Sophia Nunya
Instagram @attenuate_but_racy

Twitter @sophia_nunya

Only fans  @sophia_nunya