More Monogomish than Swingers

My wife and I would be considered more monogomish than swingers, but we do have a circle of friends to play with. Our most frequent play partners are Brad and Angelina (obviously not their real names… but they are very attractive). We'd built a lot of trust with them, so when Brad asked Angelina to set up a special birthday treat, they weren't afraid to ask us, though they expected we'd refuse. Brad wanted a line up of three FMFs over the course of one evening (what man wouldn't? Most of the women we know would love a night with three women!). He asked that my wife be one of them. Not only had we never done any hotwifing; we had never even played in separate rooms! But we talked about it with Brad and Angelina, and between ourselves, and found that not only did we feel safe, but we were also kind of turned on by the idea!

The date and time were set and J, my wife, would be the first of the three visits Brad would receive over the course of a single night. It was like the world's hottest version of a Christmas Carol. But I had a stipulation, I wanted Angelina to send me videos during the session. I'm a bit of voyeur and watching my wife when we're playing with others is a huge turn on for me. We were both pretty nervous, in a good way, as J was putting on her sexy lingerie: stockings, a tiny thong and lacy bra. She's an athletic size four with perky breasts and a yoga-toned ass. Brad is a lucky man! Anticipating the activities ahead, she could barely keep her panties dry and, surprisingly, I was hard. And she hadn't even left the house yet. Before walking out the door, J turned around and, seeing how hard I was, opened my pants to warm up her head-giving skills (which are exceptional). Zipping me back up, she assured me shed come home ready for more. I told her to just let go and have a great time.
On her knees in front of him was J, delivering one of her expert blow jobs. Brad is pretty well hung, making the video perfectly pornographic as she moved her well-lubed hand up and down his shaft and sucked him deeply in and out of her mouth.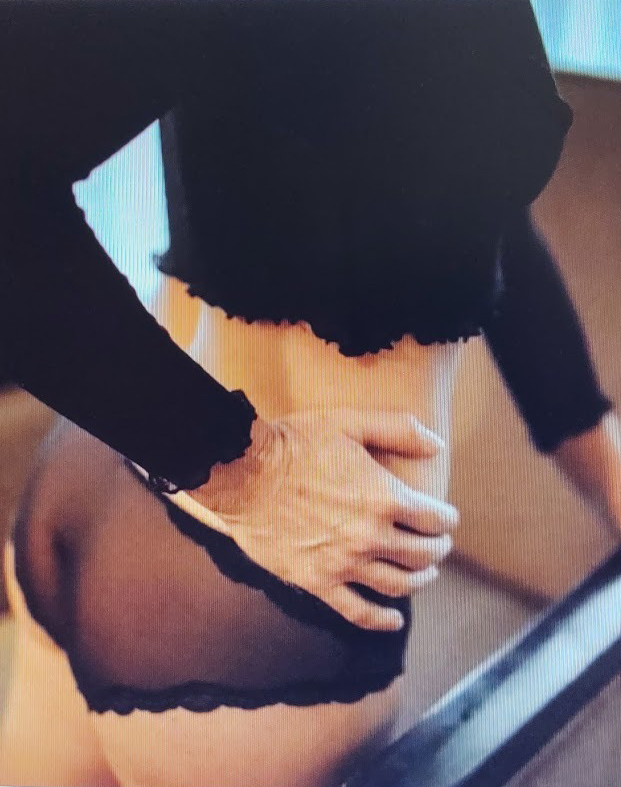 It wasn't until the door closed behind her and the car left the driveway that I began to have second thoughts. Like most people, I was raised to think this kind of thing was unthinkable. I grew uncomfortable with self-doubt. Was I some kind of pervert sending my wife off to make love with, not just another man, but another couple?! Is this `right?` I was tempted to call it off but decided to ride it out and feel whatever feelings came up, even if some of them were scary or negative. Again, this couple had become dear friends, so no scenario could have been safer. I puttered around the house for what seemed like an eternity, but was more like an hour (they live about 20 minutes from us) when I heard a text come in. I was simultaneously crazy anxious and scared to look. My thumb shook as I clicked to open it. The screen revealed a gently lit bed (one both J and I know well) upon which Brad was seated. On her knees in front of him was J, delivering one of her expert blow jobs. Brad is pretty well hung, making the video perfectly pornographic as she moved her well-lubed hand up and down his shaft and sucked him deeply in and out of her mouth. J's eyes were half closed with ecstasy, and I knew she was in the zone. I was almost hard enough to come without touching myself! My phone remained silent for another fifteen or so minutes. I watched the video again and again it was all I could do to not finish myself off at the sight of it. Then… another text. If it was any hotter that the last one, I'd have to watch it in a cold shower to prevent just going off! Again, my finger shaking, I hit the button.

In the new video, Brad was laying on his back on the bed and the video, taken from behind, began just as J straddled him and stroking him to rigidity with a hand behind her back, lowered herself slowly onto his thick cock. New to his size, at least for this night (I'm just fine size-wise, but Brad requires some getting used to), she moved cautiously down its length until she could gain a steady, repetitive momentum. Just as she did… the video ended. Now I couldn't dare touch myself for fear of explosion. Apparently, I discovered, I have a kink. I have been very turned on witching this very thing happen in person, but watching on the video, knowing it was taking place live while I was twenty-minutes away, was a new, elevated rush. I entertained myself with my new mini wifeporn collection, wondering if the next video could possibly outdo these two. Spoiler alert; it could.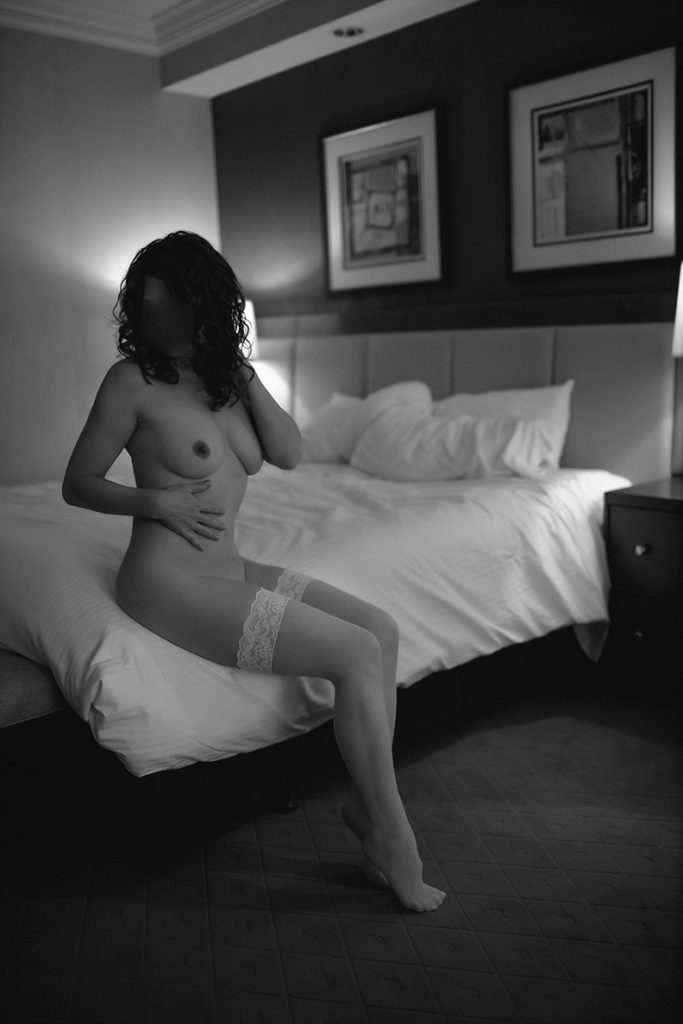 The next video arrived and took the whole situation up a notch. Apparently, J's session had run a little too long and the next FMF volunteer had arrived, so B and A recruited her as a videographer, allowing Angelina to get into the action! J was laid out on her back, her legs spread, and her head propped up on a wedge cushion (B and A are prepared!). Angelina was between her legs fucking her with a dildo even bigger and thicker than Brad(!) as she went down on her. At the other end, Brad kneeled beside her face, his hand full of her hair and he slowly fucked her mouth with his nail-hard cock. It was so hot I could hear girl #2, the videographer, moaning as she recorded the scene. This time the video ran for several minutes, expertly covering the action at both ends as the massive dildo overstuffed J's drenched pussy and Brads big cock ran across her lips and deep into her mouth. I know J, and when I saw her start to speed up her motion, vigorously jacking Brad's long organ, I knew she was about to come. And come she did, squirting around the giant dildo, and moaning around the large cock in her mouth. The camera stayed focused right up until Angelina slowly pulled out the hung toy and took her mouth away from J's swollen clit, smiling proudly into the lens. Blackout.

This was beyond the hottest porn I had ever seen; my wife, my dear friends (and a mystery camera woman) and… not me! I went into this thinking I would be cool with it, but I never expected to be this turned on. I wasn't quite sure what to do. I was ready to jump J's bones the moment she walked through the door, but I was certain that there was nothing left for me. She might be understandably be worn out, or sore given the sizes of what she'd just been pleasured with. But I decided I would keep myself unsatisfied and shower just in case. I was dried off and sitting on the couch, my excitement still pushing against the towel wrapped around my waist, when the door opened. J entered nervously. I was so into my experience that hadn't even considered that J had no way to know if I was turned on or freaked out. She entered the house sheepishly, wondering if our relationship had just taken a blow. But the expression of concern on her face turned to a beaming smile when I pulled back the towel and delivered an evil grin. Having showered at B and As she was totally ready for more fun, in fact, she was steaming hot. I shared the videos with her and she couldn't believe her eyes. She was watching herself essentially in a porn! I'm still not sure how I withstood exploding at the first touch of her hand and mouth, but somehow, I was able to hang on long enough to reclaim her body and deliver her a series of screaming orgasms before finally exploding like a nuclear bomb myself.
Because we are far from newbies, but not fully immerged in the lifestyle (I'm too introverted for parties, clubs, etc. much to J's chagrine), I don't know if what I am abaout to propose is already a popular thing. If there were couples that listed themsleves as open to 'lending out' one or the other member, it would it would be of great utlility, no? We enjoy MFMs and FMFs, but finding a single male we want to play with, or a unicorn female at all, has been nearly impossble. Being able to meet with couples knowing that our arrangements could extend from fourway to threeway, would be great. And, given my own newly discovered kink, having a camera aimed at the entire event would be perfection.