Hedonism II Jamaica

Well, we finally took the plunge this November and paid a visit to the world-famous Hedonism II Resort in Negril, Jamaica. We had been scheduled to sail on the Bliss Cruise during that week in November of 2021 but with so many uncertainties surrounding the cruise, the rule changes and possible disruptions to the agenda; we decided to take advantage of the opportunity for a full refund in July and cancelled our cruise. We had the time off and needed something else a little less risky but still adventurous as a replacement vacation. Hedo was of course "sold out" for the time period but we managed to find availability after a bit of effort. What follows is our description of the trip and recommendations for future Lifestylers Magazine readers who are pondering a trip to the resort.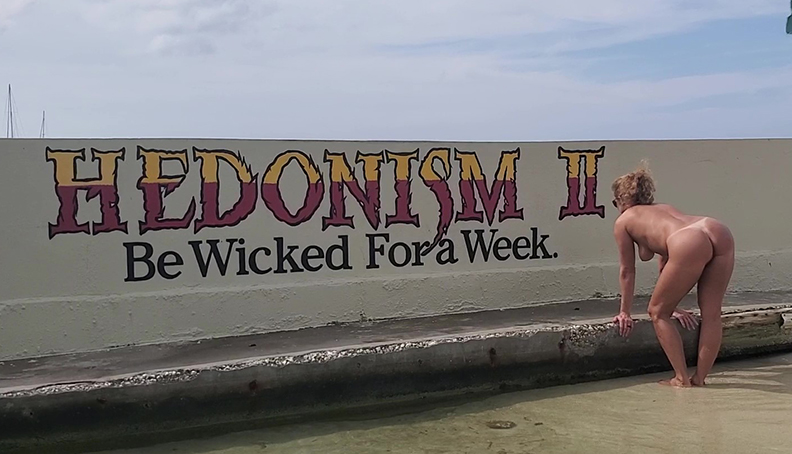 Hedonism II is a lifestyle focused, clothing optional resort located in Negril, Jamaica. The resort is an "anything goes" type of property where in some places wearing of clothing is "optional" and in other parts nudity is required and no clothes are allowed. Open sexual behavior is allowed and practiced in many places of the resort. The exceptions to that behavior should be obvious so we won't elaborate. While the fully nude side is more popular as far as activities, the clothing optional side is quiet, relaxing and has the same, full services as the nude side. There is NEVER any pressure to play, be nude in the clothing optional areas or engage in any of the games or events. The resort is "all inclusive", meaning all food, drinks and entertainment are included with the room rate at no additional charge. There really isn't much else to pay for at the resort unless you want any "add on" excursions (which we did not purchase) or other extras beyond what is included
Booking Hedo
For several years we have used the services of Castaway's Travel as our agent for booking lifestyle travel. They've actually come through in a clutch several times for us and had managed our bookings for Desire Resorts, Bliss Cruise, Hidden Beach Resort and others. Lori at Castaway's is a go-getter and can make magic happen when it needs to. Lori eventually found us one room on the Garden View Clothing Optional side of the resort, not our first choice but at this point any room that got us into the resort for the week was good enough. We decided to stay for 9 nights rather than the standard trip most people book. We wanted more time to relax. In hindsight, we probably should have just stuck with the standard "Sunday to Sunday, 7-night length of stay.
Lori had found us an opportunity to tag along on a group booking that had a spot open. The group booking also allows for a discount. As the group began communicating with us, they sent us and email that a couple of the group organizers were going to have to cancel their stay due to family issues. I immediately called Lori to attempt to book us an Ocean View Nude room because I knew that at least a couple of those rooms would have just opened up. She immediately checked with the resort and they indeed had that class of room open. She booked the room for us and billed us for the price differential. Things were looking good.
During our stay there were a couple of groups who had a large attendance at the resort. Early in our stay Dirty Perv's had a sexy group in attendance and later, Rachal's Rascals was the prominent group during our stay and they had a fantastic entertainment and party agenda planned for the week. They were happy to have us tag along and we met many fantastic members of that group. We recommend trying to plan your stay during a week when a noteworthy and fun group has planned their visit to the resort. You can ask the resort, check out the web site or ask your lifestyle travel agent to find out which groups will be in attendance.
Travel to Jamaica is not difficult, just make sure to mind the Covid restrictions and other paperwork requirements required in order to enter and exit the country. There are a few of them and they must all be completed. Lori had already included a timeline and checklist for our trip so the process was pretty easy from that standpoint. Many airlines fly into Montego Bay (MBJ) airport and do so at various times or day, from early morning until later in the evening. Keep in mind that due to the tropical climate, storms transit the area frequently so delays aren't unheard of due to weather.
We booked the Club Mobay service which expedites the trip through the entry process. An agent is waiting for you at the arrival area and escorts you through all of the entry steps, bypassing all of the lines and waiting. The service also has a lounge area where you can wait until your transportation to Negril has arrived and is ready to board.
We made a couple of errors in our choice of dates to arrive and depart as well as our chosen times of arrival and departure. We arrived on a Friday around 4:30 pm local time. We didn't arrive at the resort until 4 hours later! Friday evening traffic is as bad leaving Montego Bay as it is anywhere in any big city in America. The traffic jam was awful and after a long day of travel from the west coast, the last thing we needed was a 3-hour journey on a perilous road, riding in a small van. Big mistake. If we had it to do over, we would probably take a red-eye flight to Miami and either stay a night there or leave for MBJ earlier in the morning.
The transportation from MBJ to Negril was ok, and there is no bathroom facility on the van. The driver stopped at a small bar about two hours into the trip, but bladder capacity could become a factor really quickly if you decide to drink a few beers while waiting for the van. Some people arrive a day or two early and stay at a less expensive hotel in Negril until the dates for their stay. This allows for extra vacation time at a far less expensive rate. We were told by more than a few guests that traveling from MBJ to Negril by small charter plane was fast and easy, although a bit spendy. The small planes can't carry much weight, so keep that in mind when packing.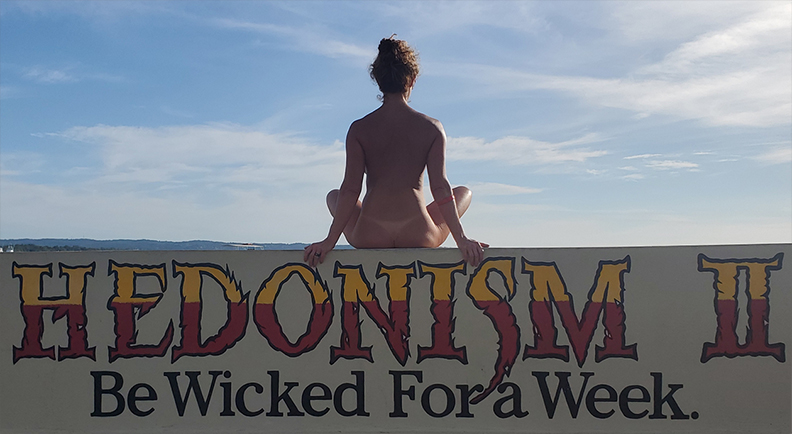 This is the time for our first real sound words of advice….BRING LESS STUFF! Less bags are better and you really won't need much of the stuff you bring. What you don't bring you can purchase at the resort, including costumes. A few costumes are ok and certainly you want to dress somewhat decently for evening dining if you aren't wearing a costume. You don't need to "dress up" too much, but you most likely don't want to be the "wife-beater shirt" guy and "no-bottoms wearing a t-shirt" woman that you will see at times in the evening. If you are there to meet other sexy people you probably want to dress as you would at any lifestyle club in the evening. Although some people didn't dress "appropriately" in the evening, we are a bit more "old school" in that respect. A couple pair of nice shorts for the evening will suffice for men for the entire trip. A few "Hawaiian shirts" or "golf shirts" can be worn a few evenings each and your costumes suffice for the rest of the time. A few pair of shorts to wander around in during the day are fine as well. Women wear costumes and a few sexy dresses for evening wear and normally a "coverup" (that doesn't cover much) during the day at the dining area and little else. Of course, the girls are always trying to focus on a sexy appearance at all times so they will bring a bit more clothing. Make sure to bring your "sex toys", towel clips and higher protection sun screen if you need it. Sun screen is sold at the resort but not in high SPF.Although tipping at the resort isn't common, we recommend that you bring plenty of smaller ($5-$20) bills along in order to tip the other service providers at the airport and in the transportation process
The Resort
The resort is laid out so the main dining area, gym and front desk are nearest to the Clothing Optional side of the resort and the nude pool and hot tub (where most of the party takes place) is nearer to the Nude side. There is a small but VERY BUSY late night dining area near the nude pool and hot tub area and the main dining area is also open in one section for late night burgers and hot dogs type food.
The Play Room is located near the main facility but it wasn't really used much during our stay. It's pretty nice but it's open air overhead and the beds were covered with a cold dew on a couple of the nights.
The gym is very nice and well equipped for a resort type of facility. It was never overly crowded but earlier in the morning the fitness buffs would use it. We avoided any crowd in the gym by eating a light breakfast around 8:30 am and then going to the gym. It was pretty much cleared out by then and getting on the equipment was not difficult.
We found that keeping our towel clips on our preferred beach chairs overnight and refreshing the towels before doing anything else each morning was pretty effective. If you don't do this you may end up without a chair in the area you desire. We found that having a beach chair a bit further from the pool area was convenient in avoiding much of the daytime party noise from the pool. Many people set up chairs on the beach that were placed nearer to the pool area and bar or even set up their chairs beside the pool. Getting a chair by the nude pool must be done very early in the morning though because many people want to be at that hub of activity all day long. For us, we found that we could be in the pool or one of the hot tubs whenever we wanted to be nearby but we also enjoyed distancing ourselves from the party a bit too. We recommend that you bring a couple of pool towels back to your room for the evening so you have them in the morning. Often, there were no towels available until late in the morning for beach or pool chairs.
The room was comfortable and although we weren't located in the latest remodeled area, it was adequate. It was clean, the bed and pillows comfortable and the staff kept it very clean each day. The bathroom had a fairly new shower and hot water was always available when we needed it for a shower. The bathroom was good and the closet space and dresser space plentiful. There was a small room safe for storage of valuables. Above the bed was a really sexy framed mirror. That was fun. The remodeled rooms that we had a chance to visit were very nice. Some rooms in the upgraded section had patios and hot tubs and were appointed very well. Those rooms were right along the beach, nearest the nude pool. The patios, naturally, were used extensively. Some upstairs rooms along the beach had a balcony as well.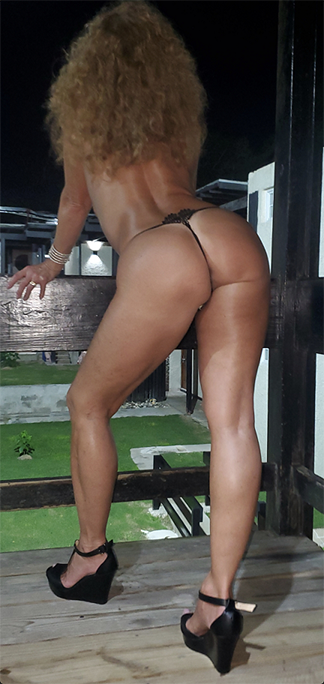 The food at the resort was always very good but not outstanding. We had no complaints. The buffet has servers who will add whatever items you choose to your plate. There is NO touching of any serving utensils allowed. We found that the steakhouse (recently relocated to a section of the main dining room due to a fire at the stand alone building) and the Japanese steakhouse were excellent. Portions are small but we aren't really big eaters, so the portions were adequate. The exception to that would be at the Italian restaurant. The selections were pretty limited and bland and when we finished, we adjourned to the buffet in order to actually finish with a filling meal. Several other people we spoke with had done the same thing. The lines for all of those restaurants will be long, no reservations are allowed and we recommend that you make early dinner plans for those places. "Lobster Night" is very popular and the line can be long for service. We noticed inconsistency in the cooking of the lobster, with some being overcooked.
For entertainment, there are all sorts of games and contests at the nude pool but the noon entertainment was generally some sort of trivia competition. We found the trivia stuff to be more annoying than anything and most people are still not quite ready for such an event at noon. A bit later on the dancing and other events at the pool are very sexy, fun and entertaining and you will want to be near or in the pool for those activities.
There are bars set up in many areas of the resort and you're never too far from getting a drink. If the nude pool bar is too busy it's pretty easy to walk to the other side of the resort, just down the beach or even catch a waitress along the beach if you stay alert. We were a bit disappointed with a few of the staff because they didn't seem to appreciate the fact that the guests are the reason they are employed. Most of the staff was very friendly though and went out of their way to serve the guests and make the experience enjoyable. The exceptions were few but notable. The most annoying factor with the bars was that they ran out of all sorts of liquor throughout the week and didn't get it replaced. We find that unacceptable for a resort that commands such a high price for a stay.
The Reggae night was fun and the band is fantastic. The Rock and Roll night is probably the most popular and is a blast as well. The band is great. Other nights, when that 8-10 pm lull drags on, can be quite tedious due to the "Variety Show" type of entertainment. This causes the time to pass like molasses in wintertime. We tapped out from that on a couple of nights and went to bed early or hit the hot tub early just to get away. The evenings are best when the energy remains high and guests are ready for the 10 pm and later music, dancing, etc.
For those of you who desire the services of either "Lobster Man" or "Ganja Man" on the beach, they are readily available and you will need cash for that. From their sales pitch, it seems that you can get pretty much whatever you want. The Lobster Man comes along and offers a freshly caught crab or lobster, served right at your beach lounge chair. One of the "ganja men" on the beach was complaining about slow business because of a "free weed" group that was in attendance that week at the resort and was handing out free pot. All I have is his word to go on with that one….There are a steady stream of Hedo guests who travel next door to Sandal's Resort in order to take those "vanilla" pics that we all need to post on social media or send home to the family. Sandal's is quite accommodating and the attendants welcomed us with open arms, taking pics for us and offering us tours of the resort, etc. Hedo allows "walk through" guests from adjacent resorts as well, but they must remove their clothes at the required spots and they aren't allowed to use the facilities. You will see the vanilla visitors, although most aren't bold enough to continue past the "Nudity Required Beyond This Point" signs.
The "Experience"
We found that the crowd at Hedo was definitely an "older" demographic. There were certainly all ages in attendance and lots of hot people from all age groups. In the end though, the average age was probably in the "50's". There was the normal combination of very fit people, average people and all other types. Nobody seemed ill at ease with their bodies and everyone seemed to be having a good time. It's nice that so many people can all get together and enjoy the experience without worrying about being judged by body type.
We were a bit shocked at how few single males were staying that week. Of course, there were a few single guys around and they were in great demand if they were good looking and had "game". Sexy hotwives are difficult to find and definitely are the most sought-after type at the resort. Mrs Hotwife had no problem finding hot, sexy guys to play with. I had admonished her at the beginning of the trip to "be single" when she wanted to be so she struck a balance between our activities as a couple and her pursuits as a hotwife. We had some opportunities to play as a couple as well.
We were surprised at how many couples were in attendance where the Female half (of course) was "taking a break" or "soft swap only" and the Male was (naturally) on a hall pass and able to play fully. For a hotwife this can actually work out pretty well and it did seem that there were wives who didn't fully understand that "hotwives" actually exist and have no problem playing with their hot, fit husbands. We noted some jealousy and had to navigate some "drama" associated with other couples. That's par for the lifestyle resort course though and it wasn't too bad.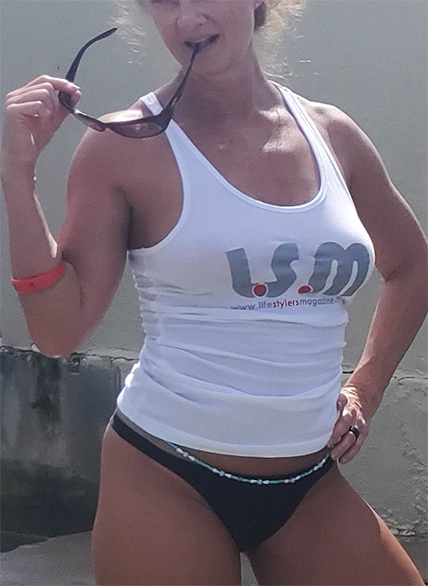 There seemed to be more "nudists" in attendance than those who play. We have always enjoyed our time socializing with the nudists from around the world who stay at lifestyle resorts, but we were hoping for a higher population of lifestylers. We notice that there are lots of ways to miss out on a lifestyle play opportunity at such a large resort, much like other resorts. Make sure to open up conversations with those you find attractive and don't wait around for them to make the first introduction. We have "lifestyle cards" made up with our contact information and room number written on them so we can hand one out to somebody we have met briefly, have an interest in, but don't have time at the moment to completely get to know. With a card, they can get in touch with us at the resort or later through our lifestyle site profiles. We have found that the "swag" we wear during the day is a great ice-breaker. Hats and shirts or jewelry from unique places or interesting, well- known lifestyle venues seem to be a curiosity for many people. It gives them something to open up a conversation with you about that is innocuous enough and easy for even timid people to approach you about. If you are interested in play after getting to know someone, then bring the topic up. You're only there for a week and there's no reason to miss out on a sexy experience because nobody will make that move. That said, we don't recommend being like some who approach us with the "Hey, we noticed you and want you to come to the play room with us" line. Maybe that works for some people, but it's a bit too forward for us if we haven't at least chatted for a moment or two or "sent signals" among us.
Departure
First, you need to sign up with front desk on the day you arrive to make an appointment for a Covid test. That test is required for departure and the type and timing of the test varies by the destination you are traveling to. The testing type and timeframe are also variable depending upon "vaccine" status as well as other factors. Make sure you know exactly which test you need. The cost of the test varies but the "instant test" was $20 and was quick and easy. Other test types are more expensive and the results take longer to be provided. As an edit to this, I believe the US now requires all tests to be accomplished within 1 day of departure. That is a change as of this week. That policy will certainly cause a backup at the testing facility so make sure to have your test time appointment booked early. The line for testing can be lengthy.
We made the decision to leave on a Sunday afternoon. This gave us half of the last day to enjoy hanging out in the sun and enjoying the resort. We had a noon van set up for a 4:20 pm departure. You're told to arrive at the airport 3 hours early and you really need to do that! Although we had no problems on the much quicker return trip to the airport, the problems started on a Sunday afternoon in the chaos of MBJ airport and the departure process. There were several incidents that came up and (annoyingly enough) we were stuck standing in line for a few hours at the airline counter while we were constantly being bypassed by group after group those passengers who did not arrive at the airport on time for their flights and were now being prioritized for departure. By the time we finished the entire process, we had time to rush through grabbing a quick airport pizza to take with us and then to the gate to make our departure time. It was VERY frustrating. There is a process through which you can pay fee at the airport and get priority to bypass the normal security line and move through quickly. We should have done this!In hindsight, especially since we were traveling to the west coast, we should have taken an earlier flight and avoided that crush of people. Storms slowed things down further and we were very late by the time we arrived home. My bag was literally DESTROYED by the handlers and the airline required that I file a report with the airline baggage office within 3 hours of arrival at my FINAL DESTINATION. With delays, we arrived in Vegas at 2:15 am. After picking up bags, I still had to file a claim at the airline baggage office. Bottom line, they gave me a $280 travel voucher in compensation and sent me on my way. We arrived home around 4am. We had been up nearly 24 hours! Earlier flight next time!
Fun Final Story
As we sat on the beach one day, we saw what we though were the normal stingrays jumping out of the water just outside of the swim buoys. This time the noise and splashing was loud and the size of the "ray" was huge. It turned out to be a large dorsal fin of a hammerhead shark and in a Discovery Channel moment, this shark was chasing a stingray to eat for lunch!! The shark won and eventually swam off. The local fishermen told us that the hammerhead shark lives in those waters and often feeds on those rays. The rays are constantly fed bread crumbs so they congregate in the same spot near the pier. The fishing guide said the shark was no threat other than to the rays. The rays were easy prey for the shark. We shrugged and went back into the water.