Shawn is my Evenings BBC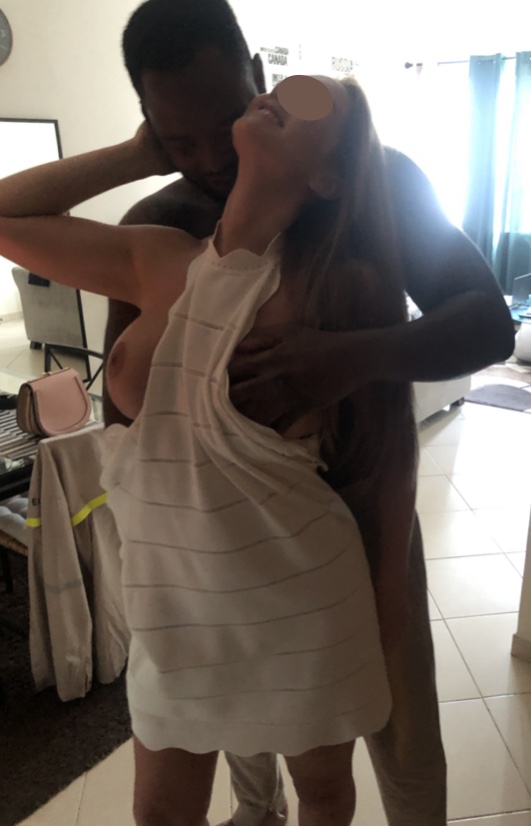 I mostly fucked Shawn in the evenings, but as he worked shifts, it was always very tempting to go to him in the day… really, is there anything better than a daytime fuck?! There was a national holiday coming up and I could feel my horn building. I needed some deep black cock in the noonday sun. Shawn's moment to have his morning wood drained dry by the legendary Sassy Slut had come.
My husband chose me a simple dress with very easy access to my breasts and pussy. Shawn was a grope-y lover, he loved getting his hands all over me. He was a big man, 6'4" with a 9 inch cock and huge hands, so when he pawed at me it always aroused me, just the feel of his power.
As soon as we arrived at his apartment it was obvious that he was in the mood to fuck. His cock was already hard as we kissed, and he murmured in his deep Jamaican accent, "Mmmm I've missed you babe, it's been too long." To be fair, it had been a while, we normally fucked every week and it had been at least two weeks since I last let him fuck me.
To be clear, I never fuck. I always get fucked. That's the way I like it and Shawn knew exactly what to do to Gove me the kind of fuck I prefer. I turned to kiss my husband, Nick, and he quickly unzipped my dress. Shawn didn't need any further encouragement, his hands were instantly inside my dress, squeezing my large 32FF breasts with one enormous hand, whilst his other hand slipped quickly from squeezing my bottom to slipping his fingers into my pussy. I was dripping already and my nipples were erect. The speed and hunger for a rare day time fuck was possessing both of us.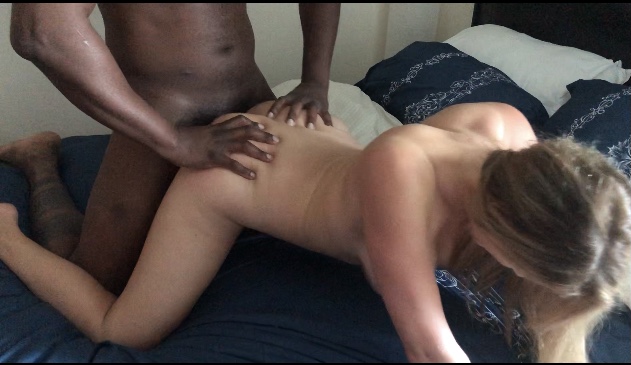 I looked Nick in the eye as Shawn felt me, but as he pulled my dress to reveal both of my breasts, the passion over took me and I felt my head rock back with a rush of horn. Now Shawn's fingers were deep in my pussy, massaging my G spot as he felt my breasts. I turned around wanting to feel his now rock hard cock. I reached up and put my arms around his neck but Shawn instantly grabbed my bottom and lifted me like a feather off the floor.
We kissed like that for a while, my stilettos digging into the back of his thighs as I thrust my breasts into his face, but soon I needed that big, black cock inside me and I lowered myself down on to him. Nick leant against the breakfast bar as Shawn and I fucked for a while, hardly more than a few steps inside his front door. I came quickly with the excitement of it all and my juices splatted over the tiled kitchen floor.
After a while we moved into Shawn's bedroom. Nick was hungry for my mouth so I got onto all fours to suck on him, my back arched so that Shawn could choose whatever he wanted to do with me. Instantly I felt his tongue in my pussy and then my ass as he drank in the delight of my exposed sex. Nick enjoyed my muffled moans for a while and then gently moved away. I knew it was time for me to get fucked and perform for my lust filled husband.
Shaw pulled me back on the bed by my ankles positioning just as he wanted me so that he could penetrate me deeply. Enjoying the feeling of control he entered me slowly just like that, my ankles pinned up against my thighs. I came gently on him again, but I wanted more, I wanted it deeper and harder.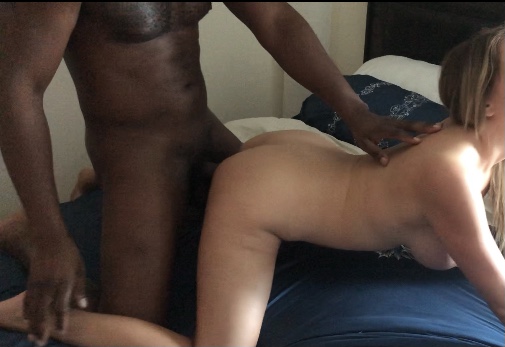 I adjusted my position and braced my arms against the edge of the bed. This was a very familiar position for all three of us, the men knew that I was ready willing and eager for a good pounding. Shawn wrapped his massive hands on my bottom and slowly eased his whole length in to me. I lowered my head as I felt his cock penetrate me; the feeling of a huge black cock entering and stretching my pussy always fills me with the most ecstatic sexual surge. I straightened out my arms and the pounding began.
Shawn is a Jamaican with all of the hip flexibility that the people of that glorious island are renowned for. With his hands firmly gripping my bottom he curled his hips backwards and forwards like a whip, thrusting his full 9 inches into me each time. I can comfortably take a 12 inch thick black cock so Shawn was free to thrust as hard as he liked into me, and he knew it. He gripped tighter and tighter as my hips bucked with every orgasm. I squirted, I pushed, I screamed, I snarled. His sheets were soaked with my juices as orgasm after orgasm flowed between my legs.
Minutes passed, then a half hour, then 45 minutes, still Shawn was pounding me, still in the same position. Nick had stopped filming, he was transfixed at the sight of the two of us, locked in this position, sweat dripping from Shawn's body as he relentlessly kept fucking me. An hour passed and Shawn started to groan. His morning wood cock was swollen to huge proportions, and his excitement at my ability to take so much cock pounding had added an extra inch to his length and girth. I could feel his shaft rubbing every part of my swollen pussy and now I needed his cum.
I felt his hands tightening on my hips. Nick started to film again, sensing too that I was about to be filled with Shawn's thick, creamy black cum. Shawn groaned once more, deeper and more animalistic this time, and I felt my own orgasm starting to break like a wave crashing into the shore. My head rocked back and I felt his hand push my back down hard as he started to cum. I arched hard and pushed back on to him, wanting to get his cum deep inside me.I felt the head of his cock swell and burst inside me, his hot cum splashing and filling my eager pussy. I smiled… you really can't beat a daytime fuck, can you?