Book V: Isabella in Istanbula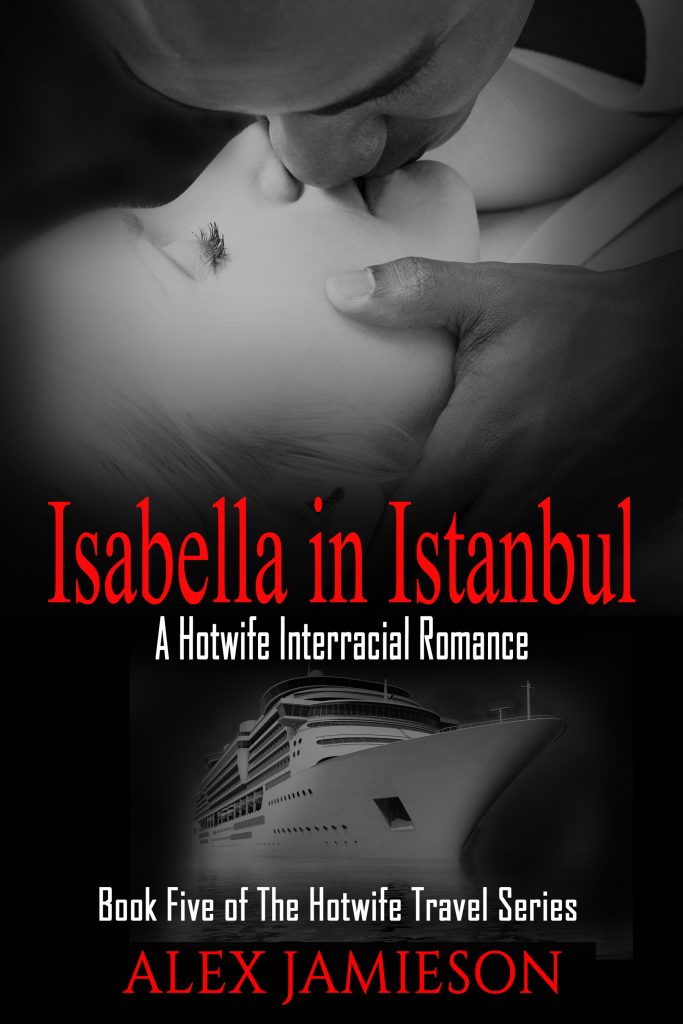 When I woke the following day in the early Venice light, it was to the familiar accompaniment of Luke's gentle snoring. I turned to watch him as he slept and realized just how much I loved my wonderful husband. He would have been entirely justified in getting intensely angry after my terrible behavior of the night before on the dance floor with our three young, black American friends. I could hardly believe how I'd acted. And with guys who were at least ten years my junior.
I'd allowed the charismatic young Drake to lightly graze his fingers down the side of my breast and rest his hand on my ass. What had come over me? I'd even accepted him audaciously pressing his hard cock against me without so much as making a murmur of complaint. Worst of all, I'd felt my own body betraying exactly how I felt about it. My nipples had hardened without even being touched, and the warmth between my legs spoke legions to the desire I'd experienced.
Instead of being furious, Luke had been almost proud of me for trying to be more sexually open. He seemed to think I was simply fulfilling our commitment to our couples therapist Rebecca to be more uninhibited and push my boundaries. It wasn't easy to understand. Equally puzzling for me to grasp was how I could be developing feelings for the beautiful young man down the hall. I felt like I was regressing in age and forming a silly teenage crush.
Getting scared by my own thoughts, I climbed out of bed and headed for the bathroom. Staring at my reflection in the mirror, it seemed impossible that I still looked the same. Surely I should have sprouted the horns of a demon.
Standing there on the cold marble floor, with an awareness that, onboard the ship, we would be confined in close quarters with the object of my growing compulsion, I came to a decision. Even though I'd told Luke that I wanted to hang out with them, it would be far more appropriate for me to stay as far away from our three new friends as possible. As much as I enjoyed spending time with them, I sensed that proximity would not be beneficial to my marriage. Hopefully, our suite onboard the cruise would be in a completely different area of the ship.
The ship looked impressive with its sleek, modern lines. It wasn't one of the enormous leviathans that carry thousands of passengers, but still, it towered over us as we pulled up to the dock. My luck seemed to be holding out. There was no sign of our new friends.
When all the check-in formalities had been completed, we were introduced to a handsome young Italian guy named Piero, who was to be our steward for the duration of the cruise. He made us instantly comfortable with his warm, welcoming attitude as he showed us up to our suite on the uppermost deck. Handing us a cell phone he told us it was programmed to call only him.
"Anything at all that you need, you call me. Day or night. It will be my pleasure to fulfill your every need. And, by the way, we recommend to all our guests that you lock your own cell phones in your in-room safe. Forget about the rest of the world."
As he showed us all the features of the accommodations, he kindly attempted to reassure us that first-timers on the adult-oriented cruise sometimes feel intimidated.
"There is no need to feel daunted. You only participate in what you want to do. No one will ever try to force you into an uncomfortable situation. If there is anything you want to try, let me know, and I'll arrange it with whatever degree of discretion you feel appropriate. And, if you want me to join you in any activity, then you must feel free to say so." He smiled quite unambiguously, making it clear he would willingly join us in broadening our sexual horizons.
When he pulled back the floor-to-ceiling sliding glass door onto our balcony, he beckoned us to follow him outside. "One of the best things about this suite is the wonderful view down there." He laughed as he pointed down to the polished wooden deck directly below us. Sun loungers were placed around a good-sized pool.
"That's the clothing-optional sundeck, and, if you have any voyeuristic tendencies, you couldn't get a better view, except from next door in the Presidential Suite."
"The Presidential Suite?" I remembered Drake telling us that he'd booked the Presidential Suite. I glanced with alarm at Luke, but he didn't seem to share my concern.
"Si, all the largest suites are up here on the top deck."
"Are you the steward for that suite as well, Paolo?"
"I am. So, I will always be available for you and your friends next door."
My heart was racing. Somehow, we had been allocated the suite next to our three friends, and Paolo was aware of the fact. It couldn't be a coincidence. His next comment caused my racing heart to feel like it was going to burst out of my chest:
"This door here is a connecting door into their suite, which should make it easier for you all to come and go."
Even Luke raised his eyebrows at the suggestion that we would all be coming and going between our two suites. How did the steward know that the occupants of the suite next door were our friends?
At 6:30 exactly, the phone beside the oversized king bed rang insistently. I was sitting at the vanity mirror, putting on makeup, so Luke walked across to answer it. In the mirror, I admired my husband's lithe naked muscled body. Luke is in great shape – he cycles to work on the days when the rain isn't hammering down, runs most weekends, and has a small gym built in the office for all the team. His delicious-looking cock hung heavily down his left thigh.
As he answered, Luke looked over in my direction and pointed towards the suite next door. So, it was one of the three guys I'd been half hoping to avoid.
All I heard was an annoyingly ambiguous one-sided conversation with a monotonous repetition of yeah sure from Luke. My husband's tone changed slightly as I heard him say thank you, we'd be honored. Honored to do what?
Then, my gaze became more intent, as I could clearly see in the mirror that Luke's cock was starting to harden ̶ I still go tingly inside when I say that word. I'd had little experience to compare it to other men, but I knew, from the tiny amount of porn I'd been exposed to, that he was well above average in size, and I'd always thought it to be perfect ̶ at least for me.
With a closing comment of sure, see you then, Luke hung up the phone.
"What was that all about, then?"
"It was Drake. They have a special table for dinner – next to the Captain's table – on account of staying in the Presidential Suite. They asked if we would join them as their guests."
So much for my hope of steering clear of the guys to avoid getting further entangled in my increasingly worrying feelings for Drake.
"And you said yes?"
"Of course. I told him we'd be honored."
"And what part of that conversation made you start to get hard, may I ask?" I raised a quizzical eyebrow.
Luke shuffled from one leg to the other and looked mortifyingly embarrassed. However, his cock once again began to harden.
"Apparently, after dinner, there will be dancing, and he asked if I would be gracious enough to share you, on the dance floor, like last night."
"And what was it about the thought of sharing me that gave you an erection?" I knew I was just teasing him, but I realized something more was going on in his mind as I waited for his answer. "Oh my God, I know. You didn't just imagine us on the dance floor! You imagined a threesome afterward, didn't you?"
He actually looked a little relieved that I'd finally sussed his innermost thoughts, and he readily nodded in agreement. Maybe a little too eagerly. Had he, in fact, been thinking of something even wilder than just a threesome with the handsome Drake?
#####
As the five of us entered the Grand Ballroom a little after seven, it was as if all heads turned in our direction. Did we make such a strange spectacle? Looking at it objectively, I suppose the sight of a petite blond with an entourage of four men, three of whom were handsome, tall, young, and black, could be construed as unusual. Many of the attractive women in the vast gathering were gazing openly at our three friends, making no attempt at subtlety.
Ignoring their stares, we stood chatting happily among the five of us. I noticed that if anyone else attempted to initiate a conversation with Michael, Drake, or Anthony, the guys would politely but clearly, show that they had no interest.
After the most amazing dinner, we all moved back through to the ballroom, where the thump of electronic dance music was already encouraging people onto the dance floor.
I saw Drake get close to my husband's ear, and he appeared to be asking him a question. Luke laughed and nodded as he swept his arm in my direction as if to say: she's all yours. My heart thumped at the thought.
"What did Drake just ask you?" I shouted into Luke's ear.
"He asked if I was still willing to share you."
"And are you?"
"I know how much you love to dance."
I looked at my husband and wondered again what was going through his mind. Was he really thinking just about dancing? Even as I thrilled at the prospect of dancing close with Drake, did I, in fact, want something more – a lot more? Was I in danger of allowing myself to actually cross some forbidden boundary? And how would Luke feel about that?
The guys had found us a table and, while Luke and Anthony went to get our drinks from the bar, Michael and Drake each took one of my hands and led me out into the middle of the pulsating crowd. Conversation was impossible, but the two of them needed no communication. They had a plan. Those two black hunks sandwiched me between them, with Michael pressed chest to chest with me and Drake pushing himself against my ass.
We writhed together, and their dance moves became more and more erotic as they pressed their tight muscular bodies against me. The sensation was overwhelmingly sensuous, and I noticed that we were causing heads to turn all around us. Many of the women were looking openly envious of me, and it was the strangest feeling. After doubting my own desirability for so many years, it was surreal to be the center of so much sexual envy.
Realizing that I could feel the hardness of Drake's cock pressing against my ass was such an intensely powerful feeling that I feared I might faint. Looking over towards our table, I saw Luke was fixated on our performance with a tense excitement in his eyes.
When the pounding electronica was ratcheted down and the beat of the music turned more mellow, Michael made his excuses, leaving Drake to take me in his arms for the slower dance. Instinctively his hands found my naked back, and his fingers traced down the length of my spine, making me shiver with excitement.
"You have the most beautiful skin, Izzy."
I smiled shyly at his words as he ran his hands up and down all over my back. When his large, black hands slid gently lower under the fabric of my dress, the feeling was unlike anything I'd ever experienced before. I knew it was a transgression, but that fact made it all the more exciting.
"Mmm. A thong. Nice."
His sexy voice brought out conflicting emotions that almost overwhelmed me. I was a married woman with a loving husband. I was the mother of two amazing boys. But there I was in the middle of the Mediterranean with a gorgeous young black guy gently caressing the bare cheeks of my ass.
"Tell me something, Izzy. Do you ever go out dancing like this without any panties? I'd find that almost too exciting to bear. Imagine me sliding my hands under your dress and finding nothing to prevent me from slipping my finger deep inside you. Too exciting to bear."
I gulped and felt my face turn hot as I tried to think of an amusing response before I fainted from the outrageous sexiness of his question. Suddenly I felt a need to shock him.
"Well, there could always be a first time," I muttered, blushing.
I knew I had to get back to the table before allowing Drake to compromise me any further.
"I'm dehydrated. I need a drink." A lame excuse, but it was all I could think of. Taking his hand, I pulled him back towards our group.
Back at the table, I slumped onto the chair next to Luke.
"I'm so sorry," I whispered to him.
"For what?"
"Didn't you see?" I asked anxiously.
"I saw. Everything. It was hot. You are hot."
"He implied that he would like to take me dancing without anything under my dress so that he could slide his finger inside me on the dance floor. Doesn't that make you angry?"

"Hotter still. Did you agree?" His leading question left me reeling.
"God, Luke, what are we doing?"
"We are doing exactly as Rebecca instructed. We are opening up our boundaries and growing together."
"But I feel like I'm cheating on you."
"Izzy, you haven't done anything. Not yet, at least. Letting someone grope your ass is hardly cheating. It's flirting, and I like it when you flirt. It shows me that you can be a sexual being if you just let your hair down. We owe Becca a debt of gratitude for teaching you this new flirtatiousness."
"But what if it went further?"
"It still wouldn't be cheating because I'd know all about it. It's only cheating if it's behind your partner's back."
I heard the words, but I still couldn't understand how my husband could find it exciting to see me flirting with another man, allowing him to run his hands over my body, even. I knew we needed to have a serious conversation on the topic, but it was neither the time nor the place.