Everyone has their lifestyle story

Everyone has their lifestyle story, right? Whatever yours is, it's not so different from everyone else's. Boy meets girl. Boy and girl try other girls and boys but eventually decide to marry each other because it is time and in any case the others are either hard work or weird. Boy and girl become man and woman who parent little boys and girls. Man and woman become exhausted and live functional lives for what feels like forever. Man and woman decide to spice things up, openly rather than via secret affairs, although these had been secretly considered. Man has a few women to choose from and fucks them all, happy to be behaving like a teenager again, woman has lots of men to choose from but only fucks a few of them as they all seem like teenagers. Woman loses interest after a while because men are mostly selfish or weird, but man remains forever and inexplicably hopeful of meeting insatiable women half his age. No one meets the hourglass bisexual unicorn of popular legend.
Until now. The story I am about to tell you will instantly make your cock rock hard or your pussy dripping wet. If the two of you are together you will fuck spontaneously just to break the erotic tension. For this is the true story of the birth of the mythical unicorn, the journey that every man wishes his wife would embrace, the girly playmate of every frustrated wife's secret fantasy. Or as one of my lovers once described me, a living, breathing, sexual fantasy. For this is my story, the legendary Sassy Slut.
Although I was cute and refined, I was known as a fiery woman, what some described as 'a handful'. I was smart and full of potential but didn't have the experience to know how to direct my intellect and abilities professionally or personally. What I needed was someone that would grab a handful (metaphorically or literally) and take control, but the power of my personality seemed to overwhelm most men. Until I met Nick.
"Hi! I'm Kim." Those were the first words we exchanged. He was a keynote airside at a conference and I had a question in Q&A. I was all swagger and attitude but actually I just wanted to get myself under his gaze. A slow smile spread across his face as he looked me straight in the eye. "Are you now? And how can I help you?". I melted and I knew: I had found him.
It took a little while to live together, as we were both in long-standing relationships. Our busy lives were punctuated with weekly, then almost daily hotel liaisons. He would strip me naked as soon as we entered the room, tie me up, fuck me senseless in the shower, make me scream with ecstasy as powerful orgasms coarsed through my body, unlike anything I had ever experienced before. With Nick, the fiery handful masking the sexually inexperienced and sheltered girl became a multi orgasmic, cock hungry, devoted woman. I didn't know if, but he did: the foundations were being carefully laid for my future transformation.
Marriage and children followed, our love and bond deepening with every passing day and year. Despite the exhausting intrusion of tiny feet, our sex life bucked the trend of many new parents. Nick's total focus on sexual lusts led my personal satisfaction and pleasure at pleasing him to new heights. Sex toys, mild bondage and wild fantasies fueled my imagination for what I was capable of achieving sexually. From a sheltered upbringing I was now cumming repeatedly on my husband's cock every night whilst his whispered urgings filled my head with images of huge cocked lovers taking me as he watched on (with some additional personal interest fantasies about beautiful pussies, which was not a kink of his but had been a lifelong kink of mine). Almost inevitably we eventually found ourselves in a crowded bar at a social networking party, with a hotel room booked upstairs and one agenda on our mind.
Nick spotted him. He was surrounded by girls, all desperate for the attention of this tall, dark and handsome man. With his usual confident and controlling charm, Nick soon extracted Omar from the crowd and brought him over to me. Quickly our three way conversation moved through engaging to flirtatious to propositional and within 30 minutes we were in an elevator up to our room, Omar's hands squeezing my breasts as we kissed passionately in front of my smiling husband.
It was a disaster. I was far too full of cocktails to be full of cocks. Omar was far too full of cocktails to be able to use his cock. After two hours of enthusiastic but fumbling drunk desire, I passed out, Omar made his drunken excuses and left.
The next day Nick brought me to heel. I knew I had disappointed him with my behavior and the sting of that knowledge hurt me, even more than the Cosmopolitan hangover. We discussed in detail how our evening had unfolded and become unstuck, how we had lost track of our goals and sight of each other somehow in the experience. It was a mildly important conversation to heal the missteps in my initial infidelity certainly, but a crucial conversation to bring me to a new self awareness. I came to realize that I would do ANYTHING to please my man sexually. Anything. It was the first major move towards becoming The Sassy Slut.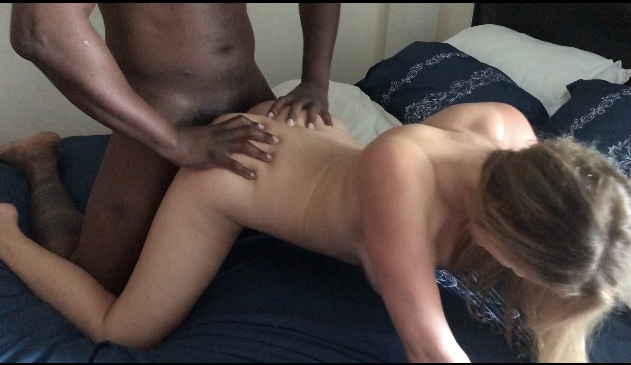 Every relationship has its own unique dynamic and balance. My husband is an alpha male, a martial artist, weightlifter, captain of industry, a PhD. He is an incredible and protective father to our three children, very hands on and emotionally intelligent in the way he uses his fatherhood to complement my motherhood. He chooses and buys all of my clothes, jewellery, shoes and accessories, and I have become known globally on the swingers site I use (SDC) as the classiest Slut, in no small part due to the way that he presents me to the world (and maybe also a little due to the fact that I have a very refined, cut glass English accent, look and pedigree). He can fuck me senseless or make love to me with a depth of passion that is almost spiritual in its intensity. He is also 20 years older than me and has led a wild life all of his own. He was and is my perfect man, older, stronger, wiser, more experienced. Without hesitation, I surrendered complete control of my sexual experience and sex life to him.
Now, let's make one thing clear. That fiery woman from my early adulthood was still very much present, alive and kicking. I was emphatically NOT a submissive wife. Nor did he want me to be. In fact, he encouraged and empowered me to achieve more, be more, in my life. Soon I was completing my own PhD, running my own businesses, working out on my own daily gym schedule. We travelled the world with work, and I accumulated global language fluency wherever we went, all the time growing in to a sassier, more confident version of myself: a classy, Sassy Slut. That confident Sassy Slut was however, even more intensely devoted to her husband than ever before. The more men I fucked, the more devoted I was to fuck them the way that he found most arousing. I became fixated on being the perfect fuck for him, whether or not it was him that I was fucking. I was always actually fucking for him. Our marriage was so perfectly balanced that I felt as though nothing was impossible, nothing too outrageous or ill advised. Whatever he wanted I would do. Consequently we played lots of sex games.
First of all we explored what it would be like fucking as many people as possible. I fucked so many men, hundreds… (well 157 to be honest, because we keep exact details of each fuck) they all came and went, so to speak. There was Stuart who mid-fuck quickly straddled my face so that he could enter his entire load deep down my throat. Afterwards he said he was so desperate for me to swallow him that he almost jumped on to me, because he didn't want me to say no. I don't know why he felt the need for that as I love swallowing cum, he wouldn't have needed to ask at all, just let go. Anyway the presumption was a turn off so he was kicked to the curb. There was Darren, a black tennis coach who had booked a budget hotel room for our playdate, and the management kept calling all the way through our fuck, asking for ID. We knocked his balls out of court and left early, or as soon as I had trashed his sheets at least. There was Maurice, an enormous 6'8" black Olympian who felt like a super hero and won the gold medal for biggest lover. Then there was Bill, the smooth talking, globe trotting black guy that was so entertaining that we had to make our playdates twice as long to allow for laughter time. He was great fun, so much so that we chose to believe him when he said it was entirely an accident that he grabbed my husbands cock whilst I was sucking him. There was Paul the black powerlifter that thought I had snapped his cock in two when I came very hard, Dan the pilot that watched in awe as Nick pounded me one night in our threesome and thought we had the wildest sex he had ever seen, then Rick the salsa dance teacher that covered the room in rose petals every time I arrived to fuck him and had the funniest tan line white bottom. The list goes on and on and is almost endless. Yet with all of them I wanted to achieve one thing alone: to excite my husband through my insatiability. It was all for him. Until that wasn't enough.
The thing about alpha males is that nothing is ever enough. Nick had led a life of over achievement, always needing the next adrenalin fix. I knew this when I married him, and I knew that it meant that he would take me on a wildly exciting life journey. I wanted that then, I still do now. I had never had sex with other people whilst I was in a relationship (apart from when I first met Nick), but within months of us being a couple here I was fucking different people three nights a week. Soon that wasn't enough for Nick, and I was fucking black men exclusively. Soon that wasn't enough for Nick and I was fucking other people of any ethnicity every day. Soon that wasn't enough for Nick and I was fucking women as well as men. Soon that wasn't enough for Nick and I was fucking couples where the man preferred fucking me to his wife. Soon that wasn't enough for Nick and… well, he needed something more, something novel, something more dangerous. Eventually he decided he needed it to not be just fucking.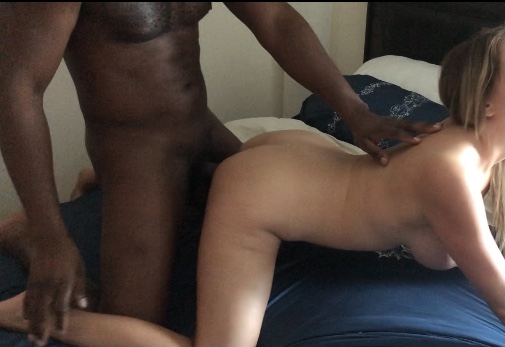 Harry was perfect. The body of a black adonis, a successful business man with a thick cock, a winning toothy grin and a charming easy going Chicago drawl. Before long I was having lunch with him 1:1 and fucking him three times a week. For the first date we were 1:1, other times we three would have dinner and then back to his pad to fuck. It was all encouraged by Nick and smoothly facilitated by Harry because Nick had made it clear from the first meeting that he wanted me to fall in love with other people, be a girlfriend to another man, not fuck, but make love with a black man, that I longed for and enjoyed so much that I pined for hi all throughout the week. I gave him what he told me he wanted and fell passionately into a girlfriend relationship with Harry.
Focused on showing my husband my loyal unfaithfulness, I saved the best sex that I had with Harry for those moments when I could do it 1:1 in front of Nick. I would not attempt to have threesome sex but would devote myself to being ducked by Harry as Nick filmed. I would move from laughter filled champagne socialising to passionately kissing Harry in the blink of an eye, allowing myself to feel the horn surge through my body. Harry would return my kisses, until I turned away, bent over the kitchen counter and spread my legs. Instantly Harry undid his belt as I stared Nick full in the face, being sure that he could see the smile of my loving satisfaction as Harry slid his bare cock into my dripping pussy. I gripped the counter top as Harry's pounding continued my orgasms squirting over the tiled floor, as one orgasm after another shook my body. Harry pushed my body down on to the counter as he masterfully and relentlessly thrust his 8 inch, very thick black cock in and out of my willingly unfaithful pussy. I was the perfect married girlfriend.
Other times I would ride Harry as he sat on his sofa, the relentless thrust of hips rubbing his thick head on my G Spot, again bringing me to repeated orgasm. I would forget that Nick was there often, as my body tensed for yet another explosive orgasm, my eyes boring intensely the whole time into Harry's eyes, until I collapsed on to him to smother him in the passionate kisses that we shared.
My favourite position with Harry was on all fours though. Not because I could suck Nick off, though I did from time to time. But because Harry fucked me so brilliantly on all fours, the best I had ever had at that time.
My favourite position with Harry was on all fours though. Not because I could suck Nick off, though I did from time to time. But because Harry fucked me so brilliantly on all fours, the best I had ever had at that time. I remember telling him one night that sadly I had to go home and there was only time for one more fuck. I asked Nick what position he wanted to see me fucked in and he told me to choose my favourite. I instantly flipped on to all fours because I had unbelievable orgasms with Harry like that. I lowered my shoulders and braced my arms and waited, my pussy dripping in anticipation for the ten minutes of non-stop pounding thrusting that my adonis would give me. It was perfect unfaithful married girlfriend fucking, I thought.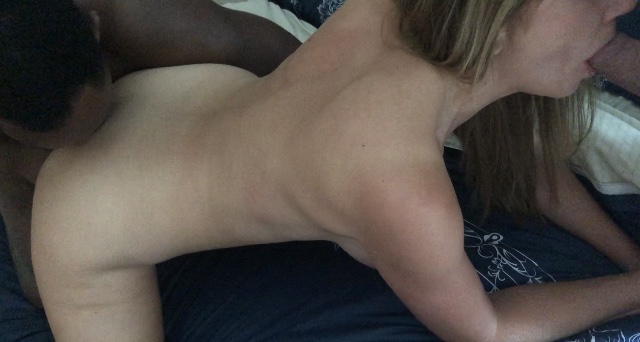 But I was wrong. There are two people involved in infidelity and one recipient of the loyal straying. Nick had urged me, commanded me in fact, to give him the excitement of me genuinely becoming someone else's girlfriend. But it was a step too far. The reality was not as we had imagined. Our intimacy had been usurped by another, rather than augmented and amplified. Nick had thought that he wanted to witness that level of infidelity, that I would achieve a full on affair that was not only in plain sight, but was also a fantastic rush for our own excited intimacy. But this latter dimension was entirely missing and only the affair in plain sight remained, which horrified and repulsed me and gutted Nick. Although Harry seemed perfect: good looking, black, quite well hung, athletic and charming, in fact he could not keep his end of the bargain. We had all agreed on the way into our three way relationship, 'The Throuple', that he would respect and elevate my marriage at all times, just as we would respect his. But in the end he didn't keep to that rule. He wanted me more and more. He sulked if I had to cancel dates, he complained if I didn't let him cum in me (I had no birth control and so we were just using his self control and the rhythm method). He positioned himself physically and metaphorically in between myself and Nick. I let him, but only because I thought that was what a girlfriend would do and Nick wanted me to be Harry's girlfriend. But in fact, he crept under our naivety and sowed poisonous intrusion. He became more and more entitled and self serving and in the end he made one selfish decision too many and went far, far too far, emotionally and physically. He hurt me badly. We cut him out of our lives completely. It had all been a terrible mistake.
Or at least that was what we thought at first. But I, the Sassy Slut, was not going to let my beloved husband's lifelong fantasies die in this way. I refused to accept defeat. In the face of a potentially marriage wrecking experience many women who were second to this party would have quickly thrown in the towel and called time on this most dangerous of games. Not me, because I am a living sexual fantasy: the Hotwife that insists she will do whatever it takes to fulfill her husband's fantasy. I knew that this was a moment to prove just how insatiable I was for cock. I knew that I could reawaken Nick's fantasies and bring them back out of the hole in the ground that he had buried them in, in shame for having led us into harm's way. We talked and we listened. We kissed and we stroked. We fucked and we made love. Soon we realized that our desire for this most dangerous game was still there, and that with my careful counsel, Nick could learn to navigate us through these choppy waters again. I was willing to go with him on this journey once more because I was now doubly resolved to show him that I would stop at nothing to make his scariest fantasies real. I would find a lover that I could be a girlfriend to, and lose myself in, obsessively craving him and his cock, without it impacting our marriage negatively at all. I was determined to make real and possible this most impossible of crazy fantasies that Nick had dreamt of and yearned for. We realized through talking that in fact, despite all appearances to the contrary we had just chosen the wrong person. Our dream was alive and the search was back on. I would fuck the whole world of black men to find the one that could fit our kink perfectly.
So I kept fucking. Fucking dozens of big, black, well hung men. Maybe Harry was too Machiavellian, we wondered. So we chose Steve. Steve was 6'4" with a 9 inch cock and Jamaican win'ing in his hips. But he did not have the complexity of mind to be conniving. Soon I was fucking him twice a week (along with the other 3 or 4 people that I would fuck that week), and I was loving it. He was a simpler soul, and he wanted to make love. I remember, in my (successful) attempt to overwrite Harry's all fours fuck, I let Steve flip me over. I assumed the position and braced, hopeful of a great, deep fuck. But as he pushed his whole nine inches into my swollen pussy, he pushed me flat on to the bed. I thought to myself that this is never going to feel great, but how wrong I was. Soon all 6'4" of his Jamaican athletic body was gyrating and turning his cock around in my pussy like it was some kind of food mixer. Oh. My. Goodness!!! I screamed with ecstasy, for what felt like hours. Nick says he stopped filming it after about 20 minutes of my continuous orgasms, just to marvel at my capacity to take such a fucking. It was true: I had never been fucked like that by anyone, and when he had finally cum, I slid to the ground like a limp fish: a completely spent force. Surely now I had found my boyfriend, in this gentle giant with a huge cock and unstoppable hips?
But falling in love isn't easy, it turns out. Yes, Steve was well hung and CERTAINLY knew how to use his cock to bring endless pleasure. But the pleasure he brought was a bye-product of his own pleasure. He wasn't altruistic. As our playdates continued over the months, he showed that he did not know how to play as a three. Even Harry had understood how to get positions right so that both men could fuck me at the same time, but Steve just wanted to dominate the space. He wanted to have sex with me, and whether or how I wanted to have sex with him was incidental or even inconsequential. I learnt quickly not to let him flip me or pin me in missionary, never to let my head be at the headboard end of the bed, never to position myself in a tight part of his small apartment's bedroom, as any of these mistakes would effectively make it much more difficult for me to access the one man I truly loved: Nick. Steve didn't really get that, and his inability to accommodate what I was looking to experience started to show me that sex alone was not going to turn me on. I was having too much great sex with everyone else to be entranced by yet another good fuck. I needed more, more emotional engagement and more altruism from my 'boyfriend'. Otherwise Steve was not so dissimilar from any of the other multitude of men that I fucked each week.
After one lunch time fuck where I was almost frantically trying to cram all of Steve's 9 inch cock down my throat to get him to cum as I needed to go and do the school run, I realised (as the cum was FINALLY shooting over my tongue), that Steve was only ever going to be on Steve's agenda and that the search for a man to be a girlfriend to would need to move on.
Then, months later, I met Francois. Oh my goodness, WHAT A COCK!!!! 11 inches of super thick black cock attached to a gentle, charming, hugely powerful, black man. Our first date was electric. He had booked a classy hotel with grandiose antique mirrors and pseudo 1940s film cameras everywhere. Nick loved it as it was a perfect backdrop for videos of me fucking. We sipped champagne as we chatted about our work and then we kissed gently. Nick undressed me straight down to naked, instantly, as he always prefers me to be totally naked early on a date with my lovers. After a little while of gentle tongues whilst Francois squeezed my breasts and gently circled my pussy, I pushed him back to sit on the bed, knelt worshipfully before him and took his enormous cock in my mouth. Sucking a truly huge black cock is soooo wonderful. I couldn't get my fingers to meet around it, and one hand could wrap around it above the other hand, with still three inches of cock left to spare. He was huge and I could bring every oral skill I had to the performance that I put on for Nick.
After a while of sucking him, he lifted me to my feet, we kissed and I bent over the bed. Would this be the all fours fuck that would put all others into the shadow?
I looked up at the mirror as he slid his enormous cock into my willing and eager pussy. The sight of this gorgeous Obsidian man gripping my meaty alabaster hips as he thrust 11 inches of thick cock into me was enough to make me cum instantly. I couldn't believe how full I felt. He didn't need to rub the head of his cock on my G spot, his cock stretched me so much that his shaft was constantly rubbing on it. He fucked me like that non-stop for 30 minutes and I came so many times it could easily have been a hundred orgasms. I collapsed on the bed, my body shaking and dripping with sweat at the exertion of taking such a massive pounding from a huge cock. I was definitely in love. We laughed, we chatted some more, Frank a little ore champagne and soon I was riding him again, his huge cock filling me so perfectly that I never wanted it to stop.
As we fucked more and more over the following weeks and months we became closer as a three, friends, with familiar stories emerging and being shared between us all throughout the evening as we fucked so passionately. Oh yes, this was love.
But not with Francois. I was in love with my marriage to Nick. We had persisted. We hadn't given up on our dreams: his lusts for my unfaithful promiscuity and my devotion to satisfying his desires through my complete and selfish enjoyment of the most extraordinary sex with a huge cocked black man. We had journeyed, and choppily sometimes, but always together, and never apart. And whilst our journey had always been led by Nick's desires, in the end it was my hungry desire for cock as a means to worship my husband, that enabled us to achieve our version of a heavenly, incredible relationship. Finally we had found a man that could give us the intimacy and connection of being a 'girlfriend' without any of the emotional betrayal that so many found impossible to manage.
Was it the slight language barrier of our shared Franglais with Francois, was it simply that he was a gentler, more refined man than the others, was it that we had learnt to extract the essence of 'girlfriend' without me needing to actually become one? Who knows… maybe it was just that the sight of a huge 11 inch thick black cock fucking the Sassy Slut was so mesmerising that even her husband was in simple awe of the spectacle of a Slut in her prime. Whatever it was, we found what we were looking for, the perfect expression of our love and devotion for each other, and I have never looked back.