Episode V: Smashing The Barrier To Pieces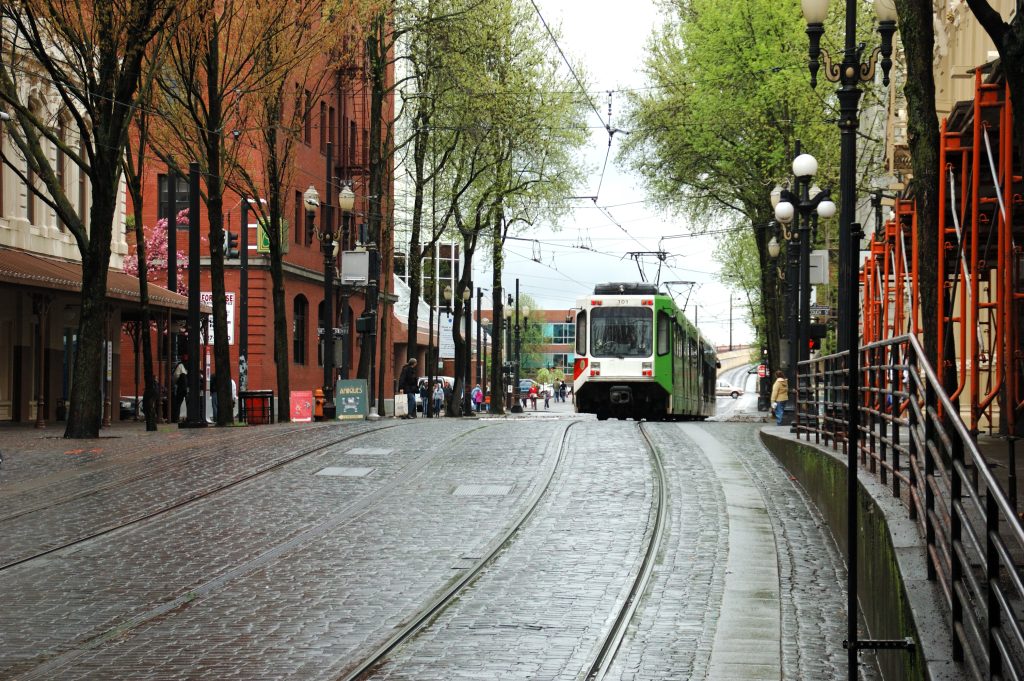 I always knew that my conservative childhood had impacted my attitudes about sexuality. A lifetime of sex-negative messages had conditioned me to shy away from anything outside of the vanilla "sexual box." In 2011, I was still living a conventional, vanilla life, with the exception of our monthly escapes to go dancing at the lifestyle club in Portland. Our encounters with April Rain had opened me up to a bi-curious playground that was starting to feel intriguing and inevitable. But it felt like a playground from another planet, and I still felt apprehensive as we prepared for each new weekend getaway. Ultimately, it required 2 beautiful, younger women to finally guide me across the taboo line that I had flirted with for months.

This particular night began with a familiar return to the home of Lois and Clark. The two of us decided to rent our own hotel room (rather than bunking at their place) but it was still fun to share the warm-up festivities with them. Lois wanted to introduce us to a flirtatious dice game that included elements of "truth or dare." It was fun to continue learning about each other and the required shots provided a nice buzz as the evening club visit approached.

My husband (who is nicknamed G) took it easy on the drinks in order to safely drive the 4 of us into the city. We sang along as our new LS anthem, Katy Perry's "Last Friday Night (TGIF)" flowed out of our speakers once again. The Sesso buffet tasted better than ever and the 4 of us enjoyed sharing a booth with Sophia and Sol. Lois sat directly across from me, a vivid memory due to the fact that she was going commando under her black party dress, a view that was hard to ignore. We finished our evening meal and headed toward the dance floor.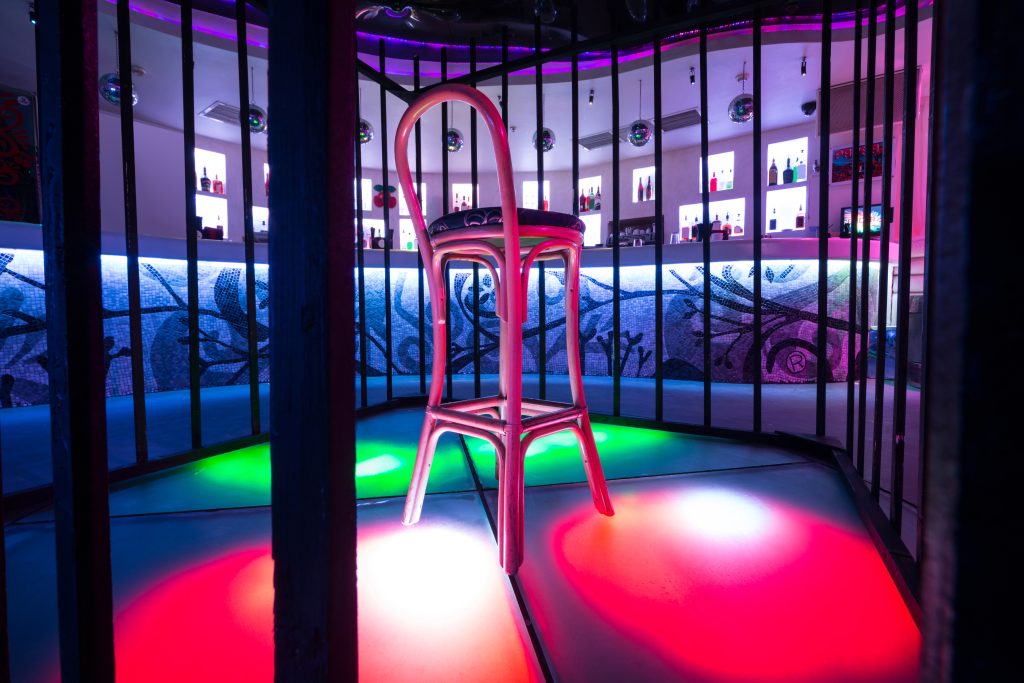 As time passed, our small group of friends disbursed and we started dancing with an attractive couple named Matt & Hanna. The chemistry was great between Helen and I, grinding together on the dance floor as our guys enjoyed watching the low-profile show. Suddenly, the 2 of us decided to pull ourselves up into the elevated birdcage above the floor. I flashed back upon my first cage experience with April several months before. The hot connection between Hanna and I continued in the cage. I found myself feeling turned on, feeling a rush of adrenaline wash over me. I had never tried any drugs, but this was how I imagined ecstasy must feel. The crowd of unknown faces disappeared in my mind as I performed for my husband below. His smile told me everything I needed to know. His approval was an important element for me. My natural pleaser instinct was elevated, and I was genuinely enjoying the public dancing and affection with Hanna.
The two of us ladies faced inward, and I found myself feeling comfortable at last, enjoying touching Hanna and slowly moving toward our first kiss.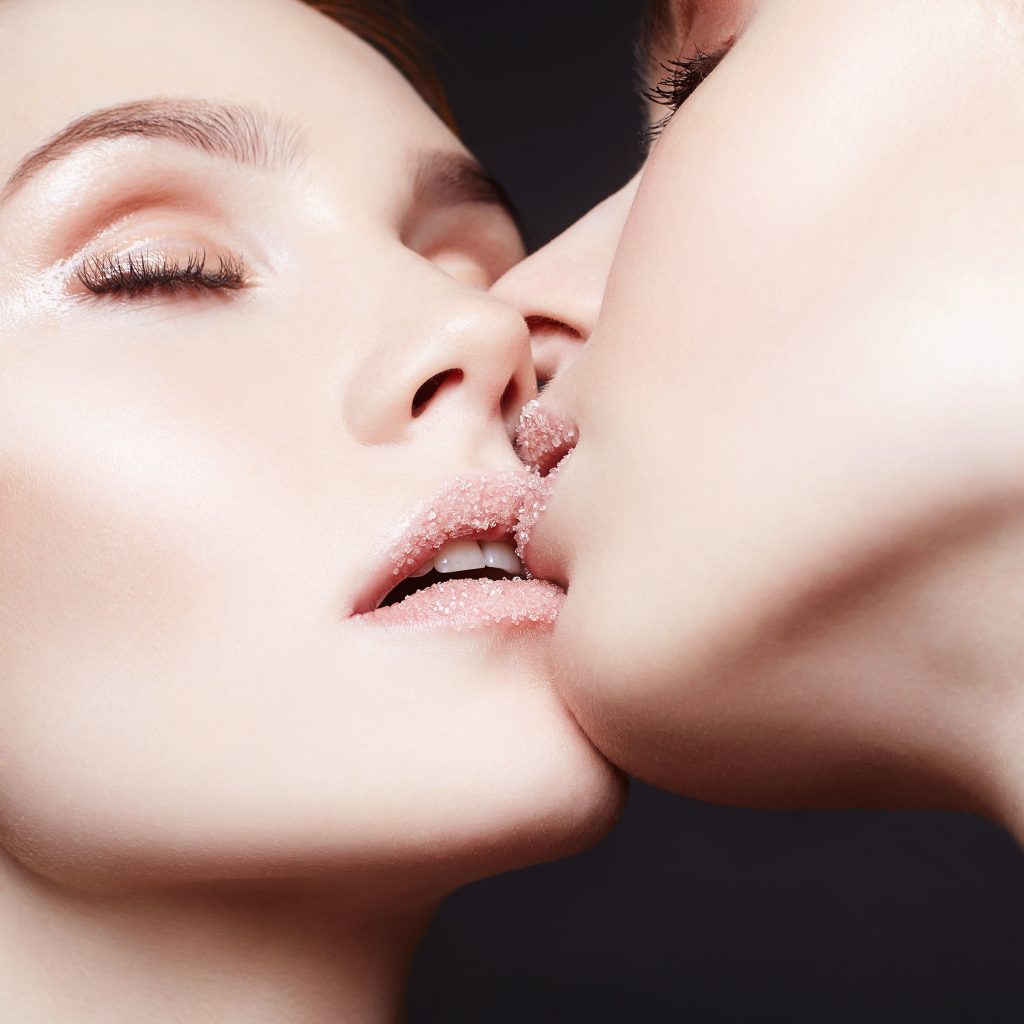 Matt and G were definitely bonding below us. They conspired on a proposal for the 4 of us to retreat to a room. I definitely felt nervous about this idea, but the four of us proceeded upstairs and found a private room where we it was easy to still hear the music. The sounds of familiar dance songs helped me to feel more comfortable. Hanna and I assumed the middle of the bed while Matt and my husband spooned behind us, each touching their own wife only. The two of us ladies faced inward, and I found myself feeling comfortable at last, enjoying touching Hanna and slowly moving toward our first kiss. Enjoying the warm sensation of colliding tongues, the intensity increased, and she moved down to release and kiss my breasts. I consistently returned to kiss my husband as well, wanting to feel reassurance that everything was okay. He smiled and said he felt like the luckiest (and horniest) man on earth lol. Without any verbal conversation, Hanna sensed that I was not ready to take my panties off yet. She touched me softly down there, providing the perfect amount of interaction within my cautious comfort zone.

Eventually, Hanna and I shifted into position to focus on our husbands. He quickly removed my panties, and I felt his throbbing cock slowly slide into me. I exploded with emotion and passion… and wetness. His explosion followed shortly after. After so many years of private intercourse, sharing the space with another couple was a sensual novelty. My intercourse time with him only lasted about 10 minutes. But a wonderful and sexy barrier had been broken. As the private time with Matt and Hanna ended, we all laughed and expressed interest in future adventures.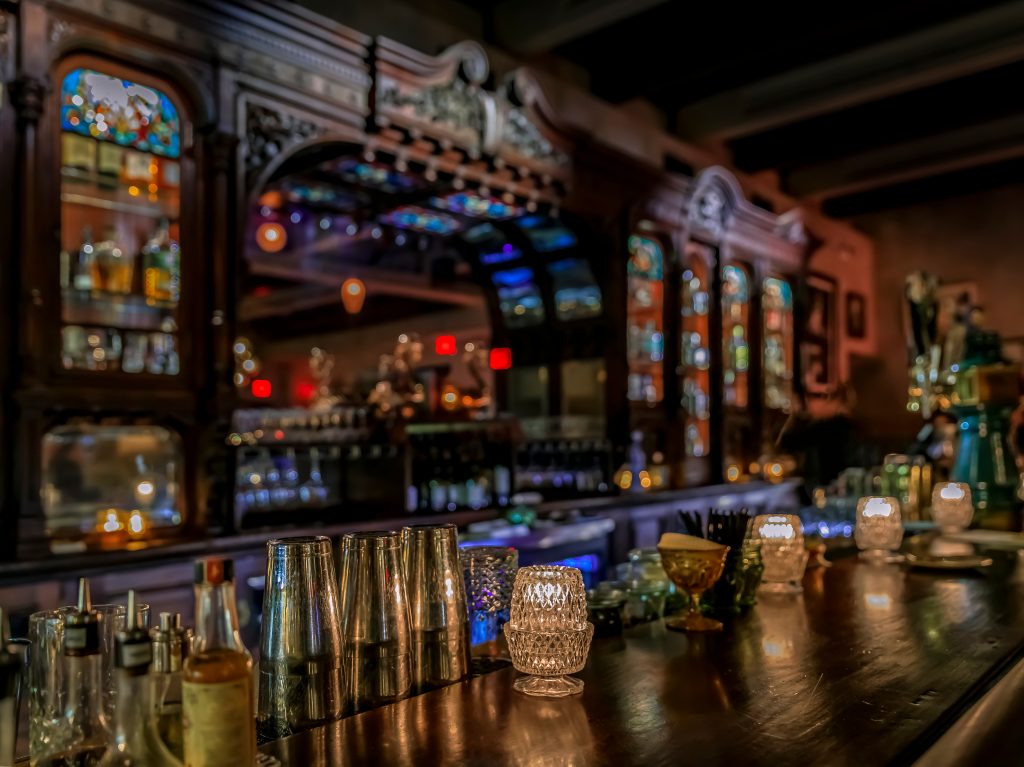 Wonderfully exhausted, G wandered upstairs and sat down next to a beautiful woman and her husband. I had excused myself to the restroom and the 3 of them started visiting. They introduced themselves as Jane and Daniel. She was arguably the most attractive girl we had met at the club so far. She wore an exotic outfit consisting of layers of Asian chains that reminded G of a Jasmine character in Aladdin. He was impressed by her educational background and their conversation drifted to history and international travel. By the time I returned from the restroom, Jane was now topless, casually displaying her perfectly shaped breasts, and nipple piercings to die for. It was almost closing time, but we exchanged contact information with the hope of reconnecting in the future. Altogether, my apprehensions had evaporated during this amazing night. I was starting to imagine the endless possibilities for the future.

Surprisingly, there was no online connection with Jane & Daniel or Matt & Hanna for several weeks. Insecurity creeped into my reflections. I was feeling so confident about the connections made during our last club visit. But now I wondered if I had done something wrong. But we finally heard from Daniel, and the four of us agreed to a meet-up date at the club. Jane and I started to get better acquainted online, and a really great connection was hanging in the air. When the big night arrived, the four of us reconnected on the dance floor like old friends. Daniel visited with G, and I was feeling very flirtatious with Jane. To our surprise, Matt & Hanna attended this night as well! And to make things more interesting, the four of them had connected the previous week in a private room session of their own. Suddenly, our prospective party for 4 was extended to a party for 6.
I vividly recall enjoying a deep, sensual kiss with Hanna at the very moment that Jane placed her head between my legs and began slowly kissing my clit.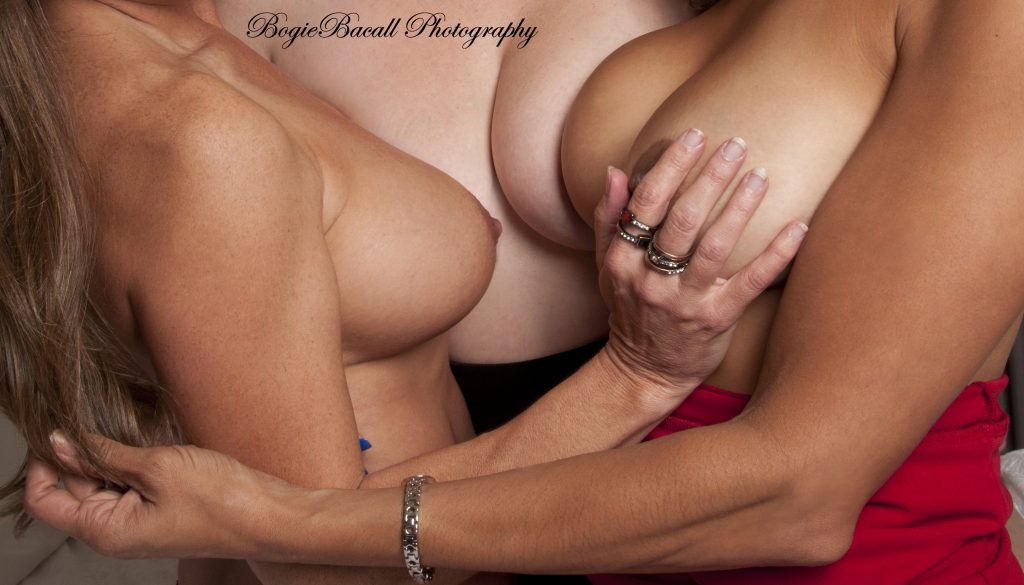 The chemistry between Jane and Hanna was electric immediately. I started to feel a little intimidated, uncertain how I was going to fit in with these younger, and strikingly beautiful women. But the 2-girl connection quickly became a 3-girl connection resulting in some fabulously sensual kissing on the dance floor and in the cage. It wasn't long before the 6 of us found ourselves undressing in a private room. Jane's attention seemed to be focused on Hanna as the affections began. But after a few minutes, both ladies had turned their sensual focus toward me. The 3 men chilled behind each of their own wives, quietly watching, and occasionally commenting to each other. It was my most exciting experience yet. I vividly recall enjoying a deep, sensual kiss with Hanna at the very moment that Jane placed her head between my legs and began slowly kissing my clit. A rush of sensual emotion shot through my body as her tongue explored deeper inside me. Daniel initiated moving her onto her stomach but she continued her work inside me with her fingers. Much to my surprise, both of the other guys started to employ occasional spankings on their ladies. The sounds were loud and jolted me out of my comfort zone a bit, lol! The two of us had never even attempted spanking, or any BDSM playfulness. I found myself feeling a little nervous, but hopeful that everyone would respect each other's boundaries. Despite the momentary uncertainty, it felt great to shift from exploring with Hanna and Jane to kissing G, my home base and partner for life.

As time moved along, Matt and Hanna became more focused on each other and Jane started a decisive shift from me to G. I watched as she reached out and secured his hard cock in her hands. She brought it up to her mouth and began giving him his first oral experience in the lifestyle. Her husband was inside her from the back and she ran her middle finger back up into my vagina. It seemed clear that all five of the other people were enjoying themselves. I was still feeling torn, but I kept pushing myself to completely relax and just go with the flow.

Jane shifted and encouraged G to lay on his back. She guided me into intercourse position above him and grabbed his cock to place inside me. She whispered in my ear about how impressed she was by the girth of his cock, an element that created a momentary flashback to our first night of intercourse, more than 20 years earlier. I felt relieved to climb back on board with G, while his head dangled toward the end of the bed. Jane continued to direct the action. She was standing at the end of the bed and she pulled her husband up along her backside and inserted him into her pussy. She dangled herself directly over G so that her breasts dangled over his chest, with her tummy and pussy just above his forehead. The two other girls kissed some more while both husbands continued to thrust inside of them from behind.
I was finally feeling a true comfort zone as I felt G thrusting inside me. It didn't take long to reach a dramatic climax from my elevated position above him. I finally collapsed in his arms as Chris Brown's "Yeah 3x" blasted away in the background. It was easily the most EPIC experience of our short-lived adventures and all 6 of us knew we had shared a special moment.
Our Takeaways from episode 5:
I strive to avoid insecurity related to response time and text communication dynamics. Many people need to prioritize their vanilla communications with family, work, and friends. Some have very little time for notes and texts and daily interactions with LS friends. Delayed correspondence or silence does not necessarily equate to disinterest or negativity. Heather and Jane were both excited to see us in person, even though the advanced communication seemed unimportant to them.
Reciprocal play (swapping partners) can be an expectation for some couples in the lifestyle. When Jane initiated oral sex on G, I understood they hoped that I would reciprocate and initiate on Daniel. I was definitely not ready for that yet! I felt uncomfortable because I didn't want to hurt anyone's feelings or seem rigid. Fortunately, I was strong and chose not to engage that way. It felt good to make the decision based on my comfort level and not based on the competing emotions of obligation or pressure. Unfortunately, that strength would not stand the test of time. As future episodes will reveal, my "pleaser instinct" would create mistakes that became a complicated part of my journey.
"Soft swap" is a lifestyle "play" designation that can include everything except intercourse. There are countless, creative options within the soft swap realm. On the lighter side of the spectrum, it can emphasize limited play with the cross-couple partner. One example from this episode was our focus on girl-girl play between me and Hanna. This is wonderful for people who enjoy the female affections without wanting to swap at all. Despite being a full-swap couple, the 2 of us still enjoy soft dynamics, finding it so exciting and sweet that it has stood the test of time with us. Newer couples often appreciate our gentle non-pressure approach to sharing space. We genuinely enjoy soft swaps with no additional strings attached.
Both couples in this episode were more than 10 years younger than us. We have always felt surprised by how chemistry can transcend age gaps. We certainly respect the fact that some couples have age limitations. And there are certainly ages that feel too young or too old for us as well. But we have both had tremendous sexual connections with friends in their late 20s, and discovered that some people (we call "old souls") are far more mature at 29 than other people we know who are 49. So, we tend to pay less attention to the precise age, and focus more on the character, the mindset, and the energy that our friends reveal.