Lifestylers Magazine Has Now Launched LSM-TV

We Told you! "Everything Lifestyle, By The Real Lifestylers" first our magazine, now our TV Platform
Hello all you sexy Lifestylers, we're proud to announce we have now launched LSM-TV (A Lifestylers Magazine TV Production) to add to our focus of supporting the Lifestyle Community and helping to de-stigmatize the lifestyle to the general public, and to still incorporate an element of privacy and security to our publication providers.
LIFESTYLERS MAGAZINE: Was created in March of 2021 by a married couple who started their journey in the lifestyle in 1994. They have normal lives, careers, kids, vanilla friends, but have always loved the energy and sexy atmosphere the Lifestyle offers. They also believe that being in the Lifestyle has benefited their loving trustful relationship with themselves and others.
A safe place for others to share their sexual life journey, sexy photos in a sexy sex-positive stories… This not only helps the newcomer's potential entering the lifestyle but also can be very liberating reading how far you have come in your life, and how the lifestyle helps with accelerating this.
LSM-TV: Is now going to take this to the next level, we are planning on bringing on Ambassadors, Host/Hostess's, Camera Operators and produce a TV Style production show-casing Lifestyle Events, Resorts and Travel locations to our viewers. All this in support of the Lifestyle Business that work so hard to bring all of our Lifestylers a safe and sexy place to meet, congregate and develop relationships with other great people.
If you're Interested in being part of our First Filming Production we are producing our first pilot show at SplashXX in Lake Elsinore, CA on Saturday November 5th, 2022, and its a FREE Event.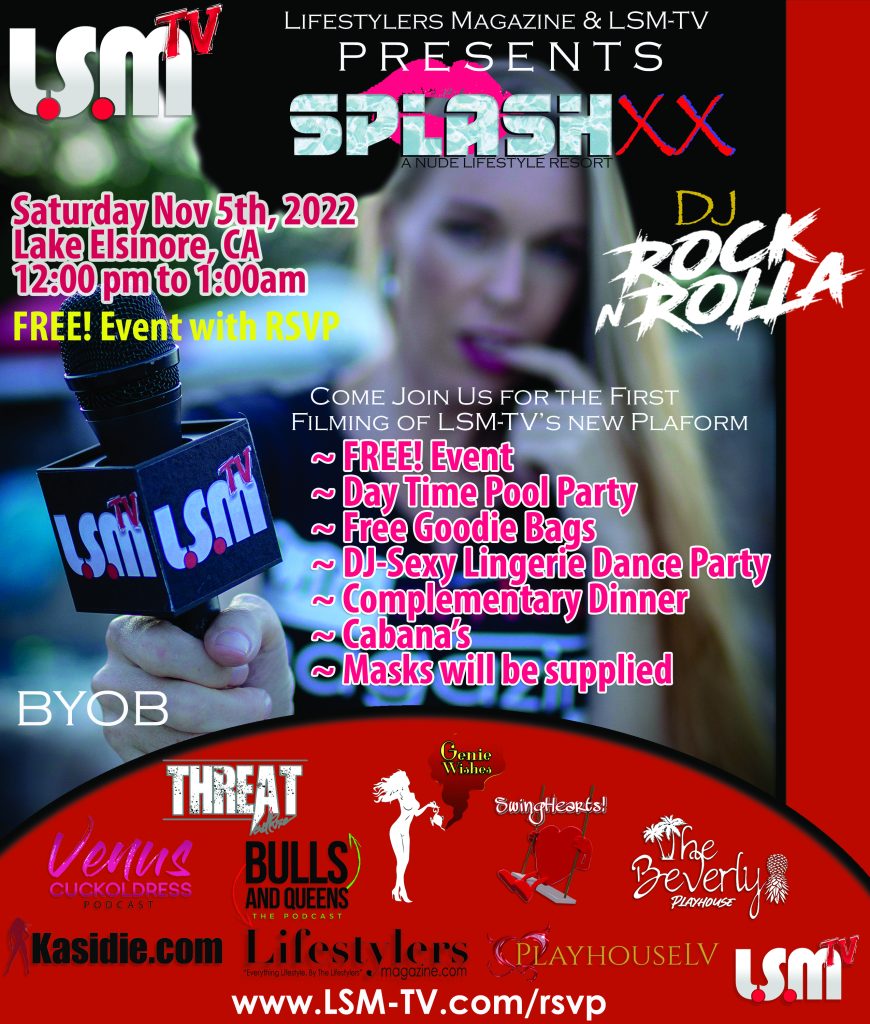 Hostess Anastasia: My close friends/owners of Genie's Wishes called me and said their friends/owners of Lifestyler's Magazine were looking for someone to host events and things for them. "We all share the same vision for the lifestyle, and I think you would be a great fit." I replied, "Me? Center of attention and getting to socialize?! I am SO IN!" I met with the owners of LSM, and we clicked right away! I was intrigued and beyond excited to hear about the upcoming adventures. I knew immediately this was the perfect Lifestyle family for me!
It was fabulous to hear about all they were doing to better the LS community and support other like-minded businesses. There is such a crazy stigma about us, and I am thrilled to team up with LSM and LSMTV to educate the vanilla world. We are a sex, love, and kink positive community with a strong emphasis on trust, communication, and consent.
I am now officially hosting for LSM-TV. To say I am exuberant at the upcoming possibilities of the new Lifestyler's Magazine Production; LSM-TV is an understatement. I look forward to bringing you along for all the good, kinky, and juicy adventures I encounter across the country. If you like it, perhaps you will join the Lifestyler's Magazine famila too!So thanks for reading, and sit back and enjoy our content whether in the magazine, or our new platform LSM-TV.
We appreciate all the support, and would love to hear any feedback you may have in bringing you're the sexiest lifestyle content we can.
If your interested in becoming part of the Lifestylers Magazine Familia in Hosting shows, camera operator, film editors, ambassadors or an Event owner inviting us to your location, please fill out the form on the banner below.