The Most Common Femdom Kinks…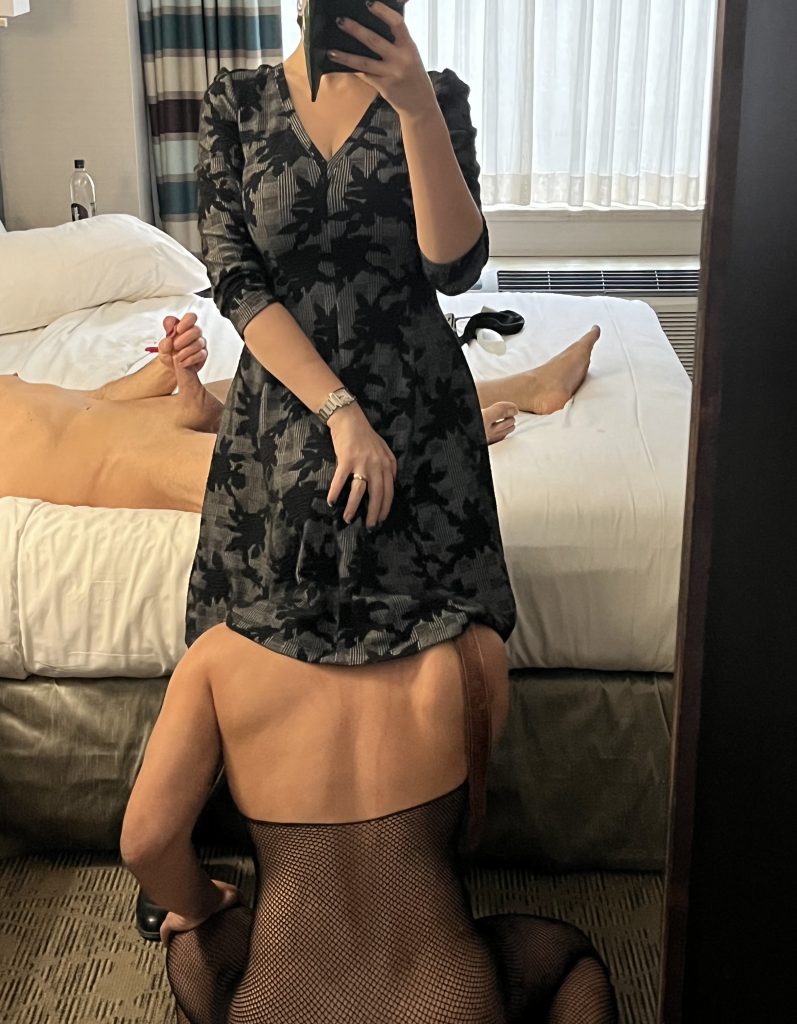 As with any aspect of kink, cuckholding exists on a wide spectrum of partner sharing. There are obviously many open relationships, motivated by vastly different interests and fantasies. There is something as "vanilla" as simply swinging….couples who just like to be non-monogamous, either together or separately, with various rules followed (no emotions, no kissing, only while in the same room, soft swap, full swap, only straight, including bi, the list goes on and on). Some couples just like the variety or feel no jealousy, some feel jealousy but enjoy feeling it, and enjoy reclaiming their spouse after sex with others. Some couples are looking for a specific third….another girl (sometimes billed as a unicorn), another man (sometimes billed as a bull), a specific kind of man (much younger, or black, or hung, or bisexual to accommodate both partners).
There are stags and vixens, ethically non monogamous, playing together or separately, sharing stories of play to turn each other on. These sort of dynamics often come without the aspect of humiliation and denial….a stag may enjoy watching his vixen have pleasure with another man, and may join in and feel quite equal in the scene. In contrast, people who especially relish seeing their partner with another, even more than having someone else themselves, and to whom this fantasy comes with elements of humiliation and denial, are further along the cuckholding spectrum. There are certainly cuckqueans who are aroused by their husband sleeping with (an often younger, more beautiful) cuckcake. But more common by a long shot are cuckholds, who are aroused by their partner (often billed as a "hotwife") sleeping with other men, often men considered much superior to the cuck sexually. Sometimes they want to watch in person, sometimes to have their partner go out alone and then send back photos and videos. Sometimes they want to service their partner after she has been used or "stretched" out by another, often bigger cock. Sometimes they want to clean up….eat another's cum out of a partner's pussy or ass. Sometimes (and this is where it gets especially hot for me) the cuck is further humiliated by servicing the man who is using his woman….sucking that man's larger cock before it enters his cuckholdress or hotwife, or licking it clean after. In even more extreme scenarios, the cuck could be dressed up in lingerie and forced to offer both his mouth and his ass to the bull as well.
The motivations for true cuckholding at this level are myriad as well. Very often there is an aspect of inferiority and humiliation. If a cuck feels he is inadequate in size, or erectile dysfunction or premature ejaculation issues are present, he is looking for a solution to ensure that his wife is pleasured in ways that he cannot provide. There is often tremendous love involved here, when it is a real, authentic relationship: the cuck is most concerned with his wife or girlfriend's pleasure and happiness. He feels that she deserves to be able to fuck large hard cocks, and since he cannot give this to her, he is eager that she get this elsewhere. A cuck like that will watch his woman receive pleasure with tremendous longing, both happy for her and also wishing that he could make her feel that way. Further humiliation can be derived from having his own "useless" cock caged, either during play or for longer stretches of time, cementing the fact that he is incapable of pleasing his partner as a man (though he will almost always continue to do so enthusiastically with his mouth). In some case a cuck will even wear a larger dildo over his smaller caged cock in order to service his woman while deriving no physical pleasure from it. Many cucks will begin to undergo anal training in place of having the use of their penis. They will be plugged or pegged and trained to orgasm from prostate stimulation only. This is where the cross-over to feminization and sissification often begins, with a cuck emasculated to the point of feeling that his mouth and his ass should be in service of his cuckholdress but also the superior males (bulls) who she fucks.
I've met many cuck couples along the varying spectrum of these extremes. Some husbands are "pussy-free", essentially denied intercourse and often blow jobs as well, in favor of much more hung bulls. Some are further locked in chastity, in some cases for months at a time or longer. And some, as noted, are trained to receive anal sex, pegged by their female partner or even fucked by her bull. The forced-bi element is very much power motivated, in terms of an inferior male being made to service a superior one.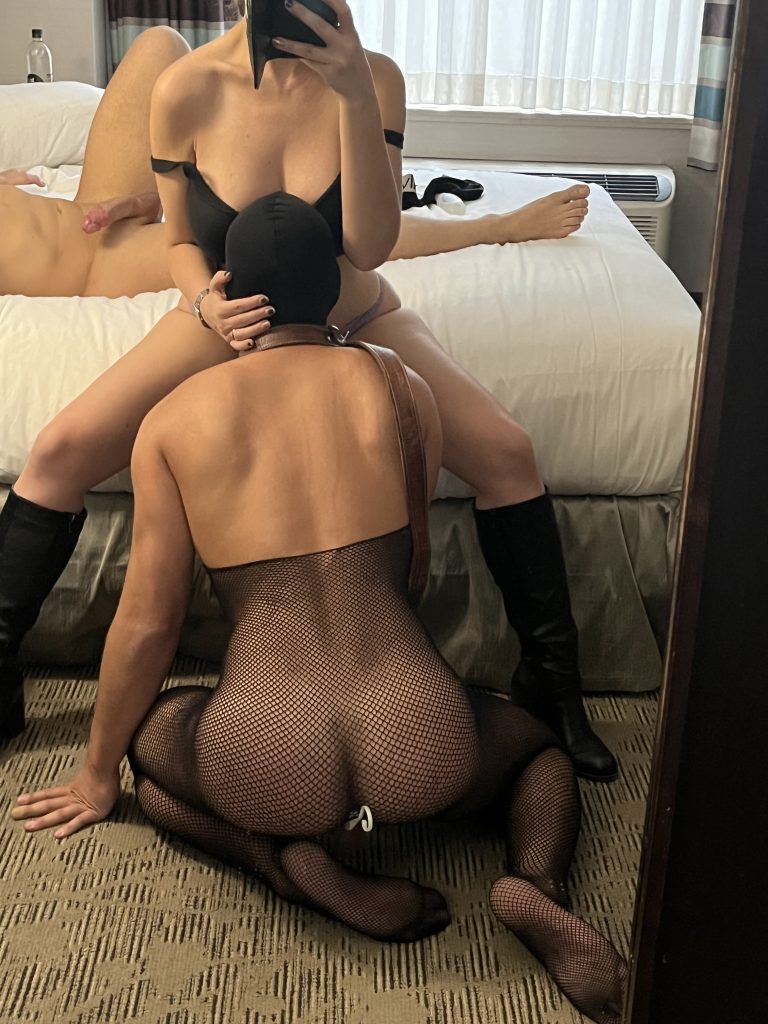 While cuckholding is most authentic in the context of a true, loving relationship, as the cuck is then acting out of real dedication to his partner and her pleasure and happiness, trying to help her get what he feels he cannot provide, there is also cuckholding that happens in the context of casual kink play only, with a domme standing in for a hotwife or cuckholdress. The emotional aspect is much less present here, and so the kink comes down to the (ideally healthy and supportive) exploration of those feelings of inferiority, inadequacy, submission….in ways that are a turn-on. In a kink scene, in casual play, a sub who is serving as a cuck to me and a hung bull is usually someone who is very service-minded, who really loves to please, or someone who really wants to be used (mouth and ass). Again, without a real relationship to anchor to, the fantasy and the turn-on is in being of service to sexually "superior" people. Elements like small penis humiliation (sph), being caged and denied, cleaning up cum, sometimes even being pissed on all contribute to the humiliation. The forced-bi component is only occasionally "forced", as very often the cuck is quite aroused by servicing much larger superior cock, especially if he has gone down the path of some level of feminization or sissification (and I love to contribute to this mindset by dressing a submissive cuck up in lingerie) and therefore begins to see himself as a cock-slut or fuck-toy for hung men. There are sometimes racial elements to this, with a white cuck who wants to be a slut for big black cock (bbc).
In the end, the cuck role is a very loving and giving one, whether in a real relationship or even just in more casual play….it comes with a lot of self-sacrifice, which is very beautiful in its way. I really enjoy a scene like this, all the more so if the bull is really aroused by it too, not because he is attracted to the cuck, but because he enjoys feeling superiority and leaning into the power dynamics. If people are well matched, this can be a very complementary dynamic where both men get what they need and a woman is very well serviced between them…..let's say with a big cock inside her and a cuck's tongue on her clit at the same time, or a cuck licking her nipples or sucking her toes or giving her some sort of additional physical pleasure while she sucks cock or is fucked by her bull. Having two (or more, if multiple bulls are involved) men all focused on you, and all providing pleasure in the way they are equipped to do, is very much a luxury.
Some of my favorite scenes have been when my husband and I (and often additional bi-flex bulls) are sharing the hotwife in a couple, while the husband serves as her cuck and my submissive. And another fun scene is when a single submissive stands in as a cuck to me and one or more hot hung bi-flex bulls who will use him for me. Overall, cuckhold dynamics are definitely a top femdom kink that I go back to over and over in various ways, likely because of the strong power exchange, psychology, and humiliation underpinnings, all of which I love.