Virtually All Men Love to Watch Two Women…

You know how virtually all men love to watch two women together? I grew up right in the generation of women experimenting with bisexual play in a more mainstream way. It was always my husband's favorite fantasy and by the time I hit college, he was getting to see it regularly!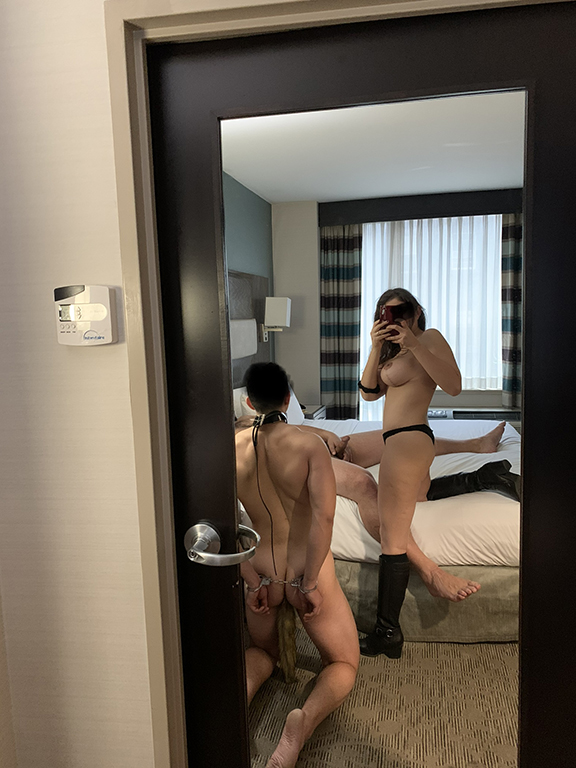 Well, men playing together is still less mainstream and less acceptable, but I find it incredibly hot to watch, in all its myriad forms. I love watching two (or more) handsome, muscular young studs hook up, suck each other, let me rub their cocks together, maybe even see one top the other while the bottom is licking me. I love watching a very young (possibly feminized) boy service an older daddy dom with his mouth, and then turn around and open his tight little ass to him too (while licking me, as someone should always be licking me!). I love making submissive boys jerk and suck each other while I peg them each in turn. I love making a pathetic little cuck suck a bull's big cock before it penetrates his wife right in front of him, and then suck it again when it comes out of her, coated in her juices (I will cover cuckholding at length in my next column). I love when guys are really into it. And I love when they're not so into it, but they allow themselves to be "forced" to do it because it amuses me or turns me on.
In summary, bisexuality between men, when it's performed for a domme, or in the service of a domme, is definitely high up there as one of my favorite kinks. I just find it so delicious. It makes wet to watch, or it makes me laugh….great either way.
Forced bi is very rarely truly forced. There are definitely some boys who feel no attraction to other men and no desire to touch them, but want to be "forced" to do it because a domme wants to see it. It may even be repugnant to them and they may swallow their distaste in order to please her. Like pain for a sub who is not aroused by pain, this sort of forced bi is a sacrifice to the domme, a humiliation endured. That's quite special.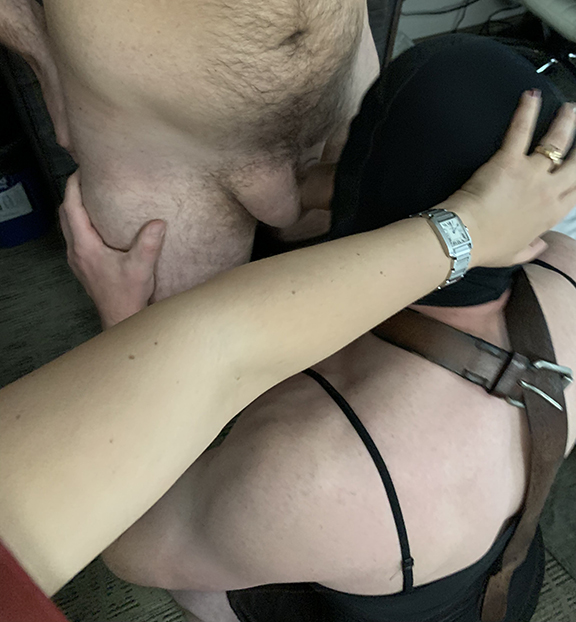 But more often the boy does fantasize about it, at least deep down, maybe even "shamefully". He hasn't tried but he is curious and it does turn him on. He may still want to be forced, maybe even tied up, blindfolded, gagged (consensual non consent dynamics) so that it's not "his" decision, but rather something that happens to him. Or he may be willing to come to it more on his own, to try to live out the fantasy actively. Very often there is still limited attraction to other men, per se, but there is a fetishizing of cocks (especially big ones) and hot cum. And performed under the supervision of, and watched by, a domme, makes it even more appealing. But that doesn't mean it's an easy decision for everyone…..people struggle with that fantasy quite a bit. And I do have some thoughts on that…..
As a domme with a large following on FetLife, it is no surprise that I hear from a lot of bi-curious men. Boys who haven't tried cock but are fantasizing about it, and especially about having a domme "force" them to do it. It turns them on tremendously but there is often a lot of fear and worry surrounding it too. "What if I don't like it?" "What if I DO like it?" "Once I do that, what does it make me?"
My advice to them always: stop overthinking it. Stop being so hard on yourself. It doesn't have to mean anything. It can just be play. Just bodies. Just having fun. It can be corporeal, and not so cerebral.
Life is short….hasn't covid taught us all that? Why not try something you want to try? What is the risk or the harm? It doesn't change you or define you, it's just something you tried. If you don't like it, shake it off and move on. If you do like it, good for you, have fun, do it again!
I often use the allegory of a roller coaster, to explain why a forced bi play experience is just that…..an experience. When you are waiting on line to ride the coaster, you may feel a range of emotions from excitement to fear. You may be tempted to get off the line. Many people get scared and do…..and I get many potential playmates who get cold feet and can't carry through. But say you make it onto the coaster, and then you're riding that long slow way up…..very scary, the anticipation. Just like many folks are very nervous and shaky when they first arrive to play…..trembling. And then the coaster drops! And you're on it for the ride! And maybe it is too scary after all and you just want it to end. But maybe it's exhilarating and exciting and fun. Either way, it WILL end. You'll get off and walk away. You won't be different….you're the same person you were when you got on the coaster. Except now you have the experience and the memory, and you get to decide whether it wasn't for you, or whether you want to get back on line. Maybe right away! Or maybe in a while. No matter what, it's totally fine. As long as you are careful and play safe, there's no need for there to be any lasting effects…..it's just play, it is just meant to be fun….
I think especially in the US, our culture conditions us to take sex too seriously. To overcomplicate and overanalyze. To agonize over our kinks and desires. To not accept ourselves. To be much more unkind to and less accepting of ourselves than we would even be of others. There's no need for this…..be gentler with yourself, be more playful, ascribe less meaning to this…..it doesn't have to define you if you don't want it to….it can just be something you do and enjoy. We're all here for a short time….as long as we are kind and try to do no harm and to bring pleasure, I don't think there's anything to be ashamed of.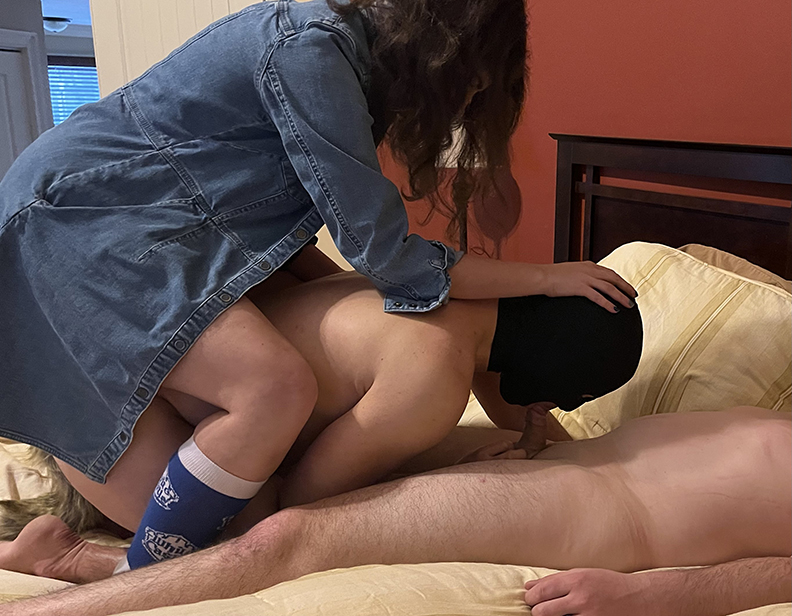 So those are the boys on the fence, who need a little push to accept their own desires and fantasies and try them out. And then there are boys who are well and truly bi, who crave cock and cum, who go on Grindr to find hookups (and love to tell me about them because it feels good to be accepted by a beautiful woman, and because they like that it turns me on), who ask me to set up blow-bangs or gang-bangs for them where multiple men can use their holes. I quite love those enthusiasts too, as really fun scenes can be built around them. Definitely turns me on to watch and to participate in that sort of unabashed enthusiasm. Especially since sex between men is often so physical, corporeal, raw, unemotional, intense…really hot.
In short, "forced" bi play between men, done for a domme, is really multifaceted, from something that is a true punishment or sacrifice, to something that is a deep seated fantasy that needs to be eased out, to something that is very desired and craved (the boys in my circle who are huge cock sluts know who they are…..and they are happy to lean into it!).
And I will say a word about the bulls too. Unless a forced scene is between two or more subs, or between two or more hot studs (think bi MMF), what you have is a bull and a sub. And as much as the sub is performing for his domme, sucking cock for her, getting topped for her, being spit-roasted between bull and domme for her, so too is the bull providing a service to the domme. Again, some bulls are enthusiastically bi and love to use a cute boy's mouth and bubble butt. Some have preferences – they want a sissy or a young hairless twink or a hot femboy. But other bulls (and this is what I actually find more hot) just couldn't care less about the boy. It's not about sex for them, it's about power…..being the alpha male in that scene. They're "straight", focused on the domme, attracted only to her, but a wet hole is a wet hole and so they're happy for me to direct them to put their cock wherever I want to see it go. This is especially an sexy dynamic….where I am using that massive bull cock like I do my own strap-on…….to "punish" my sub! To make him gag, to stretch him out. So the bi-flexibility of a bull is critical to a great forced bi scene and something every domme should very much appreciate!