Mrs. Tangled Up Together Tell All Story…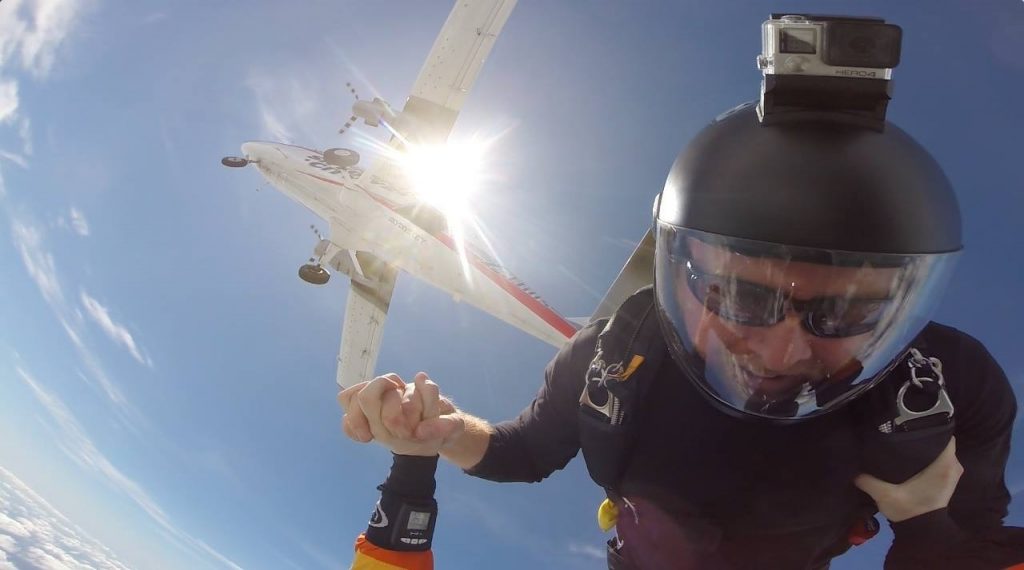 I sat on the floor of a Cessna 182, a small plane that holds 4 people, plus a pilot. I was on the floor because there were no seats in the plane, and there were no seats in the plane because everyone in it, besides the pilot, was planning on jumping out. I had been working towards my skydiving license all summer, and this was to be the capstone jump of that endeavor. Upon landing, I would be granted my A license, proof that I was a real, bonafide skydiver.
To get to this point, I had done 2 tandems strapped to the front of a much older man (who I would later fuck), 6 instructor assisted jumps with my own parachute (some with the much older man I was now fucking), and 16 jumps with various coaches (none with the much older man I was now no longer fucking). This was jump 25, I was going out solo, and by the time I landed, events were set into motion that would change my life forever.
With me on the floor of that plane was a man with subtly red hair, gazing out the window and wearing the harness of a tandem student. This was my opportunity to show off.
"You nervous?" I asked, smirking a little in an effort to accentuate how not nervous I was.
"Well, this is my second jump, so not really." He then resumed his calm survey of the farmlands below, and that was that.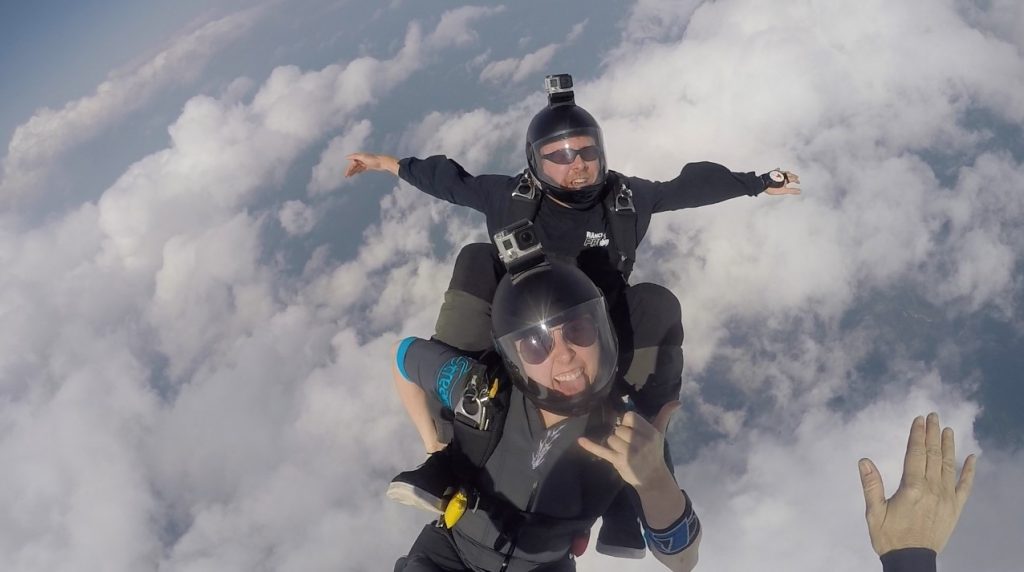 The next summer, he showed up at the airport again, and again, and pretty soon he was in the plane making his 25th jump and obtaining his own skydiving license (he managed to do it without fucking the much older man). On July 25th, 2014, these two relatively new skydivers became friends and made their first jump together. 6 years later to the day, I married that not-nervous man at that same airport, on a day just as sunny as it was for our first jump.
They say you should marry your best friend, and I sure as hell ran that test over and over again. After our first jump together, Chad and I were fast friends, making our first skydiving trip together that winter. We met up in Florida (the only time we would travel somewhere separately), and spent a few days skydiving and enjoying a reprieve from our Northern weather. This was our first time being anywhere alone together, and it was obvious that we got along great on the ground as well as in the air.
The days passed with ease and comfort, and already we established patterns and traditions we hold to this day. I stayed in a tent on that trip and Chad was in a hotel room – ever the gentleman (is what I told myself), he offered me the couch in his room as an alternative to sleeping on the ground. I declined, choosing to believe there was no ulterior motive in that offer.
I kept that degree of distance between us, setting clear boundaries and being careful not to tempt any expectations. I was dating someone else, and that someone else was extremely possessive and jealous. So jealous, in fact, that this was not only the first time Chad and I were alone together, it was also the last. For the next several years, I would invite another woman friend on any trips we took in order to appease my boyfriend and set further boundaries, as if I needed to be any clearer about what was definitely not going to happen. We spent years travelling the country together, South, West, East, jumping everywhere we went and learning a little more about each other on each trip. We texted every day, jumped together every weekend, and travelled together every year. And through it all, he never once let on about his desires or feelings, knowing that if he slipped up even once, I might pull away and be lost forever. After five years of orbiting each other, my terrible relationship ran its course (as they are wont to do) and I texted Chad about the breakup. He told me I deserved better and within a week, he was giving me exactly that.
Besides talking me through my breakup, we immediately started discussing all of the sexual things that were running through the undercurrent all those years. What we were into, how important sex was to us, how much we enjoyed it. Even though I had kept my mind in my lane, I had been dying for Chad to know how sexual I am. My ex had squashed my sexuality while we were together, but that didn't mean it ceased to exist. I still secretly wanted men to want me, and I wanted them to know how much I loved sex. I wasn't able to express that then, but Chad told me he could always tell. He could feel my repression, a sexual creature caged by the jealousy of a controlling man.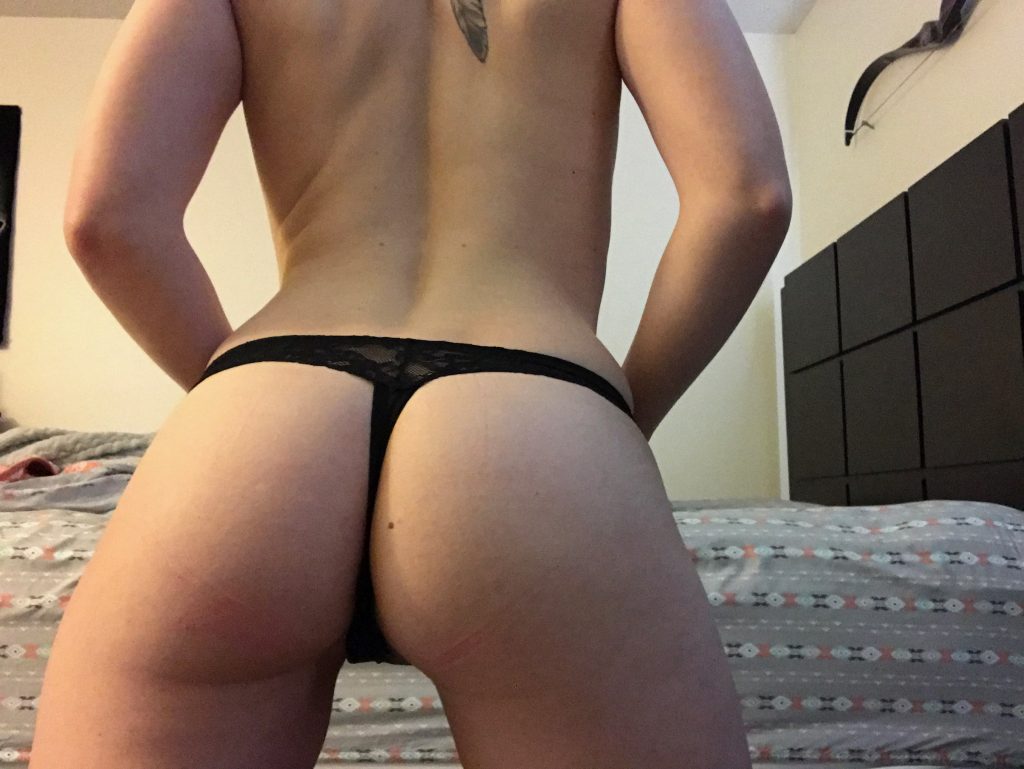 It all came out in an almost nonstop stream of texts and snapchats, and he still sometimes recalls the underwear I was wearing when he saw a picture of my ass for the first time. After a few platonic visits, countless texts, and some talking, it became very clear that it was time to turn our friendship into the relationship it had always basically been. Chad came over to my apartment with no real expectations other than a slight hope for some of the things we flirted about. As soon as he walked in the door, I grabbed his shirt and pressed myself into him, our lips and bodies touching for the first time in 5 years. The boundary was shattered, and in that moment we made an entirely different kind of leap together.
I had no idea what to expect, but, of course, a girl can dream. As I pulled his hard dick through the opening of his zipper, all the luck I had experienced in finding this man in the first place increased exponentially – his was the biggest I'd ever had.
On the couch, I pawed at the crotch of his pants and eventually started unzipping his fly. I had no idea what to expect, but, of course, a girl can dream. As I pulled his hard dick through the opening of his zipper, all the luck I had experienced in finding this man in the first place increased exponentially – his was the biggest I'd ever had. He saw the joy and excitement in my face as I lowered my mouth to the head and took in as much of his cock as I could manage. I used my hand to pump what wouldn't fit, and spit worked its way down over my palm.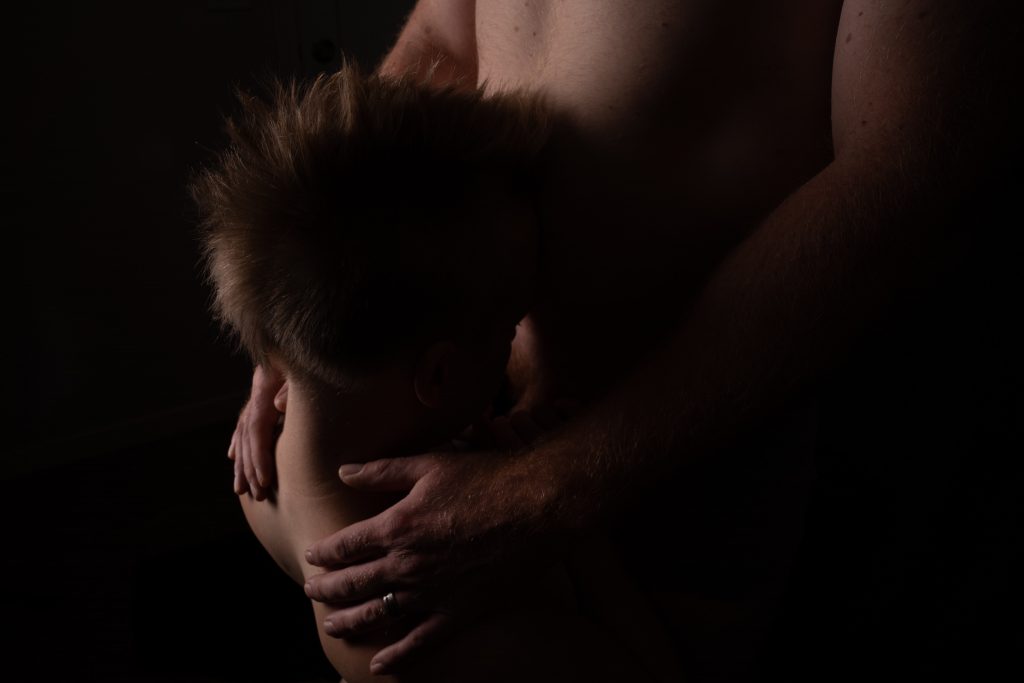 I felt his large hand engulf the back of my head, rubbing through my mohawk and mimicking my rhythm. His breathing got heavier until it became moans, and he told me he had never felt anything like this before. Then he stopped me. "Let's take this slow and do it right." I didn't want to stop, but I knew he was right. I gave it one last, longing look and let him put it away. We had so much time and effort invested in this relationship and there was no reason to rush through things now that we finally got it moving. We enjoyed the rest of the day together and made plans to see each other again, as more than friends, in a few days.
It turned out that a few days was all "taking it slow" meant, and the next time we were together we couldn't stop ourselves. We ended up in my bed, pressing against each other and pulling in, learning each other's body and smell. After some making out, I decided it was time to make it happen. I pushed him onto his back, pulled his dick out, and put it back in my mouth. This time, though, I didn't stop there. I took my panties off and climbed onto his lap.
"What are you doing?" he whispered, not making any effort at all to stop me. I didn't say anything and lowered my wet pussy onto his slick, throbbing dick. He grabbed my hips and pulled me down onto him, pressing himself all the way inside. I rocked my hips in time with his, our bodies moving together in a way they had been yearning to for years. I saw those years of desire in his face and heard them in his breaths, felt them in the way his hands massaged my body. I was making things right with my hips, making up for all of the time we'd missed.
He scooped his arm around to support my back and sat up from the bed, lowering me down underneath him. He was in charge now, taking what he'd wanted for so long. I pulled him into me with my legs and hands as his lips caressed my collar bone. I felt the weight of his 6'2" frame with each thrust, pinning me against the bed in a gentle dominance. His rhythm started to pick up and I knew he was about to cum. "Where do you want it?" he asked. The only answer it could have ever been was inside of me, so he pushed himself deep as he moaned in the release of five years of sexual and emotional tension.
Our relationship developed quickly, or, rather, it bloomed quickly from the seeds we had so carefully planted and nourished as friends. Now that we had begun having sex, it was Chad's mission to bring out every single part of me that had ever been repressed by the men that came before. We started fucking anywhere and everywhere, and all the time. We couldn't get enough of each other. We would fuck on the side of the road at night over the hood of the car, illuminated by the headlights, even when a man walking his dog stopped to watch. We would fuck while Chad drove, me on his lap facing him and him looking over my shoulder to see the road, slowing down when we passed people so they could catch a glimpse. We fucked at the drop zone, sneaking off to only partially hidden places and not at all worried if someone found us.
It was clear that we both enjoyed displaying our sexuality, but we didn't yet have a name for it. Chad loved to show me off, and he knew that I got off on knowing people wanted to fuck me. He had also always known that I was bi, and he wanted to make sure that I was able to explore that side of myself, even if we were together. Being with someone who embraced that instead of shaming me for it was completely new to me, and it took a little reassurance from him before I was able to fully step into that new freedom. I couldn't believe my boyfriend was ok with me showing off my body and teasing men who clearly wanted to fuck me. It didn't take long before I was letting my exhibitionist self live free, and pretty soon Chad was encouraging me to find somewhere to post pictures of myself online.
I did a little research and found that Reddit had a robust NSFW platform, and with some trepidation, I posted my first ever nude online. A picture of my ass in a thong, tame compared to the things we do now, the act of sharing myself on the internet for anyone to see was a rush that only compared to jumping from a plane. We were excited just by doing it, but we had no idea the kind of response it would get. I quickly started getting comments and private messages, and we had found a whole new source of horniness in reading the kinds of things strange men on the internet wanted to do to me.
The pictures got more and more revealing, and I started posting full nudes, front and back. He would eat me out while I read the messages from men, or he would tell me to show him what I would do to those men while I sucked his dick.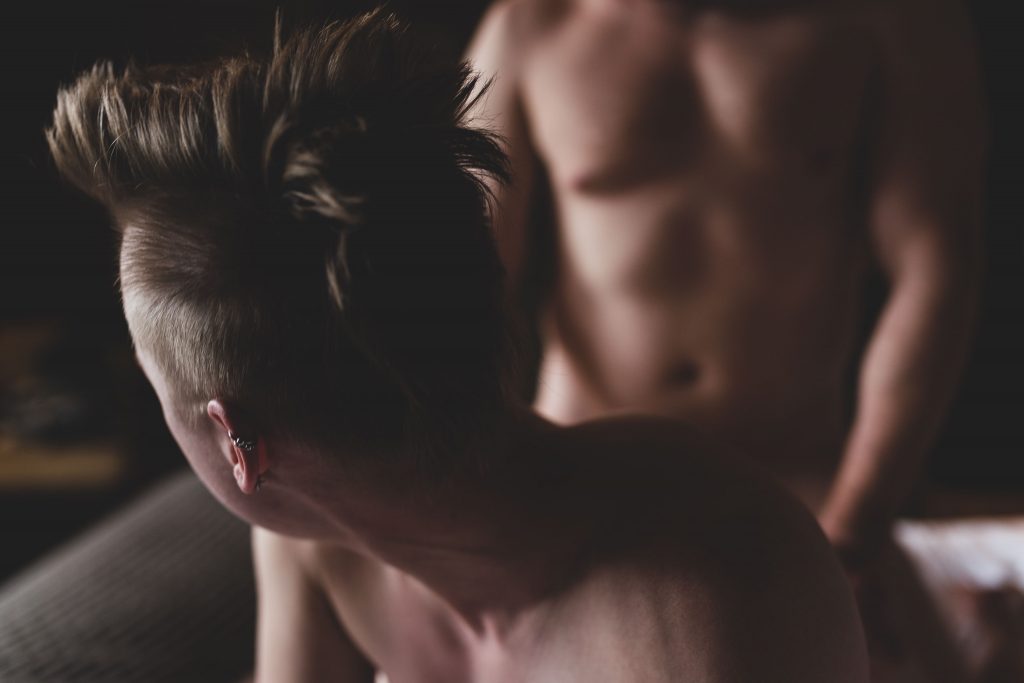 The pictures got more and more revealing, and I started posting full nudes, front and back. He would eat me out while I read the messages from men, or he would tell me to show him what I would do to those men while I sucked his dick. Anyone with any foresight could have told us we would be swinging within the year, but that was still so far off from anything I ever thought I would be comfortable with. As exciting as posting nudes was, as time passed, the screennames became just that – names on a screen. We became jaded by the disconnect of interacting online, and as fun as it was to get complements and horny messages, they didn't pack as much of a punch anymore. By this point Chad and I had moved in together and our life was starting to take the shape of what it would be. Marriage had come up in conversation, his daughter was now my daughter, and we spent all of our days together playing, fucking, and having adventures. We even worked from home together (which meant we were often getting paid to fuck).
One day, in the middle of work, Chad mentioned a website for swingers. I mostly brushed it off, but I was also intrigued. It was a terrifying thought to me, and as much as I enjoyed the freedom he gave me, I wasn't sure I could ever handle giving him the same freedom. The way he presented it, though, was that we would take it at my pace. We could go to a club and just be with each other while people watched, and then see how we felt from there. I was still nervous, but I figured it was basically what we had already been doing, with the added benefit of a ready made audience. Even at that time, I never imagined I would be ok fucking someone else or letting Chad fuck another woman, but the idea of fucking in front of people had always interested me, so we booked a party at a club near our city.
We did not fuck anyone else that night, but we definitely enjoyed fucking each other. On the way to the club I was a ball of nerves, but Chad continued to reassure me that we would stay within our comfort zone. I had no idea what to expect – would it be a giant orgy as soon as we walked in? Would women be approaching us and trying to seduce my boyfriend? How much emphasis was put on consent?
When we walked in, none of my fears were founded. We met the nicest hosts and got the most reassuring tour of the club. No one pressured us, no one touched us, and no one made us feel uncomfortable. I was so comfortable, in fact, that I immediately told Chad I wanted to get naked. We paced ourselves, but it wasn't long before we found a bed and started peeling off each other's clothes.
As soon as we were naked, a crowd started to gather. I noticed some movement out of the corner of my eye as I kissed Chad and ran my hands over his hard cock. I was too nervous to make eye contact with someone, so I pretended to be so lost in the moment that I didn't notice. I figured that's what everyone wanted to see anyway. Chad flipped me on my back and started eating me out, and my moans may have been a little louder than normal knowing people were listening. I had started to get comfortable with the people watching, trusting they were just there to watch and not participate without an invite, so I ramped up my show. Chad laid on his back and pulled me onto him, my ass facing the crowd. I arched my lower back as I worked up and down on his dick, sticking my ass out for everyone to see. I bounced on his cock to shake my ass and thighs, arching my back harder and moaning. Chad reached around and grabbed each of my ass cheeks, spreading them with his hands for a better view. We fucked in every position imaginable, determined to be a couple these veterans of the club would remember. I was too overwhelmed to cum that night, but it would be an experience that would change my life and live in my head forever.
The highlight of that night came when I was on my back, a woman's face in my pussy and one dick in each hand, alternating between them with my mouth. We were floored.
From there, we started exploring the idea of introducing other people. It started with me being with women, both alone and with him present. The first time we played with another couple, it was only me interacting with the others and Chad stayed on me. The highlight of that night came when I was on my back, a woman's face in my pussy and one dick in each hand, alternating between them with my mouth. We were floored. We felt so close after the experience and Chad was so turned on watching me embrace my sexuality. We returned to the club and met another new couple, who we played with that same night. This time only the women played with each other and our respective men stayed with their own woman. The men, fucking each of us from behind, shared a high five over our backs as we made out. Again we had a crowd, and again we were beside ourselves with excitement and satisfaction.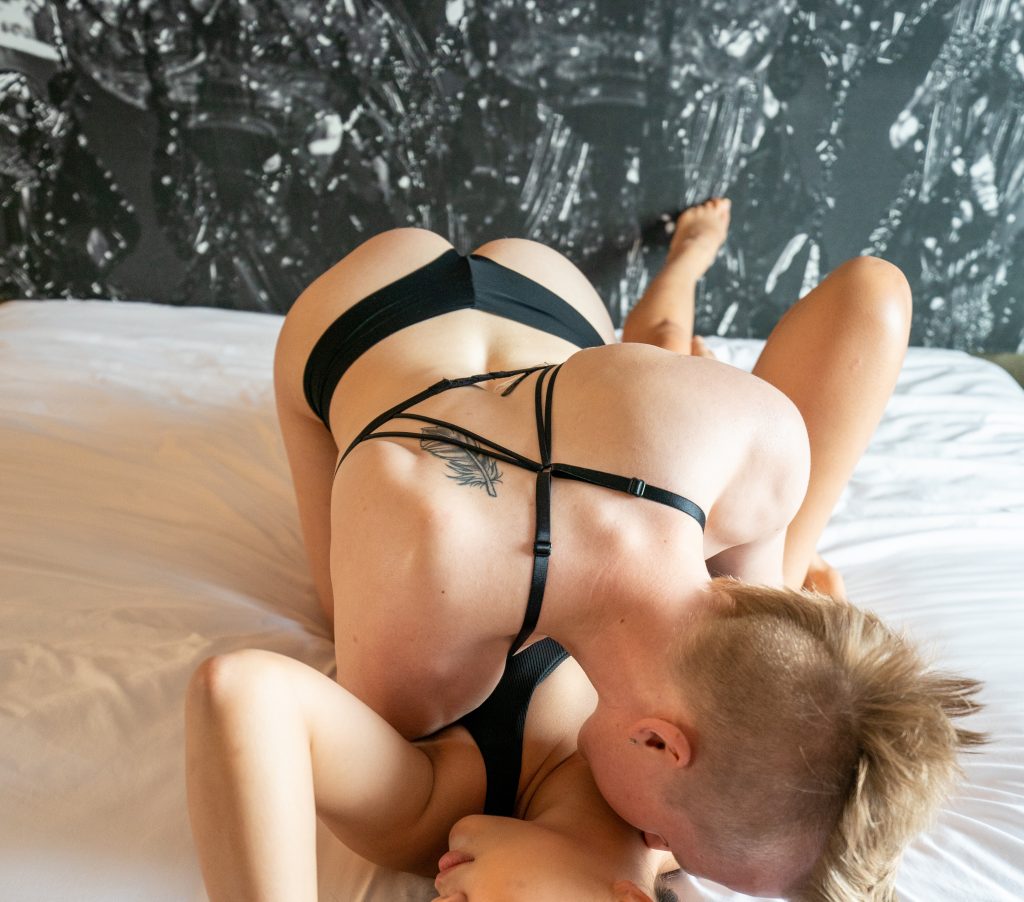 We couldn't get enough. We kept in touch with that couple and met them at a hotel. With the trust and comfort that came with repeated play, we decided that it was time to move on to soft swap. We started as we always had, the women playing while the guys watched. Slowly the men joined in, and it was time for me to see Chad interact with another woman. As nervous as I was, when it came time to do it, I felt at ease. I trusted Chad, and I had come to trust in this other couple's relationship as well. There was no threat, only fun. I invited her to share Chad's dick with me, and together we licked up and down the sides of his cock. I made out with her with his hardness between our lips, and once I was satisfied I was ok with it, I backed away and watched.
As her lips wrapped around the head of his dick, I put my hand on the back of her head and softly pressed her forward. I clenched her hair in my fist and worked her mouth back and forth on my boyfriend's dick. He was tentative at first, worried about how I would react and how the other couple was dealing with the new situation. He loosened up as she continued to work his dick and I saw his body give in to the pleasure of another woman. The moment was incredibly freeing for me, and from then on I knew that I would enjoy any soft swap play we did. I spent several sessions alone thinking of that experience and have cum thinking of it many times. We stayed soft swap for awhile, content with our experiences and not trying to push any boundaries that may cause issues for our relationship or our lifestyle. We played with more couples, enjoyed a lot of oral, and still fucked each other constantly. I always felt that something was missing, though, and I knew eventually we would need to experience full swap. I didn't know how I would get there, or if I even could, but I spent a lot of time imagining it and assessing my feelings around it. After a lot of fantasizing, I finally got to a place where I was as confident as I could be that I would be ok watching Chad fuck another woman. Around the same time, we met a couple that made me feel as at ease as our first soft swap couple.
"Yeah, we are cool with full swap," I said to them as we talked over our preferences. Chad was completely surprised.
"Are you sure? Because we don't have to." I was sure. We full swapped that night and it turned out that it made me feel no different than soft swap. Sex is sex, and sex is fun. All of it. We felt just as close as any other experience we had before, and the excitement of experiencing something new together brought us closer in a way that only swingers understand.
Like with anything Chad and I do, swinging became a part of our identity. It is our lifestyle, in the most literal sense of the word. We fit it into our lives as a necessity, the same way we do with eating, sleeping, and skydiving. We have always been sexual beings independently, our relationship is a sexual relationship, and with swinging we are able to blend those two things into a beautiful celebration of each other's desires.
When Covid hit, our swinging, along with everything else, came to a screeching halt. All of the ways we lived our lives were put on hold, and the thought of shaking someone's hand, let alone having sex with them, became a distant dream. We spent the year of quarantine reminiscing about all the fun we had had before the world ended and sharing our hopes to one day do those things again. On a five hour drive home from getting Chad the first dose of his vaccine, he put on a podcast about swinging.
"We should start a podcast," he said. I was skeptical at first, but couldn't really think of any reason not to. To his point, we had been telling our friends our stories all along, why not take them to a larger audience? At worst, those same friends would be our listeners and we would have a record of our life together. There wasn't anything to lose, other than a few hundred dollars spent on equipment. We toggled through a few different episodes for the rest of the drive and by the time we got home, we were making plans to get started on our own show. My vaccine date was yet unknown, so at least with a podcast we could still exist in the realm of swinging in some capacity.
Over the next few months we acquired the equipment, a website, a name, and a logo, and began recording. Just as we started recording, the world started to open back up again and we were quickly making new material for our episodes. We've fallen into a sort of (emphasis on sort of) groove now, releasing episodes bi weekly and always on the hunt for new content. Our listener base has grown faster than we could have imagined, and we've been humbled by the response. This, again, has changed our experience in swinging, and we are continually surprised by the opportunities for personal growth in the lifestyle. Our collaborations – sexually, creatively, emotionally – bring us closer and closer together and open our eyes to new possibilities. All this, because two people decided to get into an airplane and never stop making that leap.
You can find us under profile "TangledUpTogether" on Kasidie.com or by clicking the banner below.